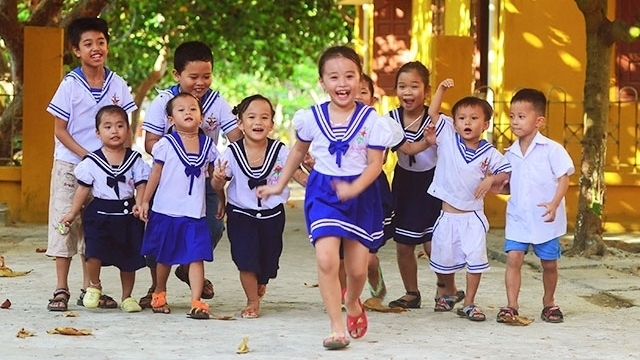 Students in Truong Sa (Spratly Islands). (Photo: Hung Lekima)
Weekends in the remote island are different from the mainland, as teachers and their students gather to study and play together like a small family.
Putting aside private matters...
Teachers Nguyen Huu Phu and Nguyen Ba Ngoc on Song Tu Tay island commune took their students to the wharf to welcome boats carrying visitors to the island.
As the number of students is limited, the classes combine children at the age of kindergarten and those in the fifth grade into one. Local teachers here have an additional task of being babysitters.
Nurturing in his heart the love for the nation's sea and islands and the desire to "sow" the "literal seeds" onto Truong Sa young citizens, teacher Nguyen Huu Phu made seven volunteer applications and had to wait for many years to receive a decision approving his long-awaited desire to become a teacher on Song Tu Tay island.
Passing through his thirties for a long time, he has not married yet, while his parents on the mainland have both all away. In every conversation, he is always moved in expressing his dream to stay on the island forever.
In addition to class sessions, Phu spends a lot of time reading and writing literature. He regularly sends his works to various magazines and newspapers.
Students on the island have learned by heart many poems by teacher Phu as they always recite: "Yêu sao từng con chữ/ Non nớt bàn tay ngoan/ Từng nét em nắn nót/ Thẳng tắp đều dọc ngang/ Yêu sao những nụ cười/ Hồn nhiên giữa phong ba/ Mầm xanh đầy sức sống/ Kiên cường giữa đảo xa" (How lovely each letter/ Rising in immature hands/ Each stroke written painstakingly/ Straightening along all axes/ How lovely the smiles/ Unaffectedly shining against rough seas/ Vigorous green sprouts/ Bravely grow on remote islands).
We named a few of Phu's works published in the Military Arts and Literature Magazine. As if meeting a sympathy, Phu immediately shared with us his manuscript entitled "Những ký âm đêm" (The night notations), which had been formed after many days of contemplating about the nation's sea and islands, his homeland, his family's memories and even his own feelings. He wrote a lot of touching poems: "Mẹ ơi Tết đã gần kề/ Nhưng con lại thấy bốn bề chơi vơi/ Mẹ ngồi bên gió bên trời/ Con tìm mòn mỏi ngàn khơi lối về" (Dear Mom, Lunar New Year approaching…/ But I just only see the loneliness surrounding me/ Mom sitting by the winds waiting/ I am here wearing out myself looking for a way back home); or "Những lúc nhớ về em/ Chỉ gặp nhau qua vài dòng tin nhắn/ Với người thân chỉ nói được đôi câu/ Chuyện riêng tư, anh gác lại mai sau" (Each time I miss you/ Just only meet through a few lines of messages/ For relatives, can only say few sentences/ My own happiness, I put it aside till tomorrow).
Contrary to the appearance of a rustic, austere teacher in Phu, the 1993-born Nguyen Ba Ngoc from Khanh Son district, Khanh Hoa province looks like a gentle student in his twenties. While receiving his guests, he also shared letters from his family and neighbours on the mainland expressing their affection and confidence in the path the young teacher has chosen.
If Phu loves his students by the same feelings of a father to his children, Ngoc is always a great friend trusted by his little students who they are ready to share their childhood feelings and secret with. After the first days suffering seasickness, the 9X-genration teacher is now familiar with the army's lifestyle as a real soldier. In his free time, he likes to present games to his students, teach them to practice writing on the sand, practice counting with shells and sing songs about the sea and islands.
"Here, we are away from hi-tech and sometimes it's good. My students are very focused on healthy learning and playing. From the simple lessons of reading and counting on the sand or in the gardens, some of them could read and write fluently when they were only four or five years old," said Ngoc.
Understanding the difficulties of their teachers, the island students always give their sincere feelings towards their teachers. Accompanying parents to live in Song Tu Tay Island for nearly a year, fifth-grader Nguyen Luu Nhat Huy said on the island students are not able to play as much as in the mainland but in return, they here receive much love and care from the two teachers and soldiers.
In addition to the school supplies and toys sent from the mainland, the island students really like the simple gifts made by soldiers and teachers from the body of bang vuong (fish poison) trees, phong ba (Heliotropium foertherianum) trees and cartons.
Sharing about the teaching career, Phu and Ngoc always remind each of his colleagues who were here before when the teaching conditions still faced many difficulties.
Years ago, Song Tu Tay did not have a separate school and the classes had to be set up temporarily from the army's rooms. Due to the lack of electricity, teachers had to prepare lessons and mark students' tests under flickering candlelight.
In 2015, a new primary school was built. Books, materials and school supplies are regularly provided by the concerned authorities, agencies and working missions to the island, helping to gradually improve the local teaching and learning conditions.
The two teachers said that their most valuable asset on Song Tu Tay is a joint bookcase built since their first days receiving their mission on the island.
The bookcase has been enriched by additional books donated by the working missions on their regular arrivals to Song Tu Tay. These books are carefully preserved, classified and cherished by the two teachers to help them acquire more knowledge.
The bang vuong ruler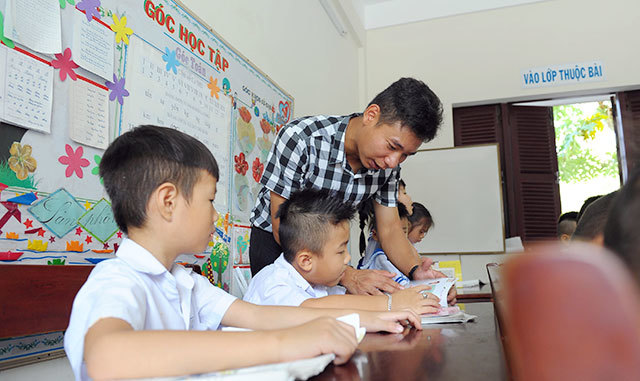 Teacher Nguyen Ba Ngoc with his students on Song Tu Tay island commune. (Photo: Mai Xuan Tung)
Arriving at the Truong Sa Lon (Big) Island to look for teacher Banh Huu Tinh, islanders and soldiers here all pointed to the foliage of a big bang vuong tree.
At the end of the afternoon session, Tinh usually plays chess with officers and soldiers on duty on the island district.
Before going to Truong Sa town to work, teacher Tinh taught at Suoi Cat Primary School (Cam Lam district, Khanh Hoa province) for 13 years.
When there was a recruitment campaign for Truong Sa, he wrote a volunteer application aimed at realising his youth aspirations.
Recalling the memories of the first days working in Truong Sa, Tinh reminded himself of a class consisting of only six students, including a fourth-grade student, two pupils in the second grade and three children at kindergarten age.
In that class, the teacher gave lessons to the older student and then turned to his little pupils, while playing games and looking after babies who were still babbling. It was so hard but the class was always filled with laughs. Tinh's parents all passed away, just like Phu's, and he also wishes to stay on the island for a long time.
The officers and soldiers on Truong Sa island shared that every time they went to Tinh's class and listened to the children's lessons, they were all lessened by the nostalgia and the miss for their children at home, while being motivated to fulfil their tasks.
Among his teaching aids, the most valuable to Tinh is a ruler made of the bang vuong wood donated by his students' parents on Truong Sa. The islanders want to, in addition to the lectures in the class, the teacher will teach their children many other good things, especially about patriotism, the love of beauty and the endurance against the storms in the sea like the bang vuong trees.
What surprised and touched us was that when meeting teacher Tinh, he thanked everyone for donating books to his two colleagues – teachers Phu and Ngoc – a few days ago. He confided that the telephone signal in the island is sometimes intermittent.
When there was a connection, the teachers mainly phoned home and called each other. These are calls that bring the warmth of a family. The good news of a colleague on this island makes another one on other island feel. encouraged.
Nguyen Thi My Dung, a female citizen living on Truong Sa Lon Island, told us about the special sentiment of the island teachers with their students here.
They always consider students as children in their families, so in addition to teaching, they always care for and nurture them during their daily activities.
Although the local conditions are still inadequate compared to the mainland, the most precious thing is that every little citizen of Truong Sa all enjoys their pure and warm childhood in the arms of a big family with their parents, teachers and soldiers.
"Quê em ở Trường Sa/ Những đảo chìm đảo nổi/ Quê em có biển trời/ Bốn mùa xanh bao la/ Sinh ra ở Trường Sa/ Em là con của biển..." (My hometown is Truong Sa/ Having cays and reefs/ Along with the sea and sky/ An immense blue all four seasons/ Born in Truong Sa/ I am a child of the sea…) Those are the verses that any visitor to Truong Sa to meet with the little citizens here will hear them recite. Many of them have expressed their wish to become soldiers to safeguard the nation's sea and islands or future teachers standing on the podium as their beloved and dedicated teachers today.
Not disappointing the sentiment and support from the islanders and soldiers, teachers Nguyen Huu Phu, Nguyen Ba Ngoc and Banh Huu Tinh have nurtured smart and docile students, who have been honoured with the titles of Excellent Students and "Uncle Ho's Good Grandchildren."
For them, being able to "sow" the "literal seeds" at the nation's far outpost is both an honour and a sacred task that they yearned for when still standing on the mainland classes.
Looking at each of the bright young faces and seeing older students teach the younger to learn to speak with their teachers' poems, it can be fully understood that the teachers on the far island, who have considered the school there as their home, have taught their students with their real love and responsibilities.
In the heart of the immense sea, the image of naval soldiers holding little children's hands to form a circle when singing and dancing around the nation's sovereignty marker on Truong Sa is the most beautiful and moving moment.
It is a continuation in the national pride, all together to nurture the will and determination to overcome difficulties and join hands to defend and develop the homeland's islands amidst the rough sea. Nhan Dan
Mai Lu