VietNamNet Bridge - The State Bank of Vietnam (SBV) has repeatedly urged commercial banks to take action to reduce the non-performing loan (NPL) ratio to below 3 percent by September 30. But it has proven to be an impossible mission.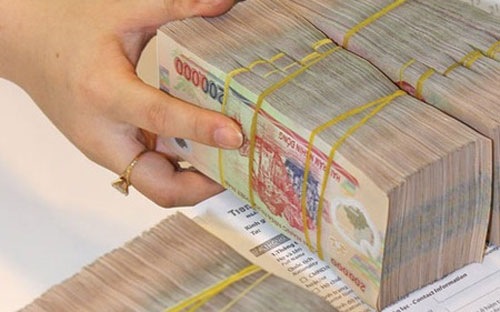 A report shows that the NPL ratio had reduced to 3.8 percent of total outstanding loans by the end of 2014. As such, the bad debt ratio needs to be slashed by 0.8 percent in the next two months.
Tran Dinh Thien, head of the Vietnam Economics Institute, commented that he still didn't know how commercial banks could ease the NPL ratio so sharply within such a short period.
"The State Bank might rely on the Vietnam Asset Management Company (VAMC). Meanwhile, it is unclear what 'tactics' banks will apply to reach that end," he said.
VAMC, which came out into society in mid-2013, once helped banks' NPL ratio decrease to 3.6 percent.
However, the figure then rose to 4.11 percent in July 2014. It fell again to 3.8 percent by November 2014.
However, the bad debt decrease has been relying on VAMC, which buys bad debts and pays in special bonds.
By the end of 2014, the institution had bought VND130 trillion worth of bad debts from credit institutions.
"In the short term, this allows businesses to continue accessing bank loans, because their debts have been put aside. However, in the long run, this will increase banks' compulsory reserves and decrease their operation efficiency," Thien said.
By transferring bad debts into VAMC, according to Thien, commercial banks simply put bad debts into a bag – VAMC – and tie it up. Meanwhile, bad debts still exist and they cannot be settled.
"We are just trying to put a fence on bad debts," he explained.
He went on to say that bad debts need to be settled to their root cause, warning that if not, Vietnam will "have to pay a heavy price".
An analyst noted that Vietnam's asset management company "does not resemble any other model in the world".
In principle, the State buys bad debts through asset & management companies and it sells the bad debts later, when the finance and real estate markets warm up. But this is not the way VAMC is pursuing bad debt.
Nguyen Tri Hieu, a renowned banking expert, when asked to comment about the State Bank's plan to reduce the bad debt ratio to below 3 percent in two months, said this would be a feasible plan if banks just needed to check their debts to transfer to VAMC. But it is impossible to settle bad debts in the true sense of the word, he added.
Dat Viet