VietNamNet Bridge – Do Hong Quan's La Do will be among high-quality performances that will be regularly presented at Ha Noi Opera House as the Culture, Sports and Tourism Ministry's recent decision.
La Do is the latest work of musician Quan, who is also chairman of the Viet Nam Musicians' Association.
Quan speaks about the opera and the ministry's decision.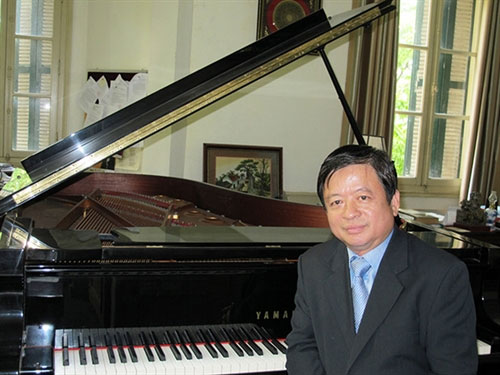 Do Hong Quan's La Do will be among high-quality performances that will be regularly presented at Ha Noi Opera House as the Culture, Sports and Tourism Ministry's recent decision.
La Do will be performed at the Ha Noi Opera House. What does that mean to you?
For a very long time, the Vietnamese people have not had a new opera. The first opera of Viet Nam was Co Sao (Miss Sao), produced in 1965, and the second was Nguoi Tac Tuong (The Sculptor), produced in 1975. Both were penned by late musician Do Nhuan.
Since then, no new opera has been produced in Viet Nam due to many reasons. In 2011, the government decided to encourage the writing of stage works about the two resistance wars against American and French forces.
They are to be high-quality performances that illustrate the spirit of national resistance against the French and the Americans.
In 2013, the Department of Performing Arts commissioned me to write an opera. That is why I wrote La Do. It has been approved following strict scrutiny by a committee.
It is an opera that requires a large number of artistes from the Viet Nam National and Symphony and Orchestra (VNSO) and Viet Nam National Opera and Ballet (VNOB).
The opera enriches Vietnamese music production, showing that Vietnamese music is still developing.
I think the government should invest in developing diverse art genres such as literature, fine arts and music. It will be useful for society in the long term. Art and culture have also played an important role in portraying, reflecting and remembering milestones in history.
The recent decision by the culture ministry facilitates traditional music and high-quality performances at the Opera House to provide high-end art shows to the audience.
The opera debuted in May. What is different this time?
A musical piece depends on scores. If there is a difference, it would be in direction, acting and stage setting.
Last time, the opera was led by Japanese conductor Tetsuji Honna. This time I will conduct the opera. I think it will be effective.
How did you bring the opera close to audiences?
The Viet Nam Musicians' Association and two theatres VNOB and VNSO decided to stage the opera at Ha Noi Opera House to support and implement the culture ministry's decision to facilitate high-end shows there.
Moreover, it is due to public demand as well because they didn't have a chance to enjoy the opera last May.
I hope the opera will be performed not only in Ha Noi, but also in the central provinces of Thanh Hoa, Quang Binh and Quang Tri. These places witnessed the fiercest battles during the anti-American war.
Popularising high-quality performances among people who don't get a chance to go to theatre makes us happy.
What is the message of the opera?
The opera is about the national resistance against Americans. It is meaningful. It is two hours long, with two acts and six scenes telling the real sad story of eight youth volunteers in Truong Son Range.
In the climax scene, all of them are stuck in a cave because of bombing. Though they are in critical condition, they are still hopeful and courageous enough to encourage each other till they die.
La Do is a chorus in praise of patriotism and love. This theme will never be out of date. I think that art works are not only about contemporary life, but also express gratefulness for the old generation's sacrifices in the national resistance wars.
The opera honours former youth volunteers who participated in the fiercest battles. Many of them who watched the opera said they were very moved because of vivid re-enactment of their lives.
VNS