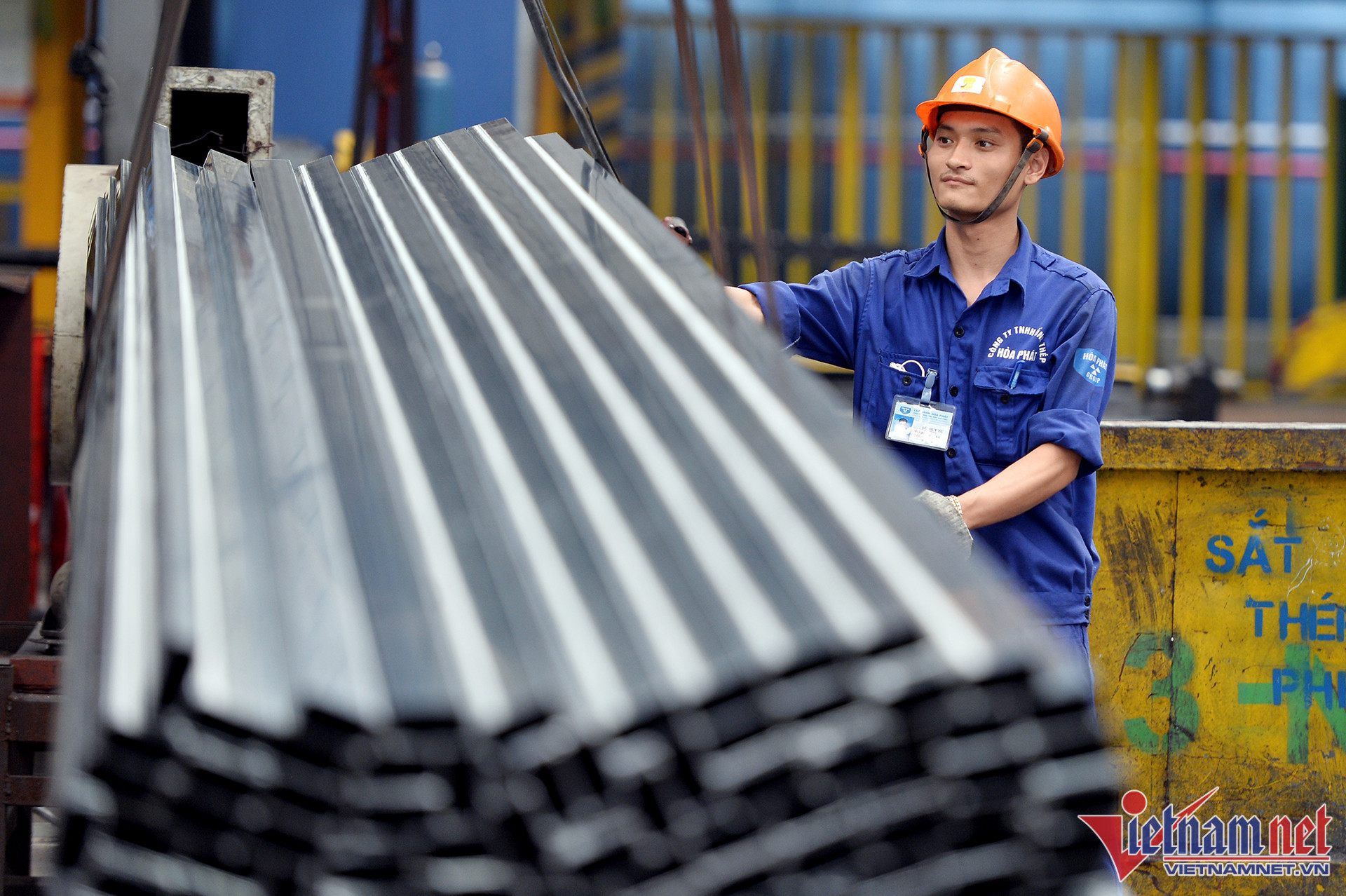 The statement that "Vietnam can only make screws for license plates by chair of the Vietnam Association of Supporting Industries Phan Van Tuat has stirred up the public.
Surprisingly, leaders of enterprises in the steel and mechanical engineering industries are sympathetic with this opinion.
"We understand that the deeper thought of the conclusion is about the weak performance of the material industry. It is true that in reality, in order to manufacture mechanical engineering components, we, like other domestic enterprises, have to import from other countries, because these products are not made domestically," said Nguyen Thao from Aerospace Engineering Services JSC (AESC).
"However, this doesn't mean that the products cannot be made by the domestic steel industry. The problem is at which price the product is made. This means that if enterprises can make the product, but at a high price, we won't buy the products from them. And if we don't buy products from them, they don't make the products," Thao explained.
AESC is one of only a few Vietnamese enterprises approved by the European Aviation Safety Agency to manufacture aviation equipment.
In addition to providing fireproof plastic equipment for aircraft, the company exports steel bars to a US company. However, to make this product, the company has to import input material because the material is not found domestically.
Nguyen Dinh Phuc, vice president of the Vietnam Steel Corporation (VSC), confirmed that Vietnam doesn't make steel used to make screws for car wheels, or steel used to build bridges.
However, it is not true that Vietnamese enterprises cannot make carbon steel. They can do so, but they just prefer making structural steel. Any decision on which steel products to make will be made based on many factors, from market capacity to manufacturers' advantages and production costs.
Nghiem Xuan Da, chair of the Vietnam Steel Association (VSA), said that, technologically, Vietnam can make different types of steel. However, as market capacity is too small, they don't gather resources to make the products.
Thailand and Indonesia, for example, put out millions of cars a year, while Vietnam only manufactures hundreds of thousands of cars.
A representative of Hoa Phat Group said in 2022 Hoa Phat Dung Quat Mill manufactured high carbon steel to make tire-hoops which have quality as high as countries with a developed steel industry, and have competitive prices.
The foundation for industrialization
According to the Ministry of Industry and Trade (MOIT), supporting industries have not developed, so the added value of the industry is still not high. Currently, supporting industries only satisfy 10 percent of domestic demand for supporting industrial products, mostly simple equipment with low value.
The localization ratios of most industries are still low, which makes all processing and manufacturing industries dependent on import materials, intermediary products, and production equipment.
Domestic production activities are vulnerable because of political, economic and social upheavals around the world and the region. The heavy impact of the Covid-19 pandemic on the production sector is an example.
Every year, Vietnam imports tens of billions of USD worth of material to serve domestic production for exports, not including billions of USD worth of machines of different types.
The huge amounts of money, if converted into "made in Vietnam'" products, would bring high value and jobs to the economy.
Importing products because they are quicker and cheaper is reasonable. However, it hinders the development of domestic industries, especially industries that Vietnam has resources to develop.
A former leader of VEAM (Vietnam Engine and Agricultural Machinery Corporation) said the development of industry in a country is not only measured by GDP it creates and the contribution to GDP, but also by industrial products it can generate for the country.
Developed countries have developed metallurgy and processing and manufacturing industries. In industrial countries, both developed and emerging, over the last 20 years, the processing and manufacturing industry has made up 20 percent on average of GDP.
The Ministry of Industry and Trade (MOIT) cited a report as saying that the Chinese processing and manufacturing industry in 2019 made up 27.1 percent of GDP, South Korean 25.3 percent, Thai 25.3 percent, Malaysian 21.5 percent, Japanese 20.7 percent, Singaporean 19.8 percent and German 19.4 percent.
The ministry believes that an economy with 100 million people, young population, high employment demand and 70 percent of population in rural areas, which want to become independent, self-reliant and prosperous, needs to have a strong processing and manufacturing industry to be sure that the modernization and urbanization process goes quickly and sustainably.
In the context of globalization, Vietnam doesn't have to do all products from A to Z, but it needs to make appropriate investments in key products, in the material industry and supporting industries.
Luong Bang - Phan Chi Hieu