Stick puppetry of the Tay

The Tay often stage stick puppetry at their New Year's celebration and also at the Going to the Field Festival, a custom that has existed for more than 200 years.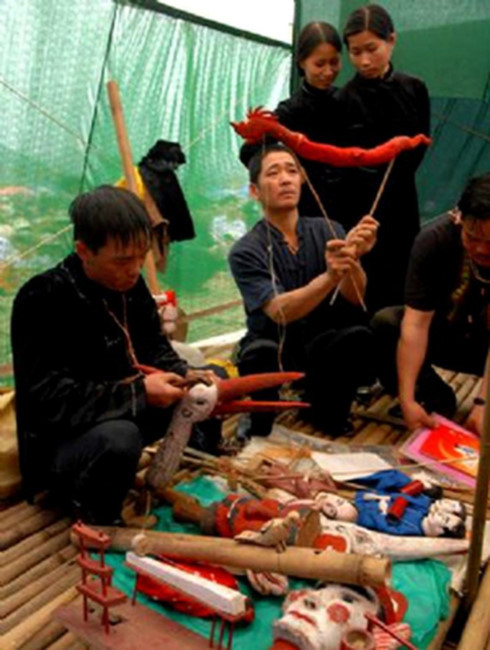 People in Tham Roc hamlet are making wood puppets. (photo: dantocmiennui.vn)
Stick puppetry shows draw materials from the daily lives of the villagers, and are done in the interest of entertainment, their wishes for a peaceful year and bumper crop, and to honor the academic achievements of certain villagers.
The stick puppetry of the Tay group in Tham Roc hamlet, Thai Nguyen province is quite popular. The clan of Ma Quang has produced and staged stick puppetry for 13 generations.
Ma Quang Nhanh, head of the clan, said they have preserved some puppets made 200 years ago. At the beginning, a set of stick puppets has 6 characters including 2 female and 2 male puppets. Gradually they added more puppets to the performances, and reached as many as 33 puppets.
"Our family troupe was reestablished in 2000. Because we're getting older, we have handed down the trade to our children," Mr. Nhanh said.
The stick puppets are made from a popular kind of termite-proof wood in the northern mountain region. The puppets are figurines of mandarins, farmers, and animals. It takes 2 to 3 days to carve, paint and clothe a puppet.
(photo: dantocmiennui.vn)
"The wood is soft and durable. We prefer a local tree called Thung muc. We've never learned curving but mastered it by our natural aptitude and perseverance," Mr. Nhanh explained.
The puppets are controlled by bamboo sticks connected to their torso, head, arms, and legs. On the stage, men control the puppets while behind the curtain some other men and women talk and sing for the puppets and play the Tinh musical instrument, blow flutes, and beat drums.
The performances bring back to life certain daily activities such as farmers working in the field and climbing trees.
"I have 18 years of experience. I love my work. The most difficult thing is controlling the puppets skillfully. It took me some years to learn the appropriate techniques. I expect more young people to learn and preserve the art," puppeteer Ma Khac Dung said.
A typical stick puppetry show of the Tay has 8 parts. The final part is always men climbing trees to catch lizards.
The Tay believe that the lizards can forecast the weather, which can in turn help people cope with weather changes and produce bumper crops. VOV5