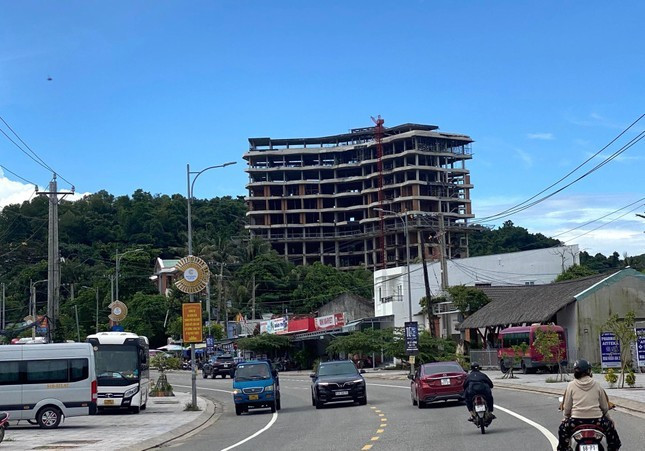 The 12-storey hotel building in Phu Quoc is illegally built on agricultural land. Photo by Tienphong.

A source told the Tien Phong Newspaper that Chairman of the Phu Quoc City People's Committee, Huynh Quang Hung, had signed a decision to request the building's investor, Vu Manh Hung, 54, from Hanoi to remove his illegal construction.
According to a report from the committee, the 12-storey hotel was built on a total area of over 2,700 square metres with some works lying on an area of 473 square metres agricultural land on Tran Hung Dao Street in Duong To Commune. The construction, which was built without approved planning, is located along one of the routes leading to the centre of Phu Quoc Island.

In August, 2022, the Phu Quoc People's Committee issued fines worth a combined VND61.5 million upon the project's developer and ordered the dismantling of illegal construction works within 10 days.

The developer was also required to return the land plot to its original condition. However, the developer has until now failed to remove their construction works.

An inspection team from Kien Giang Provincial People's Committee last year found out that 79 villas had been illegally built on land managed by the state on the popular tourist island.

The committee has ordered the cessation of construction at the site of the villas and also requested the local electricity company to cut power supply to the properties.
Source: Dtinews