Stock market suffers sharpest fall in history as new COVID-19 cases found
Vietnam's stock market suffered its sharpest drop in history on January 28 as a result of panic selling after new community transmissions of the coronavirus were reported.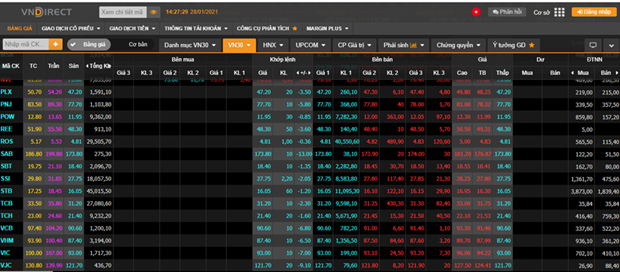 Illustrative photo (Source: VNA)
The benchmark VN-Index on the Ho Chi Minh Stock Exchange (HoSE) tumbled 73.23 points, or 6.67 percent, to close at 1,023.94 points. It was the biggest contraction in its history. Declines were seen in a total of 473 stocks, 276 of which hit their floor price. Only 12 rose while 12 remained unchanged.
On the Hanoi Stock Exchange (HNX), the HNX-Index also experienced its biggest-ever fall, plunging 17.74 points, or 8.03 percent, to end the session at 203.05 points. It was dominated by 214 declining shares, including 131 touching their floor price. Only 29 stocks gained ground while 17 were at their reference price.
The UPCoM-Index plummeted 7.17 percent to 69.12 points, with 253 stocks falling, including 100 that hit their floor.
Twenty-nine of the 30 large-cap stocks in the VN30 basket fell, with 28 touching their floor.
Strong foreign buying was the silver lining, at over 482 billion VND (20.88 million USD) on HoSE, 26.94 billion VND on HNX, and 53.12 billion VND on UPCoM./.VNA

Vietnam recorded nine new community infections of COVID-19 over the past 12 hours as of 6am on January 29, according the National Steering Committee for COVID-19 Prevention and Control.