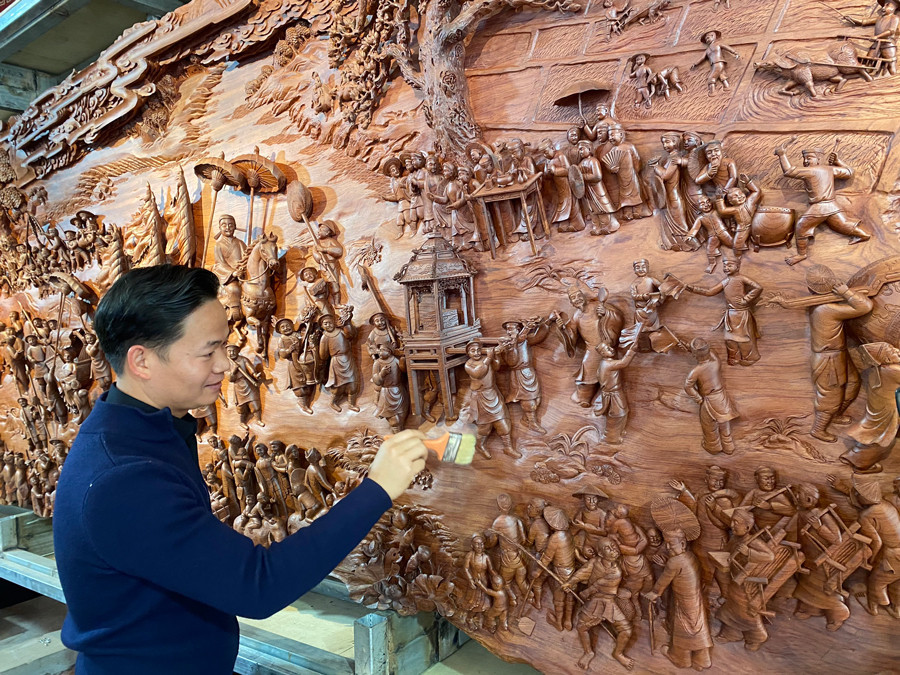 The people in the carpentry village of Ngoc Than in Ngoc My commune, Quoc Oai district, Hanoi are no strangers to the sculpture "Vinh Quy Bai To" (returning home to pay tribute to ancestors after getting an academic honour).
Bui Trong Quan and Bui Trong Lang are siblings from Ngoc Than craft village. Due to hardship, Quan had to leave home in childhood while Lang stayed in his hometown to nurture his dream of being a carpenter.
Lang showed outstanding drawing talent at a very young age. Full of passion, he continued to pursue the traditional profession of the village like many others. At first he painted and sculpted only worship objects and ordinary paintings.
Only until 2013 did the two brothers reunite and decide to open their own workshop.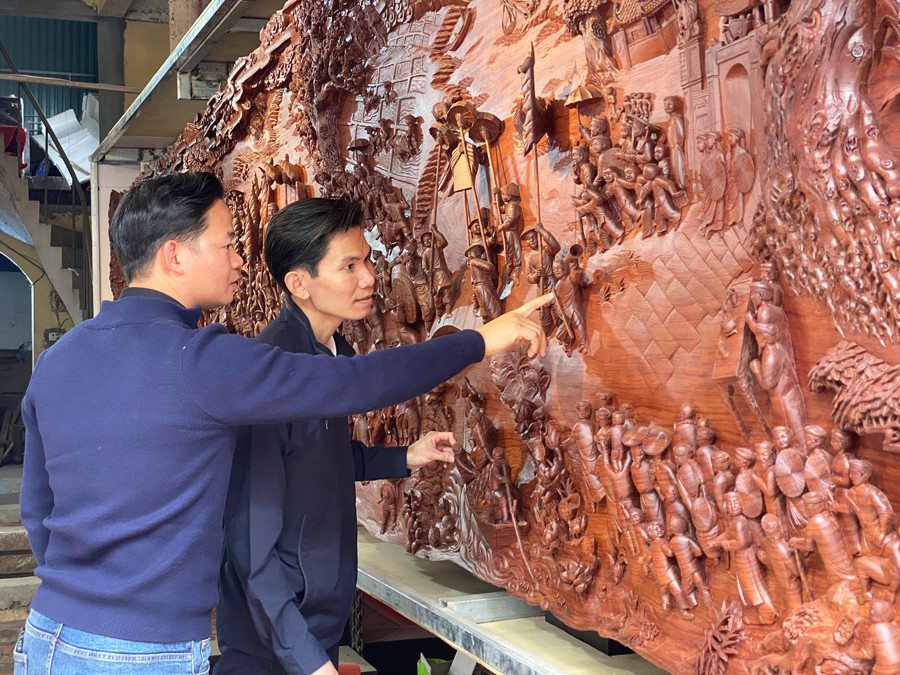 They wanted to honor their hometown based on "Vinh Quy Bai To" cultural values and traditions.
The art piece is supported by the expertise of historian Duong Trung Quoc, Assoc. Prof. Dr. Bui Hoai Son, Standing member of the National Assembly's Committee for Culture and Education, and painter, Dr. Ho Trong Minh, Lecturer at Vietnam Fine Arts University.
After 27 months of hard work day and night with more than 10 skilled artisans, the work was completed, and is admired by many people.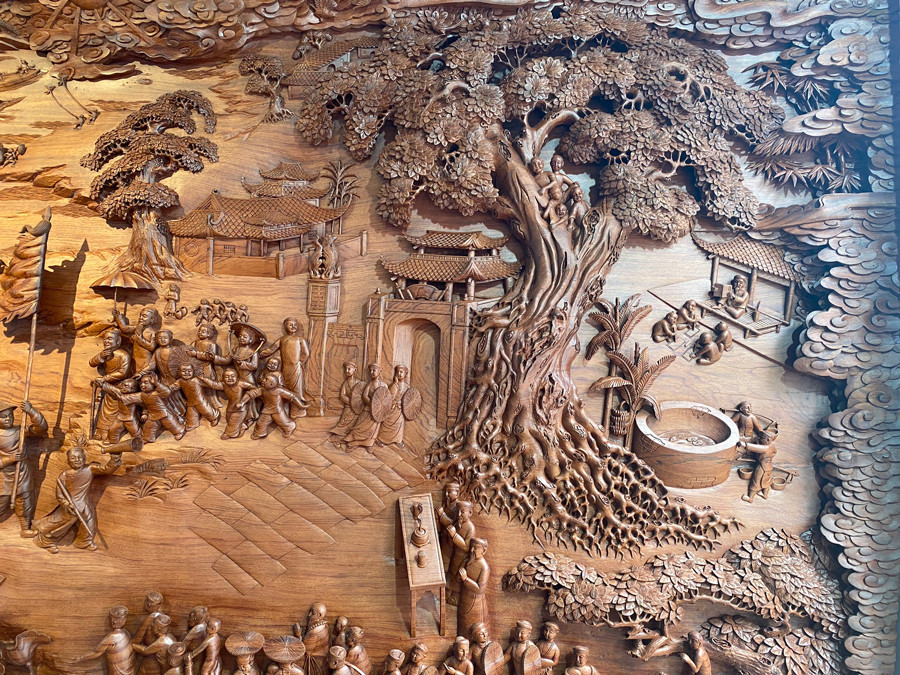 The Vietnam Record Organization said it set the record as expressing national cultural beauty.
The painting is 8.33m long, 1.7m high and 16cm thick with its unique feature being solid South African rosewood, weighing 2 tons.
"We had to go through many stages from drawing samples to breaking blocks, chiseling, chiseling, scraping and scraping and using sandpaper. Everything must be done meticulously, without any errors. If the detail is missing, the human figure will not be complete and will not reflect the soul of the work," Quan said.
The picture has up to 348 characters, 68 trees and clusters of trees, in addition to many details such as fan flags, hammocks, spears. The painting was made within 27 months, with the participation of 10 skilled craftsmen in many different stages.
The subject of the painting is about the procession of a mandarin from the capital to his homeland to pay respects to his teacher.
The painting has received many offers, but according to Quan, price is not the first criterion. For him, it is a work of art of great value and he hopes that people who want to buy the painting must love the traditional values of the nation, and want to convey the cultural values of the nation.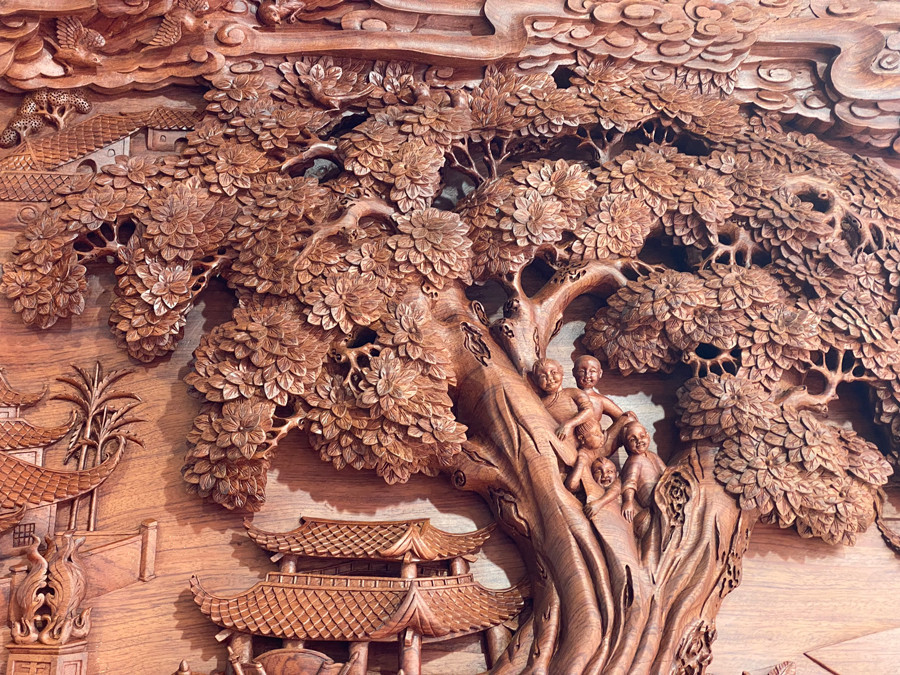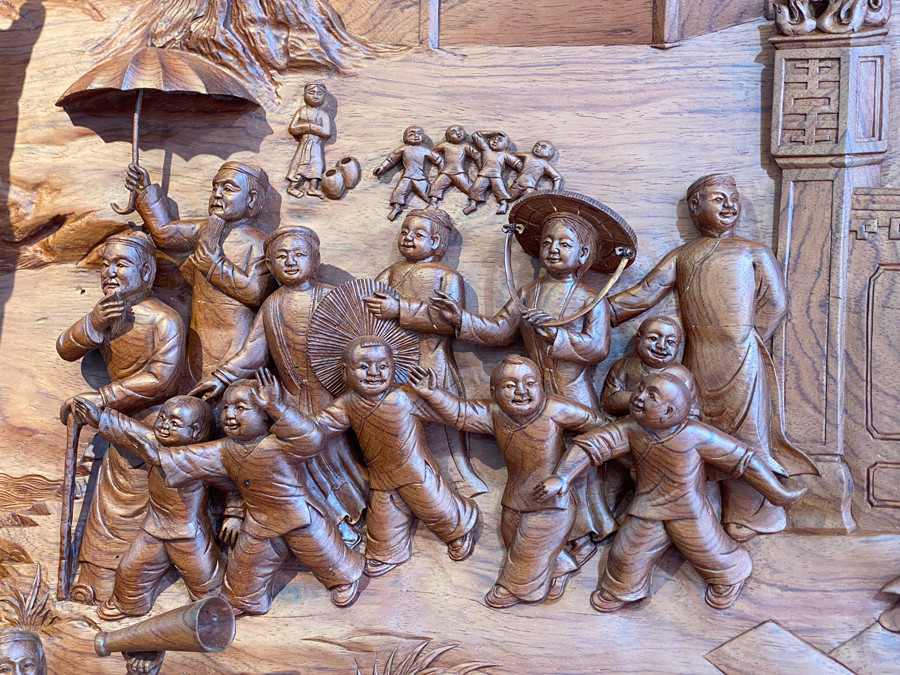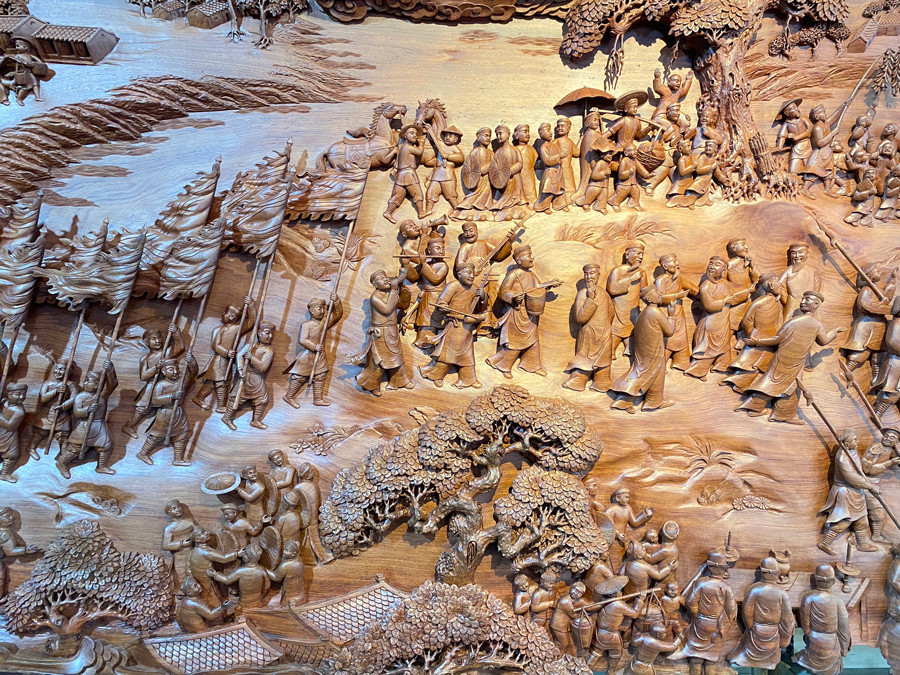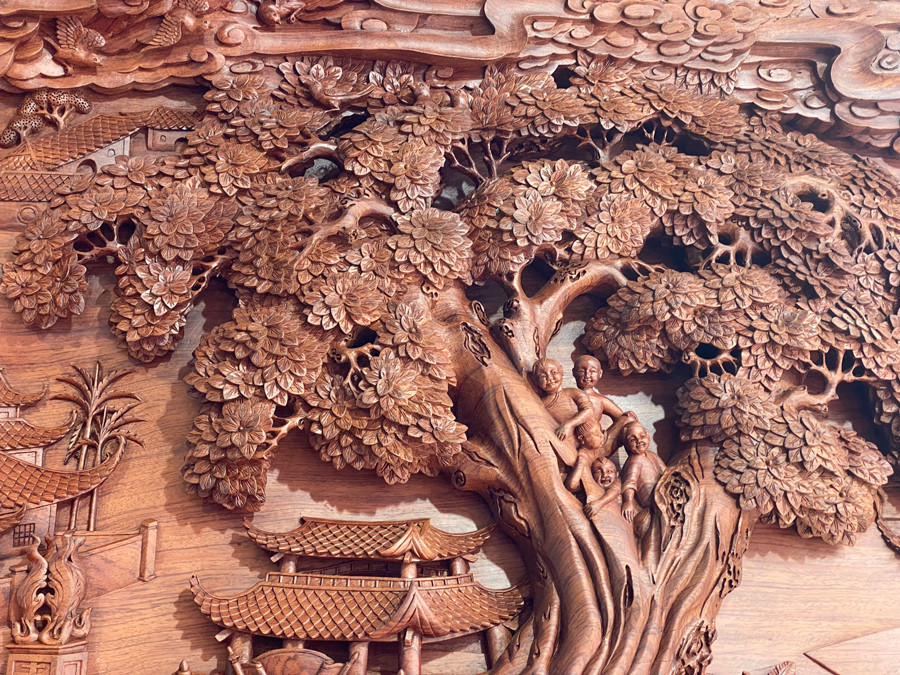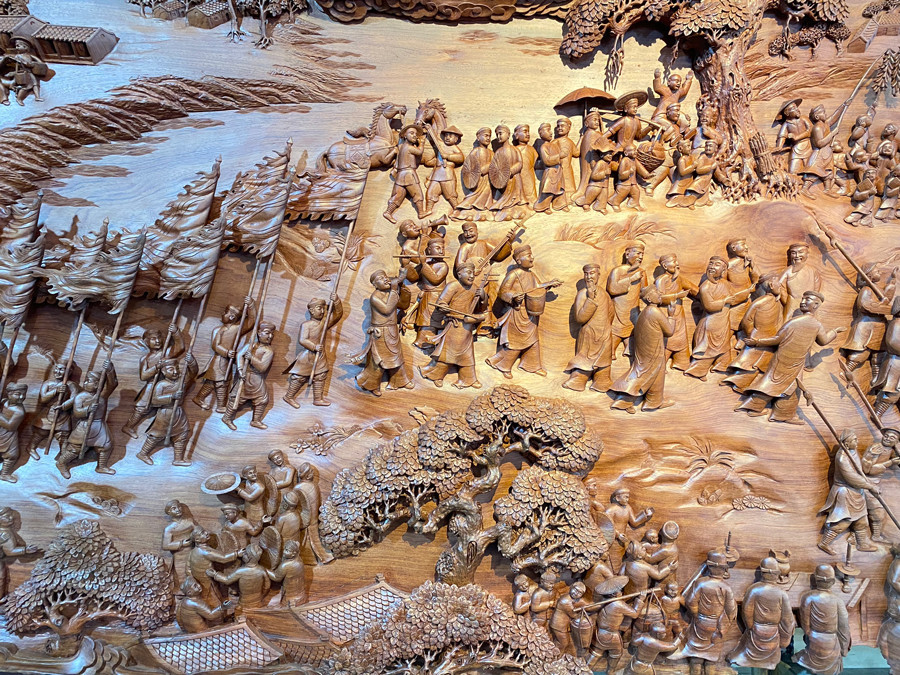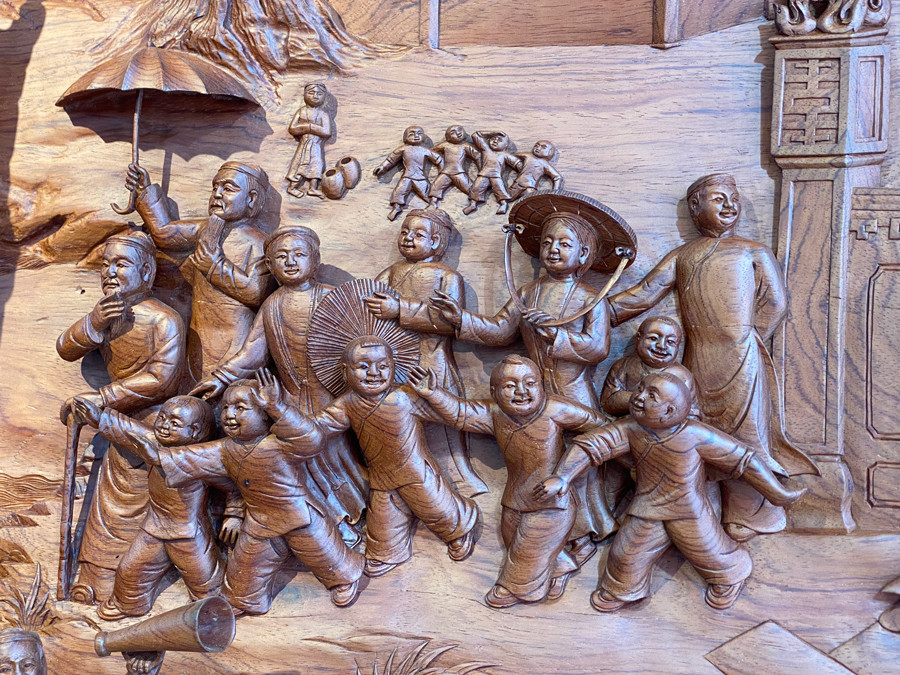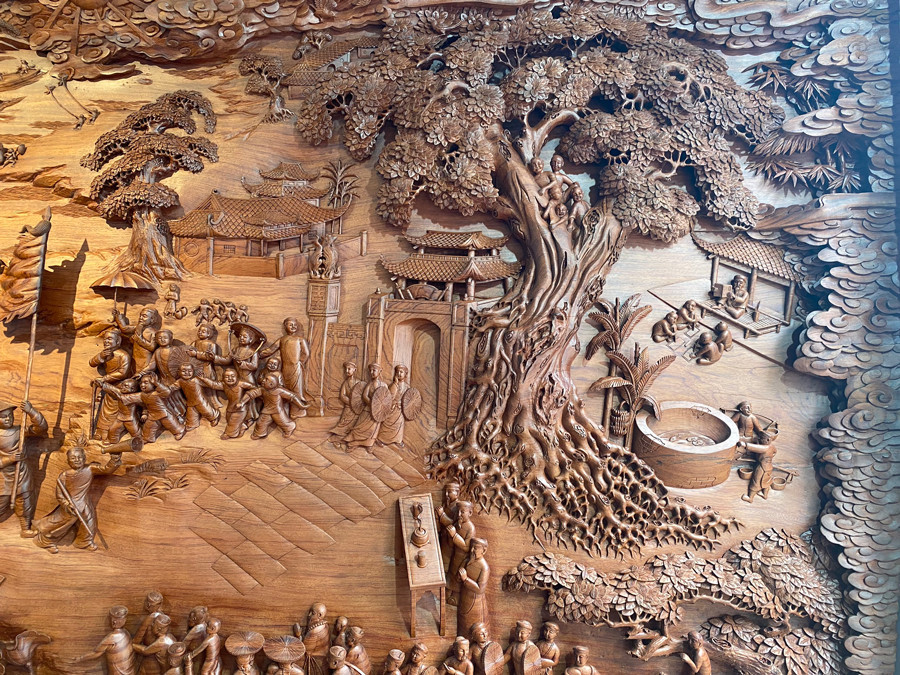 Tu Linh