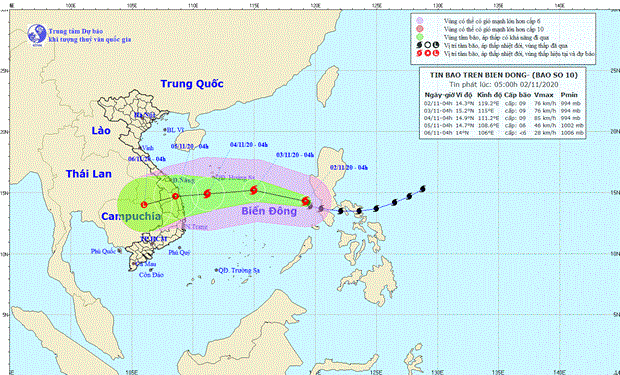 Illustrative image (Photo: nchmf.gov.vn)
Rain, whirlwinds, and gusts are forecast to hit coastal and inland areas from November 4 when the storm is about 300 – 400 km away from the shore, inflicting risks on ships and coastal aquaculture.
The storm is also likely to cause large-scale heavy rain in the central region, which experienced a month of devastating storms and floods in October, from November 4 to 7.
According to the centre, at 1:00 am on November 4, the storm was 330 km southeast of Vietnam's Hoang Sa (Paracel) archipelago. For the next 24 hours, it will move west southwest at 10 – 15 km per hour, with its epicenter about 250 km off the waters from Quang Ngai to Khanh Hoa provinces at 1:00 am on November 5.
Between 1:00 am on November 5 and 1:00 am November 6, Goni is expected to move south southwest, and weaken to a low tropical pressure, making landfall on these central provinces from Quang Ngai to Khanh Hoa.
As a result, from November 4 to 6, Quang Nam, Quang Ngai, and Binh Dinh provinces will see average rainfall of 250 – 350 mm, while Thua Thien – Hue, Da Nang, Kon Tum, and Gia Lai, and Phu Yen provinces will suffer average rainfall of 100 – 200 mm.
Provinces from Ha Tinh to Quang Tri will see average rainfall of 100 – 200 mm from November 5 to 7.
Quang Ngai evacuates thousands of residents ahead of typhoon
The central province of Quang Ngai has proactively acted to evacuate thousands of residents from areas vulnerable to landslides and flooding to cope with Typhoon Goni, the 10th storm forecast to hit Vietnam this year.
Dang Van Minh, chairman of the provincial government, released a dispatch today, November 3, asking local authorities to continue their evacuation efforts.
The districts of Son Tay, Minh Long, Son Ha and others had evacuated residents and workers from landslide-hit areas to safe shelters before 5 p.m. in the day. Competent forces were told to call on local residents not to leave the shelters, except in cases of emergency.
Phung To Long, vice chairman of Son Ha District, said the district was outlining a plan to evacuate 21 households with over 100 residents from Bo Village of Di Lang Town to a boarding school for ethnic minority students. As the village is at risk of landslide, the district proactively took action without waiting for clearer signs of a landslide, the local official said.
In Son Tay District, which is annually hit by major landslides, many working teams were sent to its communes to evacuate 630 households with over 2,000 residents from 52 sites usually at risk of landslides.
Vo Thin, vice chairman of Son Tay District, said that three landslide-hit sites during Typhoon Molave, the ninth storm to hit the country this year, buried many local houses. However, thanks to previous evacuation efforts, no human lives were lost.
In related news, the authority of neighboring Quang Nam Province this morning also ordered localities to evacuate residents from areas prone to landslides and flashfloods before 11 a.m. tomorrow to avoid the impact of Goni.
Quang Nam asked local authorities and agencies to closely monitor the developments of the typhoon to promptly respond to possible bad situations. VNA/SGT