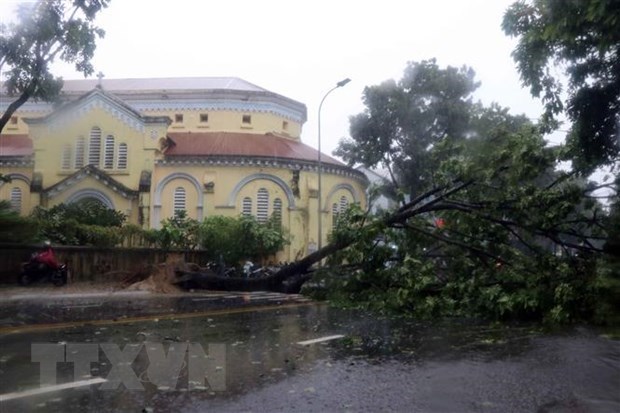 Storm Noul makes dozens of trees fall off (Source: VNA)
Accordingly, strong winds with speeds of 90-100 km per hour swept through the locality in over 30 minutes from 8:30am, making dozens of ancient trees, electricity poles and gates of several buildings fall off, and blowing off roofs of many houses.
Mountainous Nam Dong district recorded the highest volume of rainfall at 204mm.
Also in the morning, due to impact of the fifth storm, a whirlwind occurred in the central province of Ha Tinh at around 5:00am, blowing off roofs of over 60 local houses.
The whirlwind, together with heavy rains, also affected a large area of crops.
Three airports in central region to suspend operation due to storm Noul
The Civil Aviation Administration of Vietnam (CAAV) has issued an urgent document requesting three airports in the central region to suspend operation on September 18, the day storm Noul is slated to land in the region.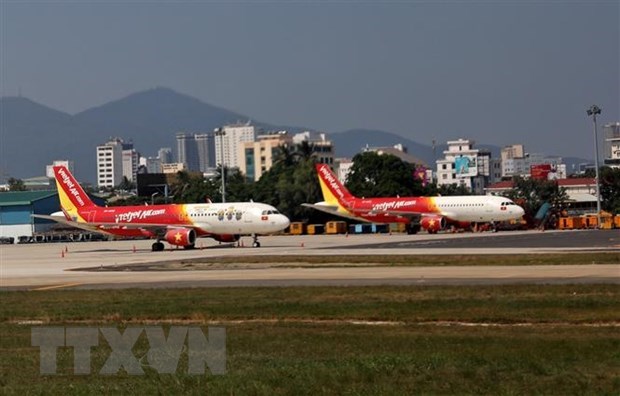 Aircraft of Vietjet Air at Da Nang airport (Photo: VNA)
Specifically, Chu Lai airport (Quang Nam province) is required to close from 04:00 to 8:00, Da Nang airport (Da Nang city) from 05:00 to 20:00 and Phu Bai airport (Hue city in Thua Thien-Hue province) from 06:00 to 21:00 (all local time) during the day.
Other airports in the region, namely Dong Hoi, Vinh, Pleiku, Phu Cat and Tuy Hoa, along with airlines, airports authorities and the Vietnam Air Traffic Management Corporation, are instructed to closely follow the weather situation and make prompt reports to the CAAV's command for natural disaster control and search and rescue.
Airlines have also announced they will cancel and postpone flights on routes to/from the three airports.
Vietnam Airlines said it will operate 22 additional flights on the affected routes on September 19 to compensate for the cancelled ones. Passengers are urged to keep updated with the airline's official website and Facebook page, ticket offices or customers' hotline.
Noul, the fifth storm to enter the East Sea this year, is gaining strength, heading to the central region of Vietnam and is expected to make landfall on September 18.
 
The storm is forecast to directly affect central provinces, especially Quang Binh, Quang Tri, Thua Thien-Hue and Da Nang with wind speeds of 90-100 km per hour and sometimes hitting 135 km per hour.
 
Heavy rain will blanket the central provinces from September 17 afternoon to September 18 night, bringing high risks of flash flood and landslides in the central region.
Central region prepares for Storm Noul
Central provinces to be hit by Storm Noul banned vessels from going out to sea on Thursday as the tropical storm is forecast to make landfall on Friday morning.
Mai Văn Khiêm, director of the National Centre for Hydrometeorological Forecasting, said the typhoon, the fifth to enter the East Sea this year, is moving very quickly at an estimated speed of 118 to 133km per hour, sometimes hitting up to 160km per hour on the seas and along coastal areas from Quảng Bình to Quảng Nam Province.
Storm Noul will directly affect Quảng Bình, Quảng Trị, Thừa Thiên-Huế and Quảng Nam provinces and Đà Nẵng City with wind speeds of 90km to 117km per hour, sometimes up to 150km per hour.
Heavy rain is predicted on Thursday afternoon until Friday night with alerts for floods in rivers, flash floods and landslides.
Quảng Bình, Quảng Trị, Thừa Thiên-Huế provinces and Đà Nẵng City plan to evacuate more than 1.1 million people of more than 295,000 households if necessary.
Minister of Agriculture and Rural Development Nguyễn Xuân Cường on Thursday morning directed all 12 central provinces from Thanh Hóa to Khánh Hòa to be hit by the typhoon to strictly follow Prime Minister Nguyễn Xuân Phúc's urgent notice.
The PM asked ministries, agencies and localities to keep a close eye on the development of the storm and prepare to be hit.
People's Committees of cities and provinces need to ensure the safety of activities at sea, work with concerned forces to guide vessels and encourage local residents to take preventive measures to protect crops, houses and other facilities.
Human resources and equipment should be ready for the evacuation of people in dangerous areas, with attention paid to COVID-19 prevention and control, according to the notice.
The PM has warned of flash floods and landslides in mountainous areas after heavy rains, saying measures are needed to ensure the safety of reservoirs.
Minister Cường ordered the Border Guard Command, Directorate of Fisheries and localities to send notices to fishing vessels in risky areas to move to shelter.
According to the Central Steering Committee on Natural Disaster Prevention and Control, provinces from Thanh Hóa to Thừa Thiên-Huế have 49 dykes that need protection and 16 other coastal and river dykes under construction.
More than 94,000 people in the central province of Quảng Trị are expected to be evacuated before 8pm on Thursday. Some 2,300 fishing vessels of the province had docked at shelters by 4pm.
Students in Quảng Nam Province will take a day off on Friday due to the typhoon.
Inspecting typhoon preparedness at Thuận An Fish Port in Thừa Thiên-Huế Province on Thursday, Deputy Prime Minister Trịnh Đình Dũng said the time before the typhoon makes landfall is a golden chance to complete evacuation, reinforce houses and move fishery cages to safety.
"Doing that work well will minimise human losses and damage to property," he said.
Rains started in the province at noon on Thursday.
More than 106,000 people in Thừa Thiên-Huế Province have been evacuated and students will stay off from school on Friday and Saturday.
By 1pm on Thursday, the storm's eye was about 220km south-east of the Hoàng Sa (Paracel) islands with winds of 75-100 km per hour, sometimes reaching 118-133 km per hour. The storm is moving west-northwest.
It's expected that by 1pm on Friday, the storm will have strengthened with the eye on waters close to provinces from Quảng Bình to Quảng Nam. Winds at the eye will reach 90-115 km per hour or more.
After making landfall in central provinces from Quảng Bình to Đà Nẵng on Friday afternoon or evening, the storm is forecast to weaken to become a tropical low pressure.
By about 1am on Saturday, the heart of the tropical low-pressure system will be on the border area of Laos and Thailand with winds of 40-50 km per hour. VNA/VNS