Storm-proof home initiative transforming living conditions
The recent storms causing misery in central Vietnam may have left large wounds in the lives of poor residents in the south-central province of Quang Ngai.
 However, many of them are able to avoid the very worst thanks to firm shelters provided through a jointly-funded special scheme.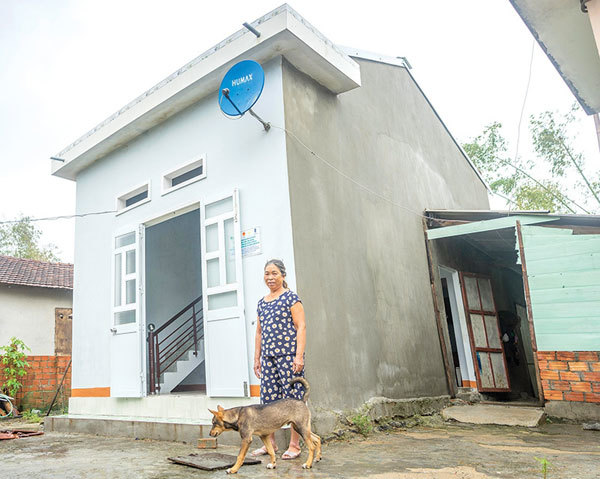 Poor residents in several provinces are realising life-long dreams to have stable and safe homes.
More than a week has elapsed since storm No.9 swept across the south-central province of Quang Ngai, but both sides of the 35km road from the centre of the province's Quang Ngai City to Binh Thuan Commune in Binh Son District still look like a war zone. Large patches of acacia trees planted by farmers and many big trunks have been uprooted, laying in disorder. Next to them, hundreds of homes have been destroyed.
Heavy rains have continued for days, causing numerous and lengthy power cuts, and many people have become homeless.
According to Quang Ngai People's Committee, the storm has caused losses of about VND4.48 trillion (nearly $195 million), or 8.1 per cent of the province's regional GDP last year.
The disaster injured 13 people, smashed down 325 houses, and blew away the roofs of over another 140,000 houses. Moreover, it also damaged 450 educational establishments, 70 health care facilities, and 105 communal homes, in addition to seriously damaging many roads and irrigation systems.
Poor fates 
Binh Thuan commune directly faces the sea, with a coastline of 12km. Many of the residents live on fishing activities, with an average annual income of VND30 million ($1,300). However, the commune has 273 poor households with an average monthly income of VND500-600,000 ($22-26), tantamount to the second-rate shirts that many white-collar workers in urban areas wear on most days.
With fear still on his face, the commune's chairman Ngo Van Vuong told VIR, "The storm has been the most serious since early this year. It has heavily damaged 1,155 houses here, and some schools at different levels. We are finding ways to support affected people."
A few hours before the storm arrived, the commune's leadership ordered the evacuation of more than 1,000 people living in shabby houses to safety shelters that protected them from strong winds and flooding.
In Song Cau hamlet, 45-year-olrd rice farmer Huynh Anh Tho was among these evacuees. Two hours before his four-member family left his home with some belongings, the storm turned his brick-and-mortar home into a pile of rubble, with the roof blown away into the garden of a neighbour.
"We have lost everything in a wink. We had saved money for a decade to build this house a few years ago. Now we don't know what to do, and many others are also suffering from such a plight. They can't offer me much help," said Tho, clearly struggling with sunken eyes due to sleepless nights.
The tortuous road to his house was still flooded, filled with waste which is polluting the living environment. Not so far from Tho's house, 51-year-old ox farmer Nguyen Thi Huong also had her house unroofed by the storm. The skinny ox, which is the sole money-maker for the four-person family, escaped death when Huong swiftly removed it from the cowshed.
"Hardly any time had passed after I took it out to the gate when the cowshed collapsed. The rain and the winds were so harsh," Huong told VIR. "If the animal died, we would have no way to earn money to feed my family."
Next to Song Cau is Tuyet Diem 1 hamlet, also in Binh Thuan Commune. The hamlet's residents are all suffering from woes caused by the latest storm. Nguyen Bong, a 60-year-old fisherman, has his house roof ripped off by a strong gust of wind. Bong is now living in his cousin's home.
Bong's house, whose walls are now broken, was built a few years ago as one of gratitude provided by the state. "My relatives are poor, and so are my neighbours. I don't know what to do to get a new roof and repair the house. This is very expensive," Bong sighed.
The cost for installing a new roof is estimated to be about VND20 million ($870), equivalent to a top-of-the-range smartphone.
Bong said that he has no idea how he can get that sort of money, which would take his three-member family at least five months of consecutive labour. "I don't have even a single penny now. It is very hard to fish right now, simply because there are no fish – the sea has been contaminated."
The lives of almost all residents in the commune remain in great woes with the storm polluting all sources of water, in addition to an invasion of mosquitos. It is also not easy for locals to buy mosquito nets because they are sold in the city, quite far from the poor village.
Safe dwelling 
While many families in Binh Thuan Commune became homeless, some have remained safe in their nests, free from the natural disaster's effects. Poor female farmer Pham Thi Em, 51, is one of them.
Em has been living in her two-storey home since March. What makes the 30-square metre dwelling different from others is that it is a specially-constructed storm- and flood-resilient house, with a special and simple design which creates a stronger structure.
Features include a mezzanine level for flooding protection, reinforced roofing, and the use of strong cement. The mezzanine level allows residents to comfortably stay in their houses during a disaster, safe from high flood levels. It can also be used as an area to store valuables during disasters and avoid it being washed away or spoiled by flooding waters.
"The house is my life-long dream. When I was given the house, I was like the cat that got the cream," said the day-labourer who lives on an average of $2 a day. "Previously, my old wooden house was shabby with a leaked roof and cracked walls, making it very hard to live in, especially during rainy days."
During the latest storm, dozens of neighbours stayed in Em's house as their own had been uproofed.
Em's special house, worth VND63 million ($2,700) is among 23 storm- and flood-resilient homes set up in Binh Thuan commune alone. The buildings are part of a project to improve the resilience of coastal communities to climate change in Vietnam, funded jointly by the Green Climate Fund (GCF), the Vietnamese government, and the United Nations Development Programme (UNDP).
The project has been running since 2017 by the Ministry of Agriculture and Rural Development, the Ministry of Construction, and the UNDP. Its total investment capital is nearly $42 million, including over $30.8 million in grants from the GCF and $1.6 million from the UNDP, while the remaining comes from the Vietnamese government. It is expected that about 4,000 houses of the type will be built in the five coastal provinces of Thanh Hoa, Quang Binh, Thua Thien-Hue, Quang Nam, and Quang Ngai.
"All the beneficiaries in the commune are very poor or disabled people who mostly live alone," said Binh Thuan Commune chairman Vuong.
One disabled local, 75-year-old Ngo Thi Hanh, had to live in her cousin's house for years in Tuyet Diem 2 hamlet before she was selected by the commune to receive a 30-sq.m house from the project in April.
"It has gone beyond what I could imagine – it is quite good and quite safe. It is an invaluable gift," said the woman, sitting on the shining floor made of enamelled tiles. "I can live safely for the remaining years of my life. The old house had an earthen floor which often got wet during rainy days."
The project is not only found in Binh Thuan Commune, but also in another 35 communes in the districts of Binh Son, Tu Nghia, Mo Duc, and Duc Pho, as well as in Quang Ngai City in Quang Ngai Province.
As of late October, 666 houses of the kind have been put into use in Quang Ngai, according to the UNDP.
"The houses are especially important to vulnerable people in disaster-prone areas. They are safe during stormy and rainy days, helping protect poor people's lives. We would say that they have turned the dreams of the locals into reality," said Nguyen Van Han, vice director of Quang Ngai's Department of Agriculture and Rural Development. VIR
Nguyen Dat

Many people have died in the central region, thousands of people are living outdoors, and infrastructure has been destroyed by floods and landslides. Why does the central region suffer from disasters every year?

The death toll during the recent severe flooding caused by torrential rains in the central region reached 106 as of 5 pm on October 20, while 27 others were missing, reported the Steering Committee on Natural Disaster Prevention and Control.