Street food in Hoi An ancient town

The ancient town of Hoi An topped the list of 15 best cities in the world in a recent readers' vote of the US travel magazine Travel & Leisure, surpassing many well-known destinations like Japan's Tokyo and Italy's Rome.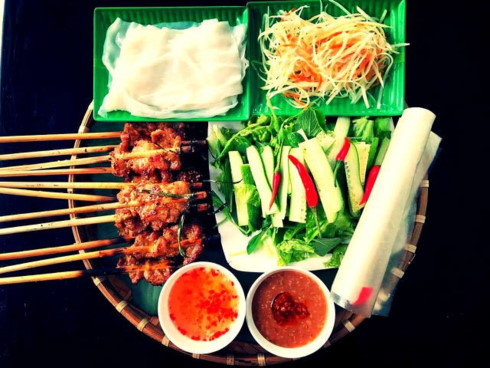 Grilled pork skewers, a popular street food in Hoi An (Photo: truyenhinhdulich.vn)
The magazine's readers rated cities on their sights and landmarks, culture, friendliness, shopping, and especially its street food.
Small streets in Hoi An are always packed with tourists, rain or shine. Stopping at a street food stall and enjoying grilled pork skewers served with rice paper and vegetables is something that any visitors will find it hard to resist.
"Grilled pork skewers are a popular dish here. You can enjoy it from street vendors. The dish is so appealing not only to tourists but also locals," said local resident Vo Thi Kim Xuyen. 
Most Hoi An's  grilled pork stalls are located in the intersection between Le Loi, Tran Hung Dao and Bach Dang streets. The flavor is enhanced with a special kind of sauce made from pork liver pate, peanut, sesame, and some other ingredients. Each vendor has his/her own secret to make the sauce.
"I learnt how to make the sauce from my grandmother. This is a traditional dish. We also make the rice paper. The pork is marinated, grilled and served hot," said Ms. Tran Thi Huong, a street vendor.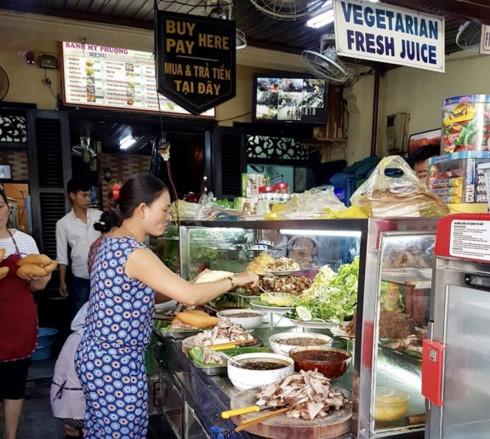 Ba Phuong banh mi shop in Hoi An (Photo: truyenhinhdulich.vn)
The image of long lines of visitors waiting patiently to buy a loaf of bread at Ba Phuong banh mi shop is common in Hoi An. The shop has attracted a large number of customers every day since Ba Phuong's baguette was once referred to by celebrity chef Anthony Bourdain as "the world's best".
"I have been to Hoi An several times and fallen in love with its food including Quang noodle, Cao Lau noodle, and banh mi Hoi An. Ba Phuong's banh mi is so special. I don't mind waiting for hours to buy a loaf," said Ms. Tran Thu Ha, a visitor from Hanoi.
There is a saying "Your trip to Hoi An is incomplete without trying Ba Buoi chicken rice". Ba Buoi chicken rice has become a trademark for its unique recipe and special taste. Chicken is torn into small pieces and mixed with chopped herbs, sliced onions to form a salad. It is served with rice that is cooked with the broth of the chicken and fish sauce, creating a sweet, salty, sour and spicy taste.
"Cao Lau and chicken rice are two dishes that I cannot miss whenever I come here. I also have chicken rice in Hanoi but Hoi An chicken rice seems to have its typical flavor. The chicken is soft and the dipping sauce goes well with the rice," said Ms. Thu Trang, a visitor from Hanoi.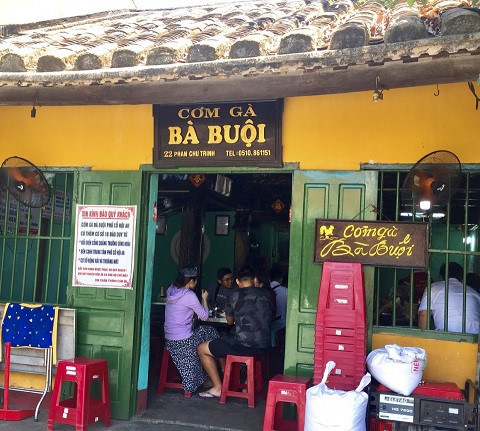 Ba Buoi chicken rice is well-known in Hoi An. (Photo: Instagrambanhmyrang/ truyenhinhdulich.vn)
Last year, Hoi An ranked second in the list of 10 safest and most exciting places on the earth for solo travelers by travel editors at Momondo, a UK based travel site. 
Global readers of the American news network CNN listed the ancient town as one of the 16 best places in the world to relax and get rid of stress. The number of foreign visitors to Hoi An skyrocketed 90 percent from a year earlier to 3.7 million in 2018. VOV5