Strong FDI flow into Vietnam's electronics industry to boost exports
The increased inflow of investment from foreign investors into Vietnam's electronics industry is expected to create a positive outlook for the country's exports of computers, electronic products, and components in the time to come.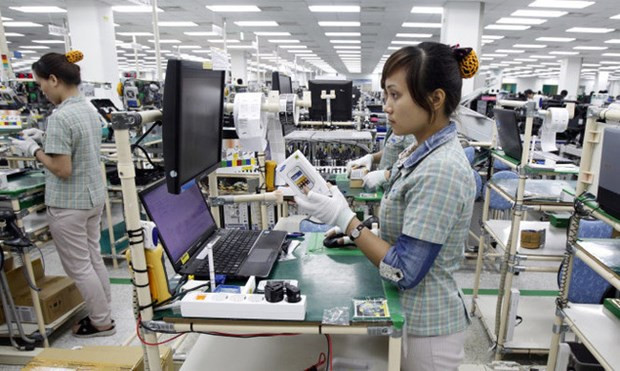 Regardless unexpected external challenges like the COVID-19 pandemic, geo-political conflicts, increasing production costs, and the shortage of input material supply at some certain times, Vietnam is still a destination attracting foreign direct investment for the electronics industry.
In recent years, major manufacturers such as Foxconn, Luxshare, Pegatron, and Wistron have invested in expanding their production in Vietnam.
LG Electronics from the Republic of Korea plans to pour an additional 4 billion USD into Vietnam, making it a manufacturing hub of the world, Dau tu (Investment) newspaper reported on February 8.
Hansol Electronics Vietnam, a component supplier of Samsung, is implementing a 100-million-USD project which will supply more than 10 million electronics products yearly for the domestic market and export.
For years, the exports of the electronics industry have been in second position in the group of key export products of Vietnam. Last year, Vietnam's electronic product export revenue reached 55.54 billion USD, a year-on-year increase of 9.3%.
FDI companies have contributed an increasing proportion of electronic product exports.
In 2019, the FDI sector exported electronics products worth 32.047 billion USD, accounting for 89.2% of the total export value of the electronics industry. In 2020, FDI companies' export value increased by 34.7% to 43.15 billion USD, accounting for 96.8% of the total export value of the industry. In 2021, FDI companies contributed 49.7 billion USD or 97.8% of the total export value of the electronics industry.
Expanded investment of FDI companies is said to create a brighter export prospect for electronic products and components.
Outlook for the industry is quite clearer as Vietnam's economy is much more open with 15 free trade agreements that the country already signed are being implemented.
Such agreements create opportunities for Vietnamese exports to enjoy preferential taxes and favourable conditions when entering 60 markets all around the world./. VNA