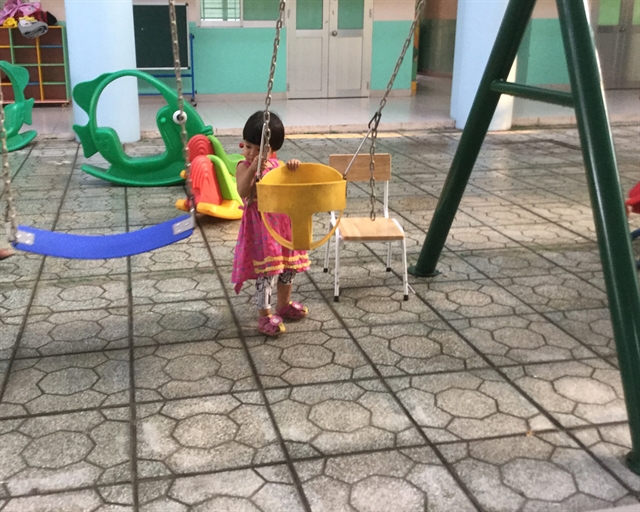 A kindergarten in Bình Tân District. 
The city is also finding it difficult to apportion the number of students learning during the day and those who are day boarders.
Đỗ Đình Thiện, deputy chairman of Bình Tân District People's Committee, told Việt Nam News that the number of primary school students would increase by 3,500 this year.
The district is currently able to follow the ministry's regulation of 25 to 35 kids in each public kindergarten classroom because the district has many private kindergartens.
"However, the district faces difficulties in ensuring the classroom-student ratio at primary schools because there are not many private ones," Thiện said.
Each classroom in primary schools now has about 41 students, and this will continue for the new school year, he said,.
"We have been forced to increase the number of students in each classroom to ensure that all children can attend primary school," he added. 
Under ministry regulations, primary schools are supposed to have no more than 35 students in each classroom.
Khưu Mạnh Hùng, head of the educational division under District 12 People's Committee, said the number of kindergarten, first, sixth and 10th graders in the upcoming 2019-2020 school year would increase by 8,000.
For the upcoming school year, 11 new or upgraded schools with 156 classrooms will be put into use. The new schools include one kindergarten, two primary schools, and one secondary school.
The remaining are upgraded schools, including one specialised school for children with disabilities, Hùng said, adding that the number of schools was still not enough.
The number of primary school students learning during the day will increase only slightly by 1.6 per cent, but for secondary school students, it will go up to 20 per cent from 8 per cent in the previous academic year.
The district plans to build 709 new classrooms by 2020, Hùng said. The district once estimated that it would have 450,000 people by 2020, but the number has reached 630,000.
Under the city People's Committee's admissions plan for kindergarten, first, sixth and 10th graders, all school-aged children will be ensured admission. 
Under the plan, each district will enroll school-aged children living in their districts, but primary schools cannot enroll six-year-old children from other districts.  
The city also plans to gradually increase the rate of kids aged 6 to 18 months attending public kindergartens.  
District 2 People's Committee has unveiled an admission plan which shows that the number of 5-year-old children in its wards is expected to increase.
Thảo Điền Ward, for instance, had 420 children at this age in the 2018-2019 school year, while the number will increase to 500 in the upcoming school year.
The An Phú Ward will see an increase of 145 children compared to last year.
Tân Phú District will have an increase of 435 5-year-old students, while the number of sixth graders in the upcoming school year will increase by 334 compared to last year.
Teachers
Four more high schools will open in districts 9, Thủ Đức, Hóc Môn and Bình Chánh in the 2019-2020 year. As many as 531 officials, including 443 teachers for high schools, will be needed.  
The city's Department of Education and Training plans to recruit 82 more teachers of English, 61 for literature, and 54 for maths. Only one teacher for each district will be recruited for arts and music in the 2019-2020 year. — VNS