Students vie to enter university
Le Thu Ha wipes her brow and struggles through the swarm of students towards the makeshift tables set up outside the Temple of Literature's main hall. Along with everyone else in the crowd, she is braving the sweltering heat to get her hands
VietNamNet Bridge – Le Thu Ha wipes her brow and struggles through the swarm of students towards the makeshift tables set up outside the Temple of Literature's main hall. Along with everyone else in the crowd, she is braving the sweltering heat to get her hands on one of the red scrolls that lie, neatly tied, on the tables and contain calligraphy bearing messages of good fortune.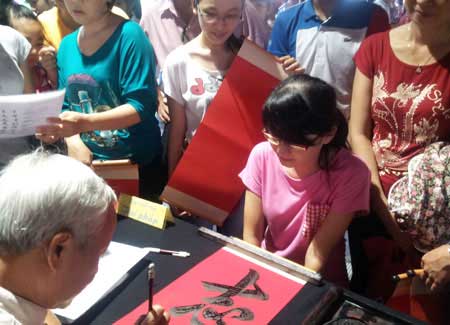 Students crowd calligraphy tables set up at the Temple of Literature in Ha Noi yesterday, July 1. Each pays VND100,000 to get a red scroll with calligraphy letters, which they believe will bring them luck for the upcoming exam season.
The 18-year-old from northern Lai Chau Province says she hopes this ritual, undertaken in the shadow of the hall honouring Confucius and his disciples, will bring her luck in her upcoming university entrance examinations. She is attempting to win admission into either the Ha Noi University of Agriculture or the Viet Nam Academy of Traditional Medicine.
"I came to the capital one month early to get used to this sweltering heat," Ha says. "My level of confidence to perform well in these exams is about 70 per cent. I know I need some luck."
Each red scroll costs VND100,000 (US$5) and the temple is currently enjoying a roaring trade.
In the early morning yesterday, July 1, an army of anxious students and parents alike flocked to the usually peaceful temple - Viet Nam's first university - in the hope that praying there would boost their chances of acquiring a precious university place.
Starting this Thursday, more than 1.3 million students will compete for 300,000 spots at 175 universities and colleges nation-wide, kicking off another nail-biting exam season that will last until July 16, according to statistics from the Ministry of Education and Training.
The numbers say it all: getting into a top State-owned university is an increasingly fierce battle.
Even though the economic slowdown has made the nation's finance universities less popular with students who once desperately pursued 'money making' majors, State universities remain the most popular destination due to their lower cost and higher reputation.
And even as warnings about the country's rising youth unemployment rate get louder – the International Labour Organisation recently revealed that the rate was three times higher than the adult rate in 2012 – the majority of students still believe a university degree is the gateway to future employment.
Pham Thi Diu, 18, from northern Hai Duong Province's Ninh Giang District, says her dream is a good job in the capital, but she admits that she would never consider attending a vocational school as they are less reputable.
Instead, she has registered for the Ha Noi University of Science and Technology and believes she has a high chance of passing.
"I have loved the capital ever since I visited Ho Chi Minh Mausoleum when I was little," she says. "It would be very different from my life at home. My parents, who are farmers, have said they would do anything to pay for my university education if I pass."
Despite the high costs, many feel that winning a place at university is a matter of family pride.
Nguyen Huu Dung, a high-school graduate of Vinh Yen High School in northern Vinh Phuc Province, explains that as the only son of the family, he has to gain a university degree.
He has registered for the Viet Nam Academy of Military Technology because it offers free education, even though the acceptance rate, according to Dung, is particularly fierce this year due to the larger number of students on a tight budget.
"If I don't manage to get in this time, I will try again next year," he says.
With another competitive exam season underway, many education experts have continued to call for universities and colleges to be given autonomy in developing their own admission procedures. They argue that this would help private universities compete with State ones and reduce the burden and cost of holding nation-wide examinations.
Earlier this year, Education Deputy Minister Bui Van Ga made it clear that the current system would remain until at least 2015, with any alterations to be considered in the meantime.
He said that universities and colleges were allowed to develop their own admission criteria, but emphasised that these must be submitted to the ministry for approval before any possible change is adopted.
Vu Thi Phuong Anh, an expert on higher-education management, argues that exam reforms have been too slow, failing to reflect the changing demand of higher education and society.
"Experience and common sense tell us that if universities have the capability to successfully train people, then they also have the capability to identify and admit the best people."
Allowing universities to develop their own admission procedures would ease the pressure on students and allow them more freedom to choose universities matching their interests and ability, she adds.
However, at least for now, that pressure remains and is higher than ever before.
First-year student Nguyen Thi HoaGiang from the Ha Noi University of Science and Technology has come along with dozens of other blue-shirt student volunteers to watch proceedings at the temple and to guard the 82 ancient stone tortoises which people often touch for good luck – causing damage over time.
Giang admitted that after their three-hour shift in the morning ended, many of the student guards sneakily touched the head of the tortoise.
"Superstition is a powerful thing, but it isn't everything. I came here last year also to pray for my luck during the exam, but I did not touch the tortoise," Giang says. "Luck is important but after one year of studying, I know that in the end it's all about hard work."
Source: VNS