Two eight-year-old boys have died after a car crashed into a primary school classroom in Sydney, police have said.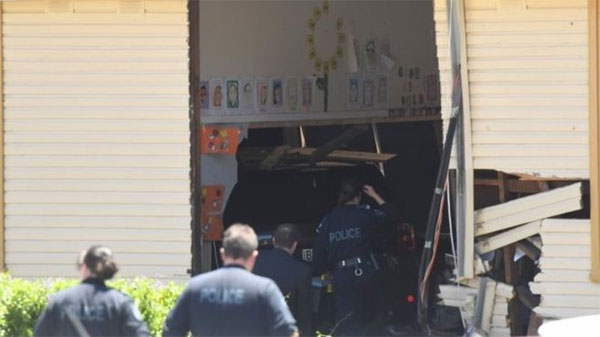 Police investigate the crash in the Sydney suburb of Greenacre. -- Photo: EPA
The incident at Banksia Road Public School also left three girls in hospital with injuries.
Most of the other 19 children in the classroom were assessed at the scene by paramedics, authorities said.
The driver of the car, a 52-year-old woman, was taken to a police station. Authorities say they do not believe the crash was intentional.
The incident happened at about 09:45 local time on Tuesday (22:45 GMT Monday) in the suburb of Greenacre.
Paramedics described the scene as "pandemonium".
"Obviously it was a scene of carnage," said Supt Stephanie Radnidge, from New South Wales (NSW) Ambulance.
"There were a number of distressed and overwhelmed children and teachers at the scene of a horrible accident."
Others treated at scene
The two boys were taken to a nearby hospital, where they died from their injuries. A girl, nine, remains in a serious condition, while the two others, both eight, were stable, authorities said.
Police said "a number" of other children received minor injuries and were treated at the scene.
"It is very, very hard because we are parents ourselves, we are human beings," said Supt Radnidge.
"But we are highly trained and the best care was delivered this morning to those injured at this site."
Police said the driver was undergoing mandatory blood and urine tests, and they were investigating how the crash happened.
"We do not believe this was an intentional act," said NSW Police Commander Stuart Smith.
It is not yet known if the woman had any connection with the school, authorities said.
One man at the scene, Khaled Arnaout, said he saw a "big hole" in the wall of the portable classroom after being drawn to it by screams.
"Teachers and everyone were just running around," he told the Sydney Morning Herald.
"There was blood and kids on the floor, just lying down and screaming."
Source: BBC