Australian authorities have begun recovering the wreckage of a seaplane that crashed near Sydney, killing six people.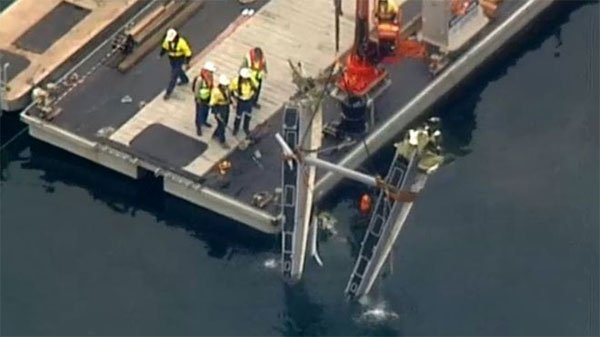 Authorities use a crane to recover part of the seaplane on Thursday – Photo: ABC
On Sunday, high-profile UK business leader Richard Cousins, four members of his family and a Canadian pilot died when the plane plunged into a river.
The plane was being lifted from about 13m (40ft) below the water on Thursday.
It has also emerged that a plane with the same serial number was involved in a fatal crash in 1996.
On Thursday, local news broadcasts showed the De Havilland DHC-2 Beaver being retrieved from the Hawkesbury River, about 50km (30 miles) north of Sydney.
The crash killed Compass Group chief executive Mr Cousins, 58, his 48-year-old fiancée, magazine editor Emma Bowden, her 11-year-old daughter Heather, his sons, Edward, 23, and William, 25, and Sydney-based pilot Gareth Morgan, 44.
The family, from Tooting, in south-west London, were flying back to Sydney from an exclusive waterfront restaurant in Jerusalem Bay, not far from the crash site.
The businessman's brothers, Simon and Andrew Cousins, said on Thursday: "We are fortunate and thankful for the outpouring of love and support we've received from across the world."
"We are deeply touched by the tributes to Richard, William, Edward, Emma and Heather in the media and throughout the community."
The recovery operation began at 06:00 local time (19:00 GMT Wednesday) and was expected to last until the afternoon.
What happened in 1996?
According to a report in the Sydney Morning Herald, the same plane was involved in an accident that killed a pilot 22 years ago.
Its wingtip had struck a hill amid gusty conditions "conducive to windshear and turbulence" in rural New South Wales, according to an Australian Transport Safety Bureau (ATSB) report.
Investigators said the aircraft was climbing at almost maximum weight when it clipped the ground, sending it into a cartwheel.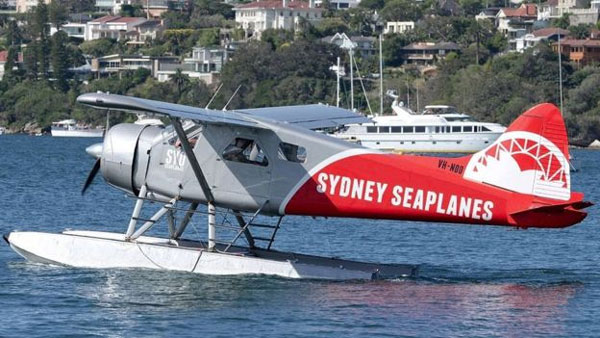 The crash involved a single-engine DHC-2 Beaver Seaplane -- Photo: DAVID OATES
The plane was then repaired and cleared to fly again under official safety requirements, the Civil Aviation and Safety Authority told the BBC.
It had since flown thousands of trips as a sightseeing plane until the crash on New Year's Eve.
Seaplanes Pilots Association vice-president Kevin Bowe told the Sydney Morning Herald that crashed planes were rebuilt to a condition that was "often better than new".
How long will the current investigation take?
ATSB investigators have said they will release a preliminary report in about 30 days.
"The full sequence of events leading up to the accident is not fully understood at this stage," said ATSB executive director Nat Nagy on Tuesday.
He said investigators would rigorously examine the wreckage, gather witness accounts, and examine the pilot's flying history, in an effort to learn what happened.
Source: BBC