Several people have been taken hostage by at least one armed man at a Lindt cafe in Sydney, Australia.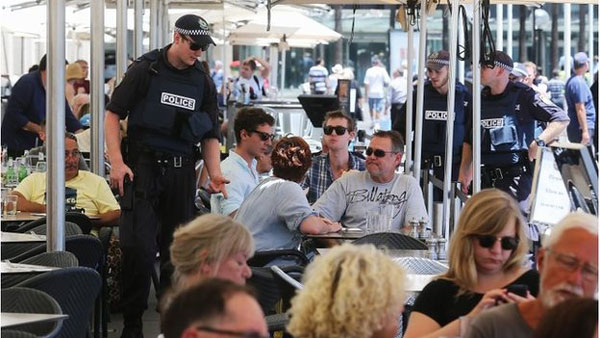 Police have upped their security checks across the city
Hundreds of armed police have sealed off the normally busy Martin Place in the central business district.
At least three people have been seen inside the cafe with their hands up against a window, and holding up a black flag with Arabic writing.
Australian Prime Minister Tony Abbott has described the incident as "deeply concerning".
He said it was not yet clear who was behind the incident but that it could be politically motivated, and that the National Security Committee had been briefed.
"I can think of almost nothing more distressing, more terrifying than to be caught up in such a situation, and our hearts go out to these people," he said.
New South Wales Police Commissioner Andrew Scipione said the situation was not being treated as a terror incident, but confirmed there was "an armed offender in the premises holding an undisclosed number of hostages".
He said the situation was contained in Martin Place - dismissing various reports of other incidents around the city - and that police were "doing all we can to bring this to a peaceful outcome".
But he said police had not been in direct contact with the suspect.
One of the hostages has made contact at least twice with a local commercial broadcaster - under instructions from the hostage-taker - asking to go live on air.
The hostage spoke to a presenter for 2GB, but the request was turned down and the station later tweeted: "No negotiations will be made between the media and the armed offender."
The BBC's Jon Donnison in Sydney says an enormous police operation is in place, on a scale few Sydney residents will have seen before.
The incident began as people were arriving for work in Martin Place on Monday morning.
Witnesses saw a man with a bag and gun walk into the Lindt chocolate shop and cafe. Police shut down the area, closing roads and moving people away. The Martin Place station was also closed.
Lindt said about 10 employees and 30 customers were thought to be inside. Nearby offices were evacuated and police asked people to remain indoors and away from open windows.
In a statement on Facebook, the company said it was "deeply concerned over this serious incident".
An armed man wearing a backpack and a bandana could be seeing walking around inside the cafe.
Television footage showed at least three people, thought to be employees of the cafe and who were visibly distressed, holding a black sign with the Islamic creed written on it up to the window. Commissioner Scipione said police were "trying to work out what it stands for".
The BBC's Security Correspondent Frank Gardner said the flag was similar to but not the same as that used by the Islamic State militant group in the Middle East.
One early report spoke of gunfire heard at the scene - but this has not been confirmed.
No injuries have been reported from the incident, according to a police spokesperson.
Martin Place is home to the state premier's office and the headquarters of two of the nation's largest banks. The state parliament house is also only a few streets away.
Courts in the business district and a number of banks are closed for the day.
Source: BBC