Takeovers cause big changes in consumer goods markets
VietNamNet Bridge – Large corporations have been silently pouring their money into other business fields after they can get a firm foothold in their core fields.
VietNamNet Bridge – Large corporations have been silently pouring their money into other business fields after they can get a firm foothold in their core fields.
Trying to make money anywhere it is possible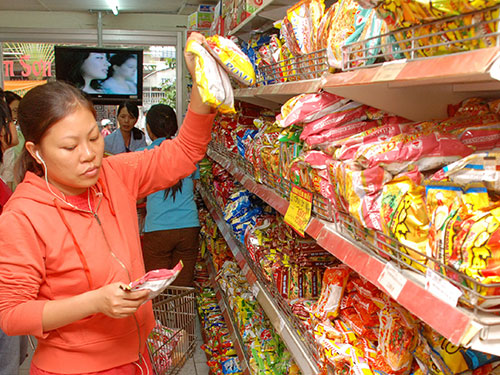 Analysts said many changes have been made in the sweets, instant noodle, vegetable oil and drink markets in recent months following a series of merger and acquisition (M&A) deals.
Masan Consumer reportedly spent big money to obtain 53.2 percent of Vinacafe Bien Hoa's shares and 63.5 percent of Vinh Hao Mineral Water's shares. Rumor has it that the major player has successfully bought a large amount of the Phu Yen Brewery & Beverage Company.
Most recently, the information that Masan attempted to buy the Tuong An Vegetable Oil Company, a "big guy" in the field, has helped pushed Tuong An's share prices up by 80 percent.
Masan Consumer has set up Masan Beverage, a subsidiary, which, in the immediate time, is in charge of managing its capital in Vinacafe Bien Hoa and Vinh Hao.
Tran Le Nguyen, Chair of Kinh Do, a sweets group, has confirmed that Kinh Do is planning to buy potential companies that make vegetable oil, instant noodles and sauces.
The 10 percent annual growth rate of the sweets market cannot satisfy Kinh Do. Therefore, the group decided to "go beyond the sweets field" to obtain a growth rate of 20-30 percent.
The strategy to diversify business fields has been implemented by joining hands with the 100 percent Taiwanese invested Saigon Vewong, the owner of A One brand, to run an instant noodle project.
Under their cooperation program, Vewong will make instant noodles, porridge and noodle soup for Kinh Do, while Kinh Do will help distribute Saigon Vewong's products.
Kinh Do plans to launch the first products of the cooperation program in the third quarter of the year.
The sweets manufacturer is also nurturing an ambitious plan to "encroach" on the coffee and vegetable oil land by cooperating with two existing enterprises in the fields.
Some days ago, Vinacafe Bien Hoa, known as a coffee manufacturer, consulted with its shareholders about the plan to expand. If the plan gets the shareholder's approval, Vincafe Bien Hoa would trade dairy products and food for children and make sweets.
Are there opportunities for newcomers?
Nguyen Trung Thang, Chair of the Vietnam Marketing and Business Administration Institute, noted that enterprises have to expand their production fields, if they want high growth rates. The growth within one business field is limited.
He commented that it is a wise choice for the enterprises to pour money into the business fields that have close relations to their core fields, not in the real estate or finance investment sectors, of which they have little experience.
However, analysts said it is very difficult for newcomers to find a foothold in unfamiliar markets for them, as the markets become more divided among many players.
Masan Consumer, which dominates the sauce market, is believed to be at a disadvantage when entering the drink market, where there are giants like Pepsi, Coca Cola and Tan Hiep Phat.
NLD