VietNamNet Bridge – Ha Thanh Tam of Vinh Binh Rice-An Giang won the fourth stage win of the Cycling to Countryside Tournament but the overall rankings for the race remained unchanged.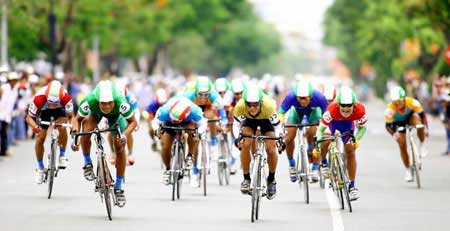 Illustrative image.
Tam pedaled to the finish of the 110km race with a time of 2hr 54.58min from Can Tho City to Bac Lieu City yesterday, May 16.
He was only about several hundreds of a second ahead of runners-up Truong Nhat Truong of Domesco Dong Thap and amateur Nguyen Huu Tai of 5 Gau A Luot-Long Xuyen.
Tam failed to make a dent in the ranking as the whole peloton, including yellow jersey holder Huynh Thanh Tung of Military Zone 7, crossed the finish line right after the first three riders.
Tung led the race with a time of 10:04.06, followed by Tam and Nguyen Huu Tien of Ha Noi.
Tung also had the green jersey with a total of 60 points.
Although Tam failed to steal the top spot, he made a big contribution to taking his team to the top position, with a time of 30:14.05 after four stages. Vinh Long and Binh Duong are following closely behind.
Racer Nguyen Van Huong of 5 Gau A Luot-Long Xuyen kept the yellow jersey in the tour for amateurs. His two runners-up are teammate Nguyen Hoang Sang and Le Tan Lai of Nguyen Dung-Chau Phu.
Today will see cyclists ride from Soc Trang to Vi Thanh City in a 85km stage.
Source: VNS