Tan Son Nhat airport seeks to close 1 runway for repairs

HCM City's Tan Son Nhat International Airport is seeking permission from the Civil Aviation Authority of Vietnam to repair a severely downgraded runway at night.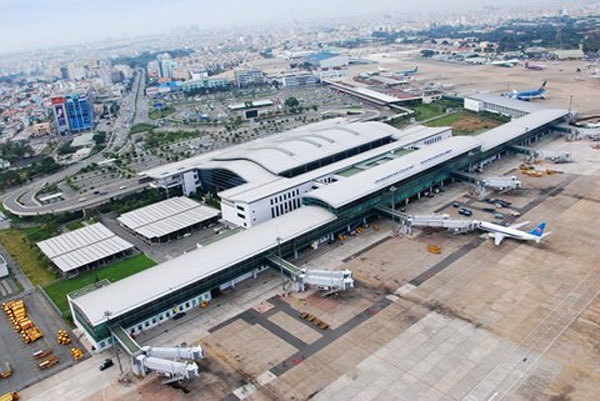 Tan Son Nhat international airport in HCM City, the country's largest and busiest airport. Photo courtesy of the Airport Corporation of Vietnam
If approved, runway 25R/07L, one of the airport's two runways, is expected to be closed from midnight to 7am daily between February 27 and March 9.
It is only a precursor of some major renovation that has been planned.
The work would be funded by the airport's own resources, a spokesperson said.
There are visible cracks and deformation on the runway, with airplane wheel marks scarring its surface.
Worse still, subsidence of its surface poses a potential threat to aircraft safety, according to airport authorities.
The runway is designed to handle wide-bodied aircraft used for long-haul flights for 10 years or 55,100 take-offs and landings. But in less than five years, by April 2018, there had been a total of 126,000 take-offs and landings.
Vietnam's major airports have been overloaded for years. Damages to runways and taxiways have been reported since 2016, though few repairs have been done since they are constantly in use.
The Ministry of Transport has asked the Government to allocate funds or permit the Airport Corporation of Vietnam (ACV) to either draw money from its airport operations or advance its own capital to repair the damaged runways and taxiways in the country's two largest airports, Tan Son Nhat and Noi Bai airport in Hanoi.
Earlier this year the ACV, which operates 22 of the 23 airports in the country, sought government approval for the repairs.
The repairs are expected to cost VND1.876 trillion in Tan Son Nhat and VND2.276 trillion in Noi Bai, according to the ministry.
Downgraded runways and taxiways must be shut down unless repairs are carried out as soon as possible, according to the ACV.
New terminal delayed
A plan to build a third passenger terminal at Tan Son Nhat Airport, originally considered urgent, has been put off for two years.
Speaking at a recent meeting, Deputy Minister of Transport Le Dinh Tho, said building the new terminal and ensuring it would be operational by 2022 was an extremely urgent task.
It was projected to cost VND11.43 trillion ($493.2 million), with ACV bringing in the entire amount.
It said terminals T1 and T2 at Tan Son Nhat had a maximum capacity of 28 million passengers per year, but the figure was expected to reach 45 million by 2025.
The Government has agreed in principle that the ACV would carry out the work, but due to discrepancies between the Civil Aviation Law and the Investment Law, legal procedures for the new terminal are yet to be completed.
Lai Xuan Thanh, ACV chairman, said it would take 36-37 months to build terminal T3.
But even in the best case scenario, with the Government approving this month and subsequent steps being implemented without any problems, the deadline of 2022 was not possible, he said.
The country's largest and busiest airport handled over 40 million passengers last year, 1.6 times its designed capacity.
Hanoi's Noi Bai international airport handled 29 million compared to its capacity of 21 million. — VNS

The combined capacity of the 22 airports in Vietnam is just equal to that of one single airport like Changi in Singapore, Suvarnabhumi in Thailand or KLIA in Malaysia.

The local aviation market is booming as several new airlines have entered the market, provoking concern over how major airports in the country can handle sudden rises in passengers and aircraft movements.