Teacher and student display paintings together at VN National Museum of Fine Arts

Artist Ly Truc Son and his student Trieu Quoc Chien are displaying sơn mài (lacquer) paintings at Vietnam National Museum of Fine Arts.
Three-piece painting Quê Ngoại (Mother Homland) by Lý Truc Son. — Photos Nguyen Binh

This is the first time the two artists of different generations have exhibited their paintings together.
The exhibit comprises 30 large paintings, some of which were created this year.
The paintings tell the personal stories of the artists and portray social situations influenced by traditional sơn mài in terms of ideas and form.
Sơn mài comprises sơn (lacquer) and mài (grind) which relate to the material and process used to make a sơn mài painting. The paintings are also inlaid with crushed egg shells, gold, silver and other materials.
Over the past 80 years, Vietnamese lacquer masters have reached milestones in developing traditional crafts towards artistic creativity.
Sơn was a pioneer of the young artist movement in the 1980s, while Chien does not want to be involved any movement.
"They met in thought and art is a pure activity decided by their character," said art critic Phan Cam Thuong.
"To them, sơn mài is merely a means but a traditional means adept at expressing one's cultural identity."
Son's Quê Ngoại (Mother Homeland) is a three-piece painting which measures 108cm by 180cm for each piece. The painting is the largest and perhaps most outstanding at the exhibition.
It features a peaceful rural scene with a mother and her child, a buffalo, a banana tree, a river and a rainbow.
Another painting by Son entitled Vô Đề (Untitled) is also a set of five pieces. The pieces are made by traditional lacquer resin.
Untitled paintings are abstract and coloured black and blue. The exhibition is a chance for Son to debut the paintings which he created this year.
"These paintings are difficult to understand," said artist Nguyen Quoc Huy at the exhibition's opening ceremony last Thursday. "Even for professionals, the paintings are very distinctive in shaping art and composition.
"Currently, Son is creative in space and shape which are irreducible. Untitled is inlaid with only a few crushed egg shells. I think Vietnamese lacquer painting is special because of metal materials such as gold and silver."
The paintings are focused in terms of the idea and efficiency to limit the process of turning lacquer into crafts, according to Son.
He thinks lacquer is inherently beautiful, making it easy for an artist to cover their weaknesses, and he wants to turn this situation around to show it naked and save beauty for later.
"Through my paintings, people will feel my point of view," said Son. "Untitled will take the viewers to gloomy and sombre landscape to experiment by themselves and discover something strange."
Chien is one of Son's students at the Viet Nam Fine Arts University. He has 14 paintings displayed at the exhibition.
His paintings such as Cá Đùa Dưới Trăng (Fish Plays Under Moonlight); Bà Mẹ Vĩ Đại (Great Mother) and Đức Phật Ngủ (Sleeping Buddha) honour Buddha, women and beauty.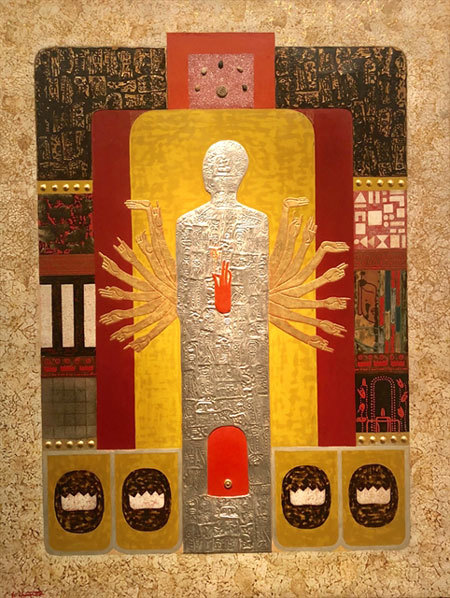 Lotus by Trinh Quoc Chien.
"Women sacrifice their careers and beauty to focus on motherhood," Chien said about Bà Mẹ Vĩ Đại.
"Although life brings many difficulties, challenges and sadness, it is beautiful to me," he said. "I always try to express the beauty of life in my paintings."
Chien doesn't want his paintings to become a fine arts handicraft nor does he to repeat traditional lacquer's glossy, deep and sparkling effects.
In his Buddha-themed paintings, he traces and divides the lacquer plate to make miniature paintings within the whole painting.

His paintings show that he profoundly changes the traditional way of lacquer but still keeps the ancient beauty in feeling and splendor, rather than form.
The exhibition runs until September 25 at 66 Nguyen Thai Hoc Street. VNS
Nguyen Binh