Teacher helps students with autism integrate
Thanks to the love of her job and her sympathy for disadvantaged children, Nguyen Ngoc Hanh has helped many students with autism learn to read, write, and spell their name.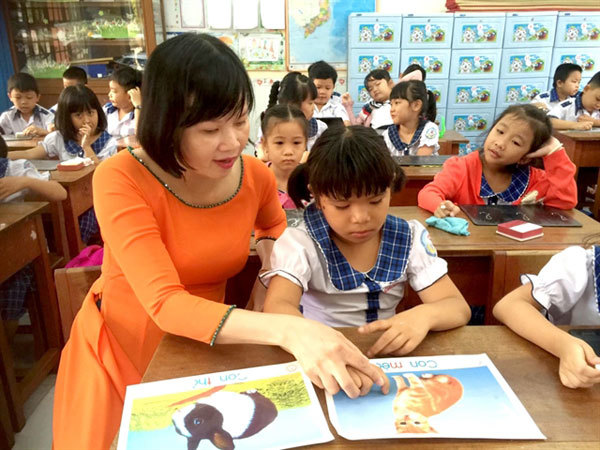 Nguyen Ngoc Hanh guides a student with autism in her class. — VNA/VNS Photo
Hanh, 36, a teacher at Dinh Bo Linh Primary School, My Tho City, Mekong Delta Tien Giang Province, said after graduating from the College of Teacher Training in 1995, she first taught at Thanh Binh Primary School, Cho Gao District.
In 2002, after being introduced to the provincial education project for disadvantaged children, she decided to attend a training course for teachers of students with autism led by the Department of Education and Training.
In 2007, she started teaching children with autism who were first-grade students.
"To teach normal first-grade students familiarising themselves with school is not easy, it is even more difficult for children with autism," she said.
"Autistic children are uncooperative, not responsive, sometimes they even scream and scratch around, and hate joining in any activities in class," she added.
"Some children don't know what grade they are in and what their teacher's name is."
"Teaching children with autism is quite complicated because we teachers do not have a specific lesson plan or method, we mostly depend on the child's situation to have their own therapy," Hanh said.
According to her, the first thing to do when teaching autistic children is to meet with their parents to learn more about the students.
"Talking with parents, especially mothers of autistic children, I can see all their hardship, wondering how to make their children progress every day.  
"As a homeroom teacher, I feel I need to do something to help children get better."
Teaching autistic students means really empathising to understand the weaknesses and strengths of each child to help them develop, Hanh said.
She tries to ensure others in the class are mindful of the autistic children they learn with. 
"I tell my children that our class has some slightly special but very nice friends. They help each other study well and especially do not use bad words with students with autism."
To help the children enjoy the lessons, Hanh makes class fun and observes the children closely when they play games or talk together.
"The first thing when teaching autistic children is you need to determine the child's capacity and needs so the teacher can develop an individualised education plan for the child and other supportive activities," she said.
"It is also important to choose methods and adjust the curriculum. In the teaching process, it is necessary to create situations for children to speak and teach them to say short and simple sentences."
Le Tan Nghia, Principal of Dinh Bo Linh Primary School, said Hanh was active in school activities. "She is very enthusiastic and makes herself teaching equipment for students. She is an outstanding member of our school's teachers."
Hanh has won some certificates of merit as an Excellent Teacher for Children with Disabilities from Tien Giang provincial education department and from the Ministry of Education and Training. VNS

"Patience and love will bring wonderful things in life."  

Ito Mai, a 40-year-old Japanese teacher for children with autism in the central city of Da Nang, starts each day with a special cup of coffee.