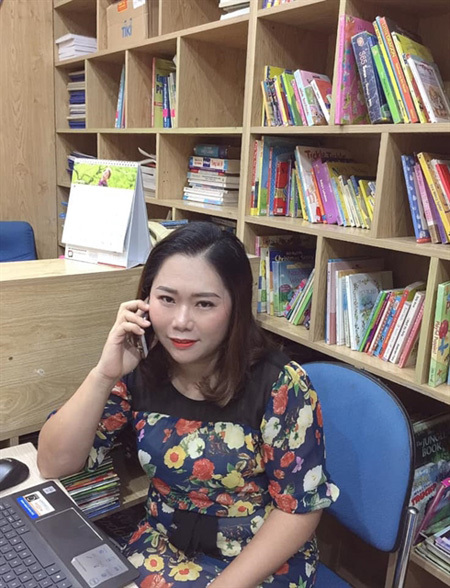 Teacher of English Bach Thuy Linh in Hanoi has initiated The Bilingual Children's Music Project. Photo courtesy of the teacher 
These are the poetic words and pure lyrics of the popular song Cánh Én Tuổi Thơ (Little Swallow Wings) by Pham Tuyen, a very well-known Vietnamese musician, especially among children.
The song has been in the hearts of many generations of Vietnamese children as a nice childhood memory for more than 30 years.
Now, Bach Thuy Linh, an English teacher in Hanoi, has given the song a breath of fresh air by recording a dual Vietnamese and English-language version.
Linh, under her stage name Nguyệt Ca, and her friends are running a project to translate Vietnamese children's songs into English.
The Bilingual Children's Music Project initiated by Linh aims to inspire children in their English studies and help foreign friends learn about Vietnamese music.
The release of Cánh Én Tuổi Thơ with both Vietnamese and English lyrics has marked a successful start for the project.
As a mother and an English teacher, Linh has long wanted to translate classic Vietnamese children's songs into English.
She said it was a gift for her students and their parents, but especially for her 10-year-old son. 
Music for Vietnamese children in recent years has seen few new and hit works. Many children prefer to listen to foreign music, especially from the US and South Korea.
"They even memorise songs that are not appropriate for their age while do not know about the pure and meaningful Vietnamese songs suitable for their age," said Linh.
The teacher said she regretted that many children just like to listen to Korean, European and American music but ignore many beautiful Vietnamese songs.
"My friend, Vu The Chung and I jointly run the project of translating Vietnamese songs into English, with the desire to bring a new musical experience to children," she said.
The project has so far translated and recorded eight songs. The two opening songs, Cánh Én Tuổi Thơ by Pham Tuyen and Cho Con (For You) by Pham Trong Cau, have been shared widely on social networks and received a lot of positive feedback.
Before recording the songs, Linh said she contacted the musicians or their families to get permission.
"Very fortunately, I have been totally supported by the authors," Linh said.
Composer Pham Tuyen, who turns 91 this year, a great author of Vietnamese children's music, praised the project after hearing the English version of his song.
He was very moved to listen to the English lyrics and said it was creative but still close to the original meaning, Linh said.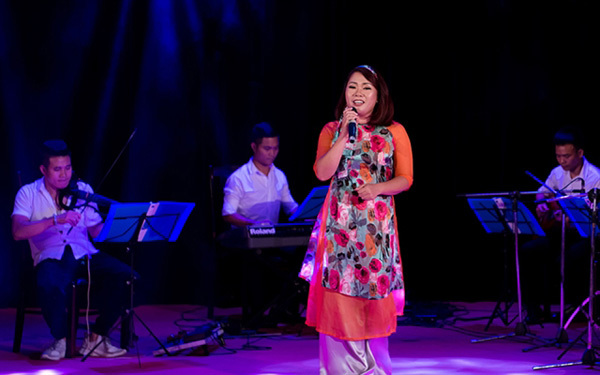 Bach Thuy Linh alias Nguyệt Ca, a teacher of English in Hanoi and her friends are carrying out a project to translate Vietnamese children's songs into English. Photo nhandan.com
The first two songs from the project have gone viral on YouTube and on social networks. Many students at secondary schools and their parents listening to them have enjoyed the songs.
The third song Chỉ Có Một Trên Đời (Mom, You Are the Only to Me) which was released on Mother's Day (May 9) is about motherhood, while the fourth, Trái Đất Này Là Của Chúng Mình (The Earth Is Ours) will be released on World Environment Day (June 5). Both were composed by Truong Quang Luc.
According to Linh, the songs chosen to be translated are those associated with the childhood of various generations in Vietnam. The songs should convey messages of humanity and purity.  
"And most importantly, the translation should be precise, smooth, faithful and respectful to the songs' spirit and contents. The translated songs should be seen as an artistic work with its 'own life', not just a forced translation into another language," she said.
"Although the project takes a lot of time, effort and money, in return, the praise from listeners and children's excitement when listening to the songs are great motivation for the team."
Currently, as it is a community non-profit project, the team pay all the expenses out of their own pockets.
To popularise the translated songs, Linh and her colleagues use popular digital platforms such as Facebook and YouTube. They also perform them at educational workshops and school cultural and performance activities.
In addition, the group is building the website nhacthieunhisongngu.vn and the YouTube channel Nhạc Thiếu Nhi Song Ngữ (Bilingual Children's Music), to share more versions of Vietnamese children's songs from the group and other organisations and individuals who have the same purpose. Those songs are not only in Vietnamese and English but also in other languages.
Many adults said they loved the songs of the project as they could find their beautiful childhood memories when listening to them.
More broadly, Linh said the project was targeting everyone who loves Vietnamese music and culture to help them better understand the beautiful melodies and lyrics of Vietnamese children's songs.
"Vietnamese people living and working abroad, and those who have foreign spouses will have a source of children's songs in both English and Vietnamese, to teach their children. This will contribute to making the connection of the children with their homeland and tradition more close and meaningful," Linh said.
A mother of two with Facebook name Phi Maichi was thrilled to listen to the song Chỉ Có Một Trên Đời and its English version performed by Linh.
She said her two children had been learning English in Linh's class for 10 years and she was proud to let them study with a teacher with high professionalism and a good personality.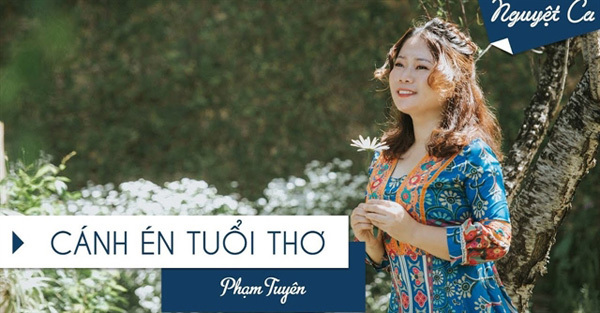 Bach Thuy Linh on her cover of the famous children song Cánh Én Tuổi Thơ (Little Swallow Wings) by Pham Tuyen. Photo from the teacher' Facebook page
"I believe this is a very meaningful project as children can access the language based on Vietnamese music and their own culture. Educational projects like this are very fiddly and require a lot of dedication," wrote the mother on her Facebook page.
Like the lyrics of the song Cánh Én Tuổi Thơ, "A little swallow does not make the spring", the bilingual children's song project is trying to contribute a "swallow wing" to make contemporary children's music more vibrant.
The team said they hope to get more and more people involved in the project. Participation can be undertaken in different ways, such as sending translations or performing the songs in their own ways, so that the songs which have accompanied children for years will continue to be loved by today's generations.
VNS

Nguyet Ca, a mother raising an autistic child, regards her son as the tower of strength who has helped her carry out a project to interpret Vietnamese children's songs.
Vietnamese singer Pham Hai Trieu has been living in Japan for nearly 20 years before he freshly decided to launch his first community music project titled