Technical recovery expected but massive spending is risky: analysts

The VN-Index had rallied between the end of October and the beginning of November, with strong growth of large-cap firms.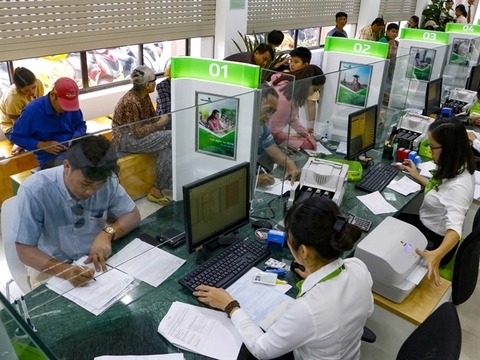 A Vietcombank office in the city of Can Tho. The bank's shares fell total 6.0 per cent last week.
Vietnamese shares may bounce back this week as analysts expect investors to calm down after overreacting towards international developments.
The benchmark VN-Index on the Ho Chi Minh Stock Exchange dropped 1.02 per cent to end Friday at 977.78 points, totalling a weekly loss of 3.2 per cent.
The benchmark index fell on four of all five trading days last week. Since nearing the 1,025 point level on November 11, the VN-Index has fallen a total of 4.6 per cent.
In the last three trading weeks, investors tried to earn profits from stocks' rally, especially large-caps, Tran Duc Anh, director of macroeconomics and market strategy at KB Vietnam Securities Co (KBSV), said.
The VN-Index had rallied between the end of October and the beginning of November, with strong growth of large-cap firms, he told tinnhanhchungkhoan.vn.
In addition, negative developments of US-China trade relations and the crisis in Hong Kong impacted both Vietnamese and regional stock markets, Anh added.
In the large-cap VN30 basket, which tracks the performance of the 30 largest stocks by market value and trading liquidity, top listed firms such as dairy producer Vinamilk (VNM), Vietcombank (VCB), brewer Sabeco (SAB) and Vingroup (VIC) saw their prices fall from the previous week's ends.
Vinamilk shares dropped total 2.3 per cent, Vietcombank shares shed 6.0 per cent, Sabeco shares tumbled 7.1 per cent, and Vingroup shares lost 2.8 per cent.
The declines of large-cap stocks had brought them to more attractive price levels and the market trading would improve in the coming week, Anh said.
Nguyen Trung Du, director of investment services at VNDirect Securities Corp (VNDS), said the market had suffered cumulative losses for the last three trading weeks and that interrupted the market's uptrend.
As the market entered its correction phase, any gains would only be technical and temporary, he warned.
Investors had taken a cautious stance as they worried the global economy would struggle in 2020, Du said.
That concern forced them to act early to prepare for any potential risks, therefore, selling pressure would drag the domestic market down in the short term, he said.
Too soon for Q4 earnings hunt
One of the factors that could drive the market back to its uptrend is the hunt for listed firms with fourth-quarter earnings prospects.
But it was too soon for investors to do so, KBSV expert Anh warned. "Hunting stocks based on the companies' Q4 earnings prospects is too risky."
"It is only possible if investors have concrete access to corporate information and assessment that show companies are likely to grow in the last quarter of the year," he said.
Phan Dung Khanh, director of investment consultancy at Maybank Kim Eng Securities, said as the VN-Index had lost its important support levels of 1,000 and 980 points, any rebounds would be the chances for investors to re-shape their portfolios.
It meant selling pressure would remain strong in the short term as investors would try to balance their cash-asset ratios and keep them secure, especially those using large volumes of margin lending, he said.
It would be safer if investors waited for the market to settle down after the short-term downtrend ended, Khanh said.
In its weekly report, Bao Viet Securities Co (BVSC) said: "The market is expected to face declining pressure early next week and retest the support of 965-971 points, where a recovery is expected toward market close."
"After the recent plunge, the market's downward momentum remains high, therefore, the market's rebounding efforts will face various challenges from previous breakout zones."
The VN-Index might drop to the strong medium support zone of 940-945 points, BVSC forecast. — VNS

The VN-Index is expected to enter an uptrend towards a new resistance zone after successfully penetrating the psychological resistance mark of 1,000 points, analysts said.

Brokerages proposed different scenarios for the movement of VN-Index from now until the end of the year depending on the world's economic growth prospects.