VietNamNet Bridge – A plan by the HCM City University of Technology to export cashew processing technology to Africa has faced strong opposition from Vietnamese officials, who believe the move will kill one of Vietnam's important industries.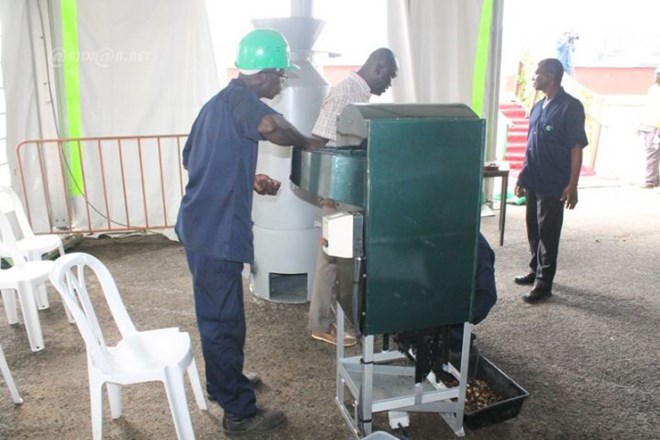 In 1999, the HCM City Department of Science and Technology stirred up the public when signing a contract on exporting a cashew processing system to Mozambique.
Just some days ago, a similar piece of news was released: the HCM City University of Technology has signed a contract on transferring cashew nut processing technology to Africa.
The information was confirmed by Vinacas, the Vietnam Cashew Association, which said the project was signed at a cashew processing equipment exhibition, Sietta 2014, held at Abidjan in Ivory Coast.
Nguyen Van Lang, former chair of Vinacas, who was a high ranking official of the science ministry, said: "As the father of the Vietnamese cashew processing technology, I strongly protest against the technology transfer to any country."
Lang warned that the move will seriously affect the 1,000 cashew nut processing workshops, companies and 300,000 Vietnamese workers in the cashew industry.
The made-in-Vietnam cashew processing technology with many advantages was invented in 1984 by a group of engineers from the HCM City Farm Produce Export Company. It has been developed over the last 20 years, making a great contribution to the success of Vietnam's cashew industry.
Vietnam is now the biggest cashew nut exporter in the world, ranking second in processing and third in material area. The cashew exports bring $2 billion a year to Vietnam, and are one of the key export items of Vietnam, including garments, oil and gas, and rice.
Nguyen Duc Thanh, chair of Vinacas, emphasized that Vietnam would not be able to stand high among the leading cashew processors and exporters in the world if it did not have modern technology.
Thanh noted that countries lust for made-in-Vietnam technology, even countries with the longest histories of cashew processing like India and Brazil.
Lang warned that exporting cashew processing technology will "bring danger", because the technology is a great advantage for Vietnam.
Meanwhile, African countries, including Ivory Coast, the country with the largest cashew area, specializing in exporting raw cashews, will become formidable rivals of Vietnam, once they master the processing technology.
Lang noted that at present and for many more years, Vietnam's cashew exports will rely heavily on raw materials from Africa.
"Those who try to export the technology for their own benefits need to understand that they will drive the domestic cashew industry to its death if they do this," Lang said.
Lao Dong