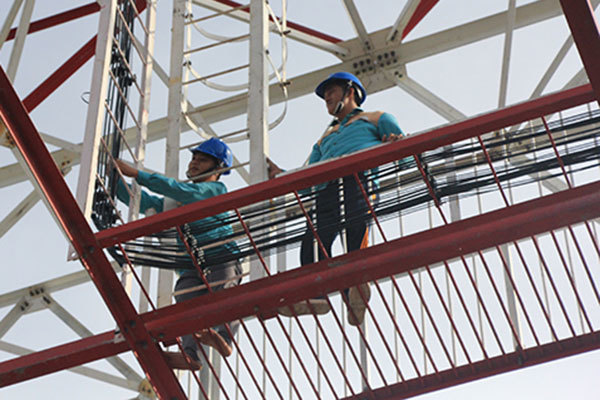 But they are still waiting for licenses to install equipment in localities.
PM Pham Minh Chinh has assigned the Ministry of Information and Communications (MIC) to implement the program 'broadband wave and computer for students' to serve online learning amid Covid-19 and to acclerate the development of digital society.
MIC Minister Nguyen Manh Hung, in an article on the new academic year, wrote that to carry out digital transformation in the educational sector, it's necessary to provide broadband to every person and household. There are still nearly 2,000 depressed areas nationwide, but MIC has decided that all these areas will have access to the internet by the end of the year.
Tao Duc Thang, Deputy CEO of Viettel, said since the first days of the pandemic, Viettel has satisfied the urgent requests of the National Steering Committee on Covid-19 Prevention and Control and ministries in deploying telecom and IT systems to serve pandemic prevention and control.
Viettel has doubled the bandwidth for fiber optic internet, while keeping service fees unchanged to best satisfy people's demand for learning and working at home. It also has exempted all users from high-speed access to MOH's website and Bluezone apps.
MIC has instructed telecom carriers to urgently come up with technical solutions to optimize coverage areas, and install equipment to quickly cover depressed areas with internet in September.
Thang said Viettel is preparing its workforce and equipment to cover depressed areas as soon as possible as per the PM's request. However, its plan cannot go quickly because of the checkpoints set up by local authorities to ensure social distancing. Viettel hopes that MIC will ask local authorities to facilitate Viettel's technicians to set up infrastructure items in isolated areas, provided that the technicians meet pandemic prevention requirements.
Dao Xuan Vu, CEO of Viettel Net, said the firm has been assigned to urgently cover the two depressed areas of Hau Giang and Binh Phuoc with internet waves. The company is ready to implement the plan, but the pace will depend on the Government's instructions and local authorities' decisions to allow its technicians to work in areas under social distancing.
MobiFone's CEO To Manh Cuong, replying to a MIC request to urgently enlarge the wave coverage area, said that the telecom carrier is ready to do this.
A VNPT representative said the firm has enough employees and equipment and is just waiting for the licenses so they can enter the lockdown areas. 
Nguyen Thai

Prime Minister Pham Minh Chinh on September 12 launched a programme to provide computers and telecommunications services for students and pupils with difficult circumstances, especially those living in areas hit by the COVID-19 pandemic.

From August 2021, the Vietnam Telecommunications Authority (Ministry of Information & Communications) will announce the weekly test results of Vietnam's Internet quality based on user experience.