Textile, dyeing projects unwelcome in many localities

Many localities in the country have refused textile and dyeing projects due to fears of environmental pollution, said Vu Duc Giang, chairman of the Vietnam Textile and Apparel Association (VITAS).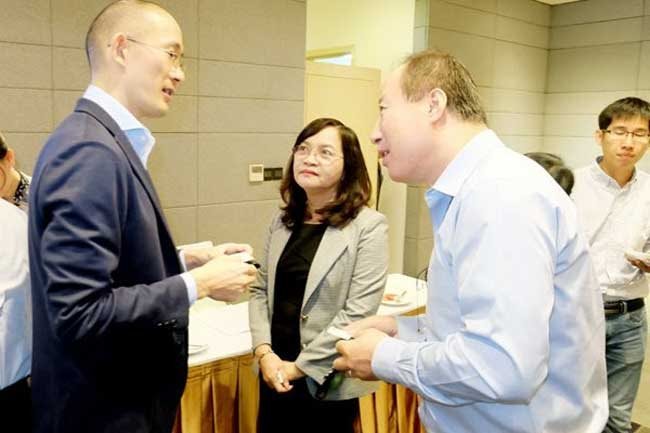 Representatives of textile and garment enterprises and associations discuss issues on the sidelines of a seminar in HCMC on July 17
At a seminar in HCMC on July 17, on the sustainable development of the apparel sector, Giang noted that the sector is now depending on imported materials as many domestic firms have focused on the garment making stage. Only a few firms have invested in the textile and dyeing stages.
The country spends some US$18.5-19 billion on input material imports per year.
Meanwhile, Vietnam must meet strict requirements on origins to benefit from the free trade agreements that it is a party to, including the European Union-Vietnam Free Trade Agreement (EVFTA) and the Comprehensive and Progressive Agreement for Trans-Pacific Partnership. For example, under the EVFTA, the European Union requires Vietnam to use locally produced fabrics for its apparel products.
However, investors in textile and dyeing projects are finding it hard to pick a location for their projects due to the localities' refusal to cooperate.
Giang said the situation would hinder the local textile and garment sector from enjoying tax incentives in importing markets.
He confirmed that only a few textile and dyeing projects pose a high risk of environmental pollution and called on textile and garment enterprises to put more efforts into protecting the environment to gain the confidence of the Government, environment management agencies and authorities of localities.
According to economic experts, localities' concerns over environmental pollution being triggered by textile and dyeing projects are reasonable. However, if localities continue turning down these projects, Vietnam will face difficulties in meeting the input material demand and will waste tax incentives in many markets.
They proposed enhancing control over these projects. Further, investors must apply advanced technology to secure production and protect the environment. SGT
Hung Le

Stepping out of their doors into the scorching heat last week, Hanoians choked on the foul smell of piles of trash left on the streets.

The Vietnamese economy will grow faster if private companies thrive, but development should be sustained, transparent and secure, heard a meeting on...

The attention businesses are paying to strategies and measures to protect the environment is a good augury for the sustainable development of the economy.