Thai Nguyen festival honours tea processing industry

The 4th Thai Nguyen – Vietnam Tea Festival will be organised in Thai Nguyen on April 17-19 to promote Vietnamese tea products, honour villages, producers and the tea processing industry.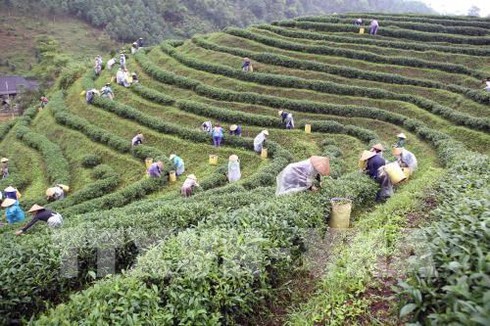 Thai Nguyen is the country's second largest tea producer after the Central Highlands province of Lam Dong.
The festival will feature a wide range of activities, including an opening ceremony, closing ceremony, a tea culture festival, a beauty contest, and conference on improving Thai Nguyen tea value and brand.

Vice Chairman of the provincial People's Committee Duong Van Luong said that the festival offers a good opportunity for tea producers and traders to exchange experience, as well as set up relations with domestic and foreign partners, helping local tea reach out to the world.

Thai Nguyen, located 75 kilometres to the north of Hanoi, is the country's second largest tea producer after the Central Highlands province of Lam Dong. Thai Nguyen is well-known for its green, aromatic and black teas. Tea plants have been grown in the province for around 100 years.

Currently, Thai Nguyen province is home to more than 22,000 hectares of tea, with average output of 220,000 tonnes of fresh tea leaves each year. More than 80 percent of the local tea area is grown into VietGAP standard.

Local tea has been sold in China's Taiwan, China, the Republic of Korea, Pakistan, and several fastidious markets like the EU and North America.

Under the project on increasing added value and sustainably developing Thai Nguyen tea brand during 2017-2020, the province is striving to have 30 percent of its tea planting area certified with VietGAP standard, and develop at least one high-tech tea production zone in each district, town and city.

Besides, the province targets 30 percent of its tea output labeled with domestic trademark protection and joining in the global value chain, and 20 percent of its high-quality exported to international markets. VNA

We were lucky enough to have a chance to visit Long Coc in the northern mountainous province of Phu Tho, which is considered one of the most beautiful tea plantations in the country.

Vietnam shipped to Taiwan (China) 14,200 tonnes of tea for over 22.5 million USD between January and September.