Thailand to cooperate with Vietnam to develop auto industry
VietNamNet Bridge
- Thailand plans to work rather than compete with Vietnam to develop its fledgling automobile industry.
VietNamNet Bridge - Thailand plans to work rather than compete with Vietnam to develop its fledgling automobile industry.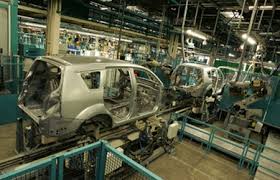 Vichai Jirathiyut, President of Thailand Automotive Institute, said at a workshop that Vietnam and Thailand would be able to develop their automobile industry by cooperating with each other.
He said demand for cars is high in both Thailand and Vietnam. The former, a market with 67 million people, now buys 880,000 cars a year. The latter is a large market with 90 million people, predominantly young.
The Thai automobile market reported a sharp fall of 11 percent in car sales in February in comparison with the same period last year.
Chukiat Wongtaveera from Ipsos Business Consulting warned that the situation may be even worse in coming months if the demand does not recover.
Since the domestic car market has been weak, Thailand hopes it can earn money from exports.
Thai automobile enterprises have set up divisions in charge of supervising the exports to Cambodia, Laos, Myanmar and Vietnam and giving advice to help boost exports to these markets.
Meanwhile, Vietnam, in the eyes of analysts, is at a "historic moment". Its automobile industry development strategy, pursued over tens of years, has failed.
While Vietnamese ministries argue about policies on the development of the automobile industry, many auto manufacturers that once intended to invest in Vietnam have changed their mind and left the country.
Those who have deep understanding about Vietnam believe that the country will become a large regional market which buys cars imported from neighboring countries, when Vietnam begins cutting tariffs in accordance with the ATIGA, the ASEAN goods trade agreement.
With a low locally-made content percentage, just 10-30 percent, it would be more expensive to import car parts to assemble in Vietnam beginning in 2018, when the import tariff is cut to zero percent, than import cars under the mode of complete built units (CBU) from Thailand or Indonesia.
Vietnamese experts, however, are cautious about this scenario.
Pham Tat Thang, a senior researcher of the Ministry of Industry and Trade, said this is an opportunity for Vietnam to develop low-cost cars made in Vietnam.
"If there is an opportunity to develop the automobile industry, Vietnam should grab it. If not, low-cost Chinese and Indian cars will flood the Vietnamese market in the future," he said.
"Vietnam needs to find a way to follow to make cars that are not 2.5-3 times more expensive than those in regional countries," he added.
DV