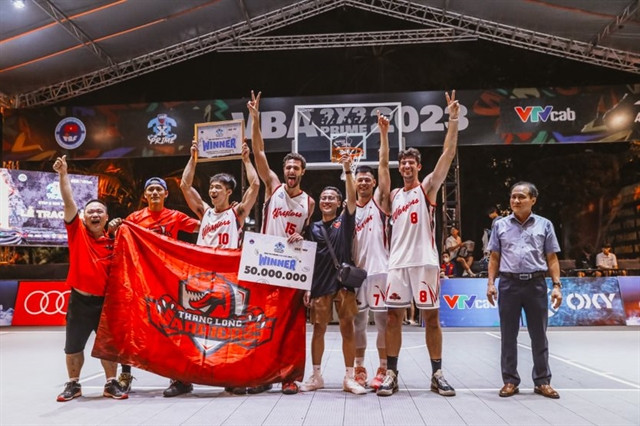 Thanglong Warriors win the second stop of the VBA 3x3 Prime 2023 on March 26 in Nha Trang, Khánh Hòa Province. — Photos courtesy of VBA
The Thanglong Warriors proved their power by winning again at the second stop of the VBA 3x3 Prime 2023 on Sunday in Nha Trang, Khánh Hòa Province.
After two days of competition, the Warriors advanced to the final against archrival Saigon Heat.
Carlos Martinez and Jose Antonio were still the Hanoian team's key weapons that the Heat found no way to resist.
The Spanish duo helped the Warriors take the lead and go on smoothly to the win.
It was the second final of the two sides. In the first final on March 19, the Warriors won 21-19.
In the third-place playoff, the Cantho Catfish won 21-13 over Rising Star, a Malaysian guest team.
At the second stop of the VBA 2023, a tournament featuring eight women's teams was organised.
Việt Nam's Rohto Saigon Heat beat Discovery of the Philippines 19-16 in the final.
Star Marena Whittle's great performance played a key role in Rohto Saigon Heat's victories in the early rounds.
Her teammates also played at a high peak, leading to the team's easy win.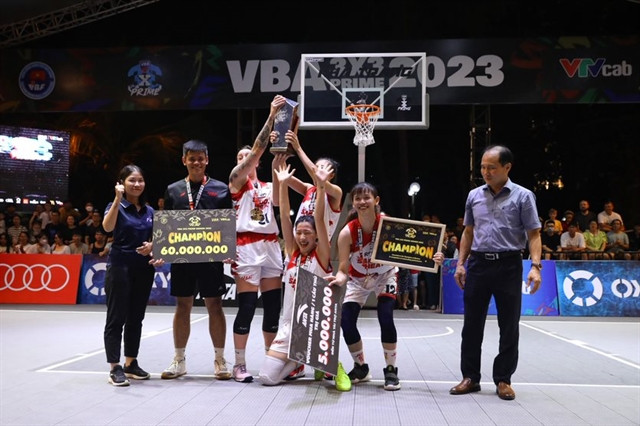 Rohto Saigon Heat celebrate the first ever VBA 3x3 Prime 2023 for women.
Earlier, Thailand's Sniper beat VBA former champion Cantho Catfish 21-15 to take third place.
"The VBA was a great festive event for sport lovers in Nha Trang. The tournament lured attention of local residents and tourists to our city," said Nguyễn Tuấn Thanh, deputy director of the Khánh Hòa Province's Culture and Sports Department. "It encourages people to join and practise sports to improve their fitness and physique and encourage a healthy lifestyle."
The final stop of the tournament will be held in HCM City's Nguyễn Huệ pedestrian street on April 1-2.
The fixture of the Grand Final will be based on the ranking of the combined results of the two previous stops. There will also be a 'special guest' invited to compete.
The double elimination format will be applied with the winner of the Winners Bracket and Losers Bracket meeting each other in the final match.
Earlier, a tournament for 16 U20 teams will be held on March 31-April 2 at the same venue. — VNS