I have visited Pho Cao several times on misty days and I thought I could cut the thick layer of mist into pieces as the local Mong people cut their traditional cake, Men men. This time, however, Pho Cao had a new appearance with a colourful coating of peach, apricot and colza blossoms.
Pho Cao is a commune of Dong Van District, Ha Giang Province. It has a total population of 5,000, mostly the Mong ethnic people. One of the most distinctive features of the area is the Trinh tuong houses which are surrounded by stone fences. The Mong ethnic people still retain their traditional costumes and habits. They have one market every six days..
Over the years, Dong Van Plateau has been known as the land of rugged rocks and the whole area is often covered by an overwhelming grey.
Yet, peach trees still grow well in the land and blossom when spring comes which seem to wake up the sleeping land and bring a strong vitality to it.
During my previous trip to Pho Cao, I got acquainted with Tien, a local man, whose family has a very old peach tree.
Tien once intended to cut down this tree to sell but I successfully prevented him as the peach tree is old and its flowers are very beautiful. I had the idea of taking photos of it in the early morning when the first sunlight spreads over the distant rocky mountains and in the afternoon when the smoke from the kitchens of the Mong ethnic people cover every mossy roofed house.
"How long ago was this peach tree planted," I asked. "I do not know exactly, but my grandpa took it from Lung Cu and planted it. It started blossoming when I was a little boy," Tien answered.
I added: "Why do you intend to cut it down while it is very beautiful? Isn't it a waste of your grandpa's effort?" Tien was quiet a long time and then agreed not to sell the tree.
This time I visited Tien and saw his peach tree blossoming.
On the mouldy, grey and rough tree trunk and branches were thousands of pink flower buds.
The peach tree looked like a huge flame among the grey rocks, giving the signal for spring and highlighting the charm of Pho Cao where one has visited they will be fascinated by its dreamlike scenery.
I attempted to create a romantic picture with the blend of the pink of peach blossoms, the white of apricot flowers, the grey of rocks, the green moss of the Trinh tuong (earthen) houses and the yellow colza flowers surrounding the hamlet, but I failed.
Probably it is the reason why Pho Cao is always a luring destination with hidden charm for any tourist.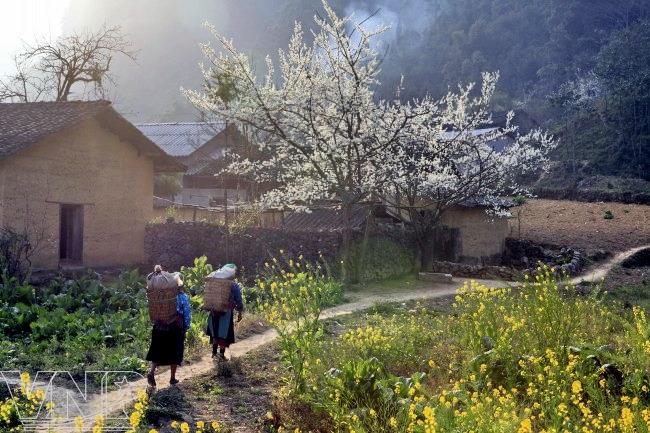 When spring comes, Pho Cao seems to wear a colorful coat of white apricot blossoms and colza flowers.
A zendervous of yong people.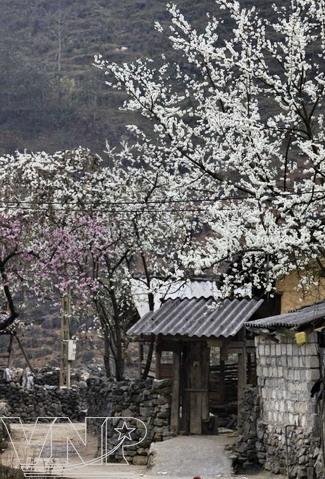 A small road in Pho Cao.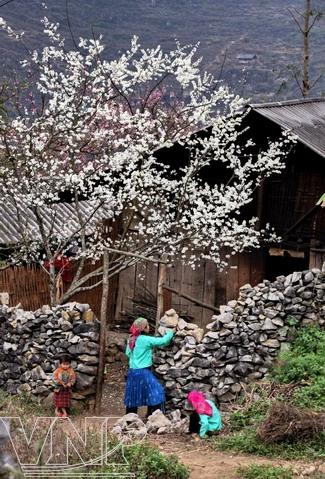 Rock fences.
Pho Cao in spring.
White apricot blossoms on a house's roof.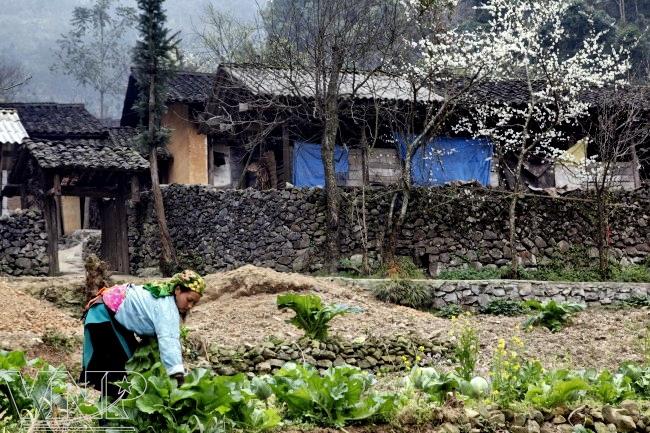 Harvesting vegetables near apricot trees in blossom.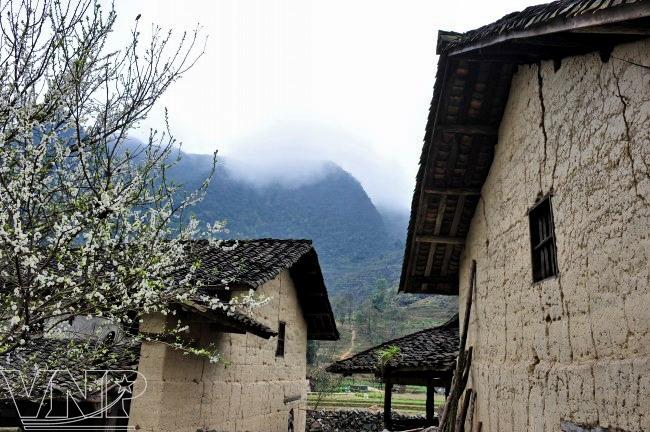 Many Trinh tuong houses which are built in the traditional style of the Mong ethnic people are still used in Pho Cao.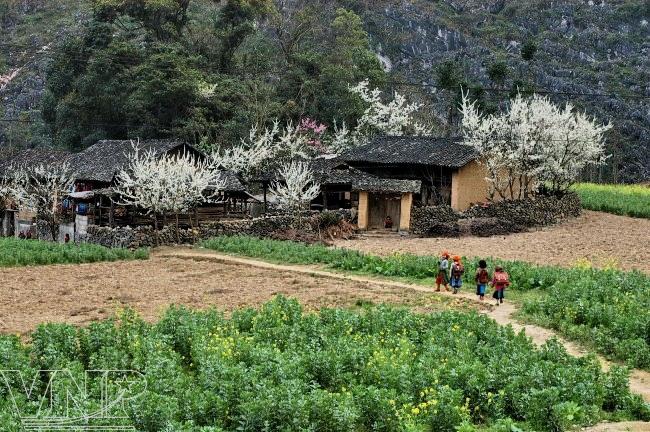 Going to school.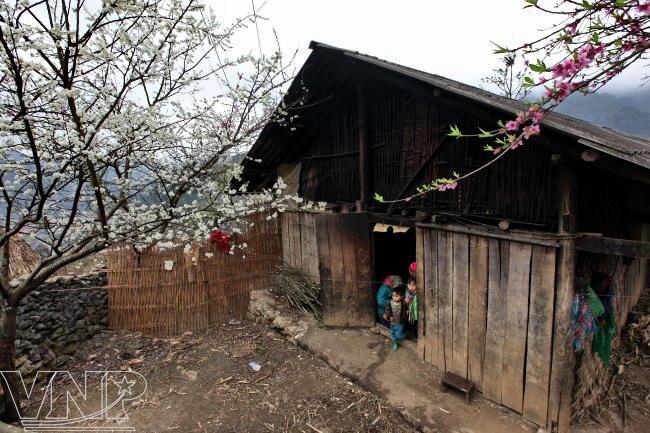 Spring comes.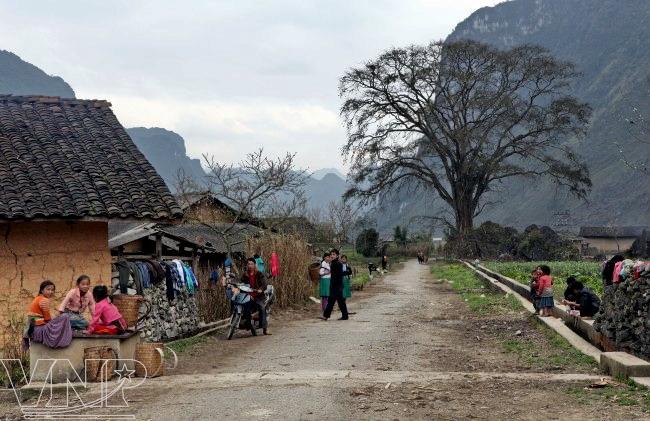 The peaceful beauty of Pho Cao.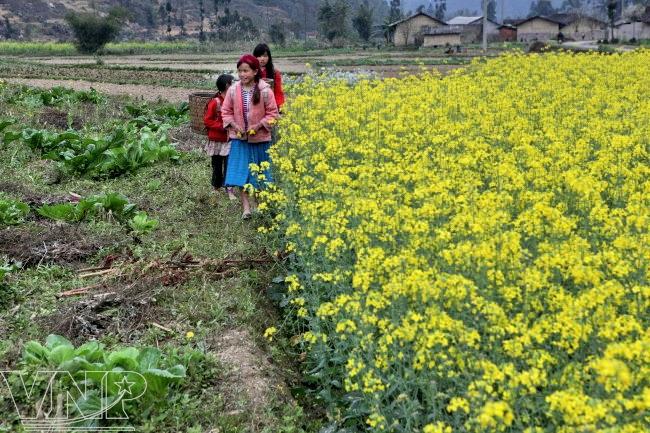 The fields in Pho Cao are covered in colza flowers.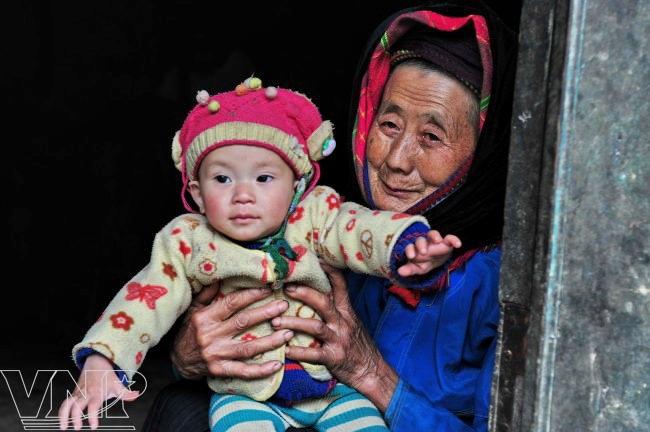 The peaceful life in Pho Cao.
Source: VNP