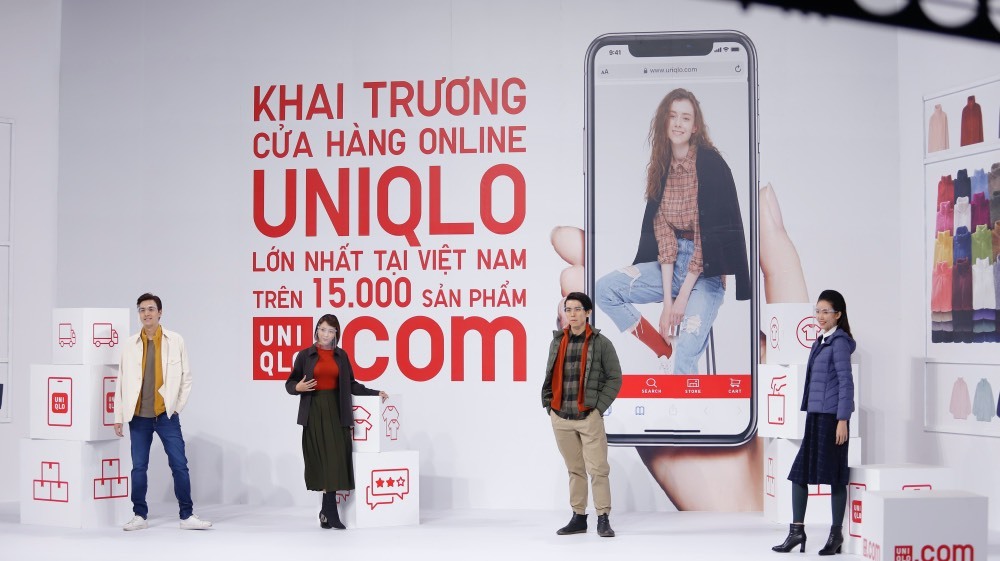 The opening ceremony of Uniqlo online store. (Photo: Uniqlo)
Mr. Nguyen (Tan Binh district, HCM City) was waiting in front of the cashier's desk at an Uniqlo store in HCM City when an employee approached, invited him to install the application and register for a membership. After successful membership registration, Mr. Nguyen deducted 150,000 VND from the bill.
In the long line of people waiting to pay that day, many other people were invited to register for a membership to receive a discount of 150,000 VND. Most of them accepted the offer.
Previously, in November 2021, this Japanese fashion retailer opened an online channel on uniqlo.com. Instead of calling this event an online sale, the company called it "Uniqlo online store" - the largest Uniqlo store in Vietnam - with more than 15,000 products, to emphasize the online segment as an independent store, not an auxiliary sales channel.
In addition to a larger number of products than physical stores, the Japanese fashion company differentiates this sales channel by launching a number of collections that are only sold online, giving promotions when the invoice reaches a certain amount of money. In addition, customers can choose to buy on an app or website, and then receive the goods at a physical store, to create a seamless shopping process.
According to the General Statistics Office, retail sales of apparel in the first nine months of 2021 fell by 9.6% over the same period of 2020. This was due to the impact of the pandemic when retail stores were closed for a long time.
Among eight large enterprises under the Vietnam National Textile and Garment Group (Vinatex) focusing on domestic business, only one recorded growth - of 105.7% in retail revenue in the first nine months of 2021. Other businesses saw their revenue falling by 30-40%.
Over the past two years, many garment businesses in Europe and the US have gone bankrupt, or reduced their store size by 30-50%.
In this situation, most fashion retail companies and fashion brands, whether young or old, are gradually moving to e-commerce.
Regarding the potential of online sales, according to the Vietnam Textile and Apparel Association (Vitas), online business in Vietnam is in the early stages of development and will have huge potential for development in the next five years.
Asia Plus believes that the change in shopping behavior of Millennials (who were born in the 1980s and 1990s) and Centennial (who were born in the 2000s) will create a new attraction for the market. This generation not only shops at traditional fashion stores but also is familiar with buying on e-commerce platforms and social networking sites.

The only Vinatex enterprise with positive revenue in 2021 is thanks to investment activities from previous years. In addition, the company combines both direct and online channels to tap into new groups of customers.
An advantage when putting goods online is the variety of designs that the size of the physical store cannot display. That's why Uniqlo claims the online store that opened last year is the largest in their network. In addition, the company also emphasized that there will be clothes in sizes ranging from XS to XXL only in online stores.
The variety of goods and sizes is an advantage of fashion brands when putting products online.
Ms. Uyen (Tan Phu District, Ho Chi Minh City) usually goes to Biti's store to buy shoes for the whole family, but recently when she searched e-commerce platforms, she saw that this label had a store on e-commerce sites like Tiki, Lazada, Shopee.
"I decided to buy Biti's shoes on Lazada because I can choose more models and sizes compared to traditional stores," said Ms. Uyen.
Although she is used to shopping online, Uyen only buys fashion goods at genuine brands' stores, or from guaranteed sellers on e-commerce platforms to ensure quality and a return policy.
According to a report from Vietnam Industry Research and Consulting Joint Stock Company (VIRAC), the trend of online shopping for fashion items on e-commerce channels will become more popular.
The main reasons are better product quality management on e-commerce sites and stricter regulations on product images and descriptions, which helps to improve consumer trust.
Hai Dang

The Vietnamese fashion market has seen more international brands such as H&M, Zara, and Uniqlo. There are currently more than 200 foreign fashion brands from mid-range to high-end that have official stores in Vietnam.

During the fourth wave of the Covid-19 pandemic from June until September 2021, several fashion brands began to gradually move production and orders away from Vietnam.