The first solo exhibition of a Vietnamese artist in Italy
The exhibition titled Soul Energy by Vietnamese artist Henry Le will take place from October 2-12, 2021 at Arsenale Nord Tesa 99, Italy.
Henry Le's real name is Le Huu Hieu. He is a visual artist living and working in Hanoi. Hieu worked as an architect for more than 10 years, and has been a visual artist for the past 10 years.
For Henry Le, art is the release of energy and desire, and the way he reinterprets his view of the world, expresses his worldview through observation, reflection and interpretation. The exhibition Soul Energy deals with the pervasive energy in Henry Le's soul, the key factor that allows him to turn his inner world into artworks, infusing them with rhythm and private lives.
"The biggest work in this exhibition is the depiction of a world. You can imagine that there is a world of everyone on one side and I am in it too but gradually I spend less and less time with it and there is a parallel world for myself. I keep feeling that my shared world with everyone is getting smaller and smaller, and the parallel world is getting bigger and bigger," Henry Le said.
"When you interact with this work, you will see for yourself how big and small that world is. There are many people now having similar experiences, and they will see who they are, and how they are living in the public and private worlds. And both are in the same world," he said.
Chiara Canali, curator of the exhibition (MoCA Italia and Arte Laguna), commented: "In these artworks, metal becomes a living, knotted, twisted matter; a pyramidal structure created from a free, but not unruly, vital energy, by which the human form is created, floating in space to find its own equilibrium in an endogenous rhythm, flowing from the depths of the body to every limb of the body."
Henry Le's real name is Le Huu Hieu, born in 1982 in the central province of Ha Tinh. He has participated in many domestic and foreign art exhibitions such as the solo exhibition entitled "Mac" in 2014 at the Vietnam Fine Arts Museum, the National Fine Arts Exhibition 2015, the Art Basel Miami, the Contemporary Art Projects USA in 2016 and the 11th Florence Biennale at Fortezza da Basso – Florence in 2017.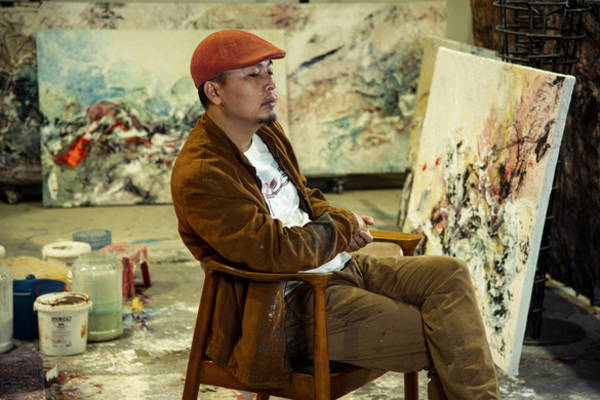 Painter Henry Le.
Tinh Le

Local artworks have left an impressive footprint in the international auction market, with an increasing number of Vietnamese pieces receiving bids at high prices.