To Tuan, these ginseng trees are his children.
After traveling for seven hours on a path with sharp bends and steep slopes from Da Nang city up to Ngoc Linh Mountain peak, we finally met the man who protects "the treasure."
The peak is always covered in clouds. At the top are four villages of the Xo Dang people in Tra Linh Commune. Ten years ago, this was the poorest village in the district. But now, the district has 2,500 families.
Tuan, 39, greeted us warmly as we arrived.
"Get ready for a hike through the forest to reach the first ginseng garden," he said.
We prepared our personal belongings and started our trip.
Due to the rain on the previous day, the path was slippery. We had to help each other. Trying to catch up with Tuan while going up the steep slope exhausted us.
He told us about his work. At first, he was not used to the atmosphere. "The temperature in this place sometimes drops to one or two degrees Celsius. It took me a long time to get used to this climate."
His job is to protect more than 3.5 hectares of forest, especially Ngoc Linh ginseng plants, with four other workers.
The ancient jungle of Quang Nam astounded us. Huge trees thrived along the path, with dense foliage covering roughly 80 percent of the area. Thanks to the foliage and the temperature in the 20s, ginseng trees are able to survive.
In the first ginseng garden, each ginseng bed was under dense foliage and was surrounded by a B40 net.
He said: "Taking care of ginseng trees requires special techniques. During this time of the year, ginseng trees are hibernating. As a result, we have to cover them with layers of leaves to protect the plant roots. From late August to the beginning of February is a difficult time for us."
During this period, as the seeds have just sprouted, birds and mice may destroy them. While we were walking down the road, we saw many mouse traps.
Tuan and his co-workers have improved the quality of their meals by eating mice, frogs and crabs around their workplace.
Tuan said that Ngoc Linh ginseng is harvested after four years. Seeds will be provided for residents.
He was bitten by a snake in May 2021. Luckily, his co-workers gave him first-aid and then moved him to the hospital. He had to stay there for a week.
"Despite the sadness, I didn't want to quit this job. It is hard to find a replacement for me," Tuan said.
He explained that not everyone can apply for the job. The worker has to be honest, or else, he or she may violate the law by selling ginseng illegally.
"I hope the government will invest more in the garden and apply technology to improve productivity. If so, in the future, our ginseng may be able to compete with Korean ginseng."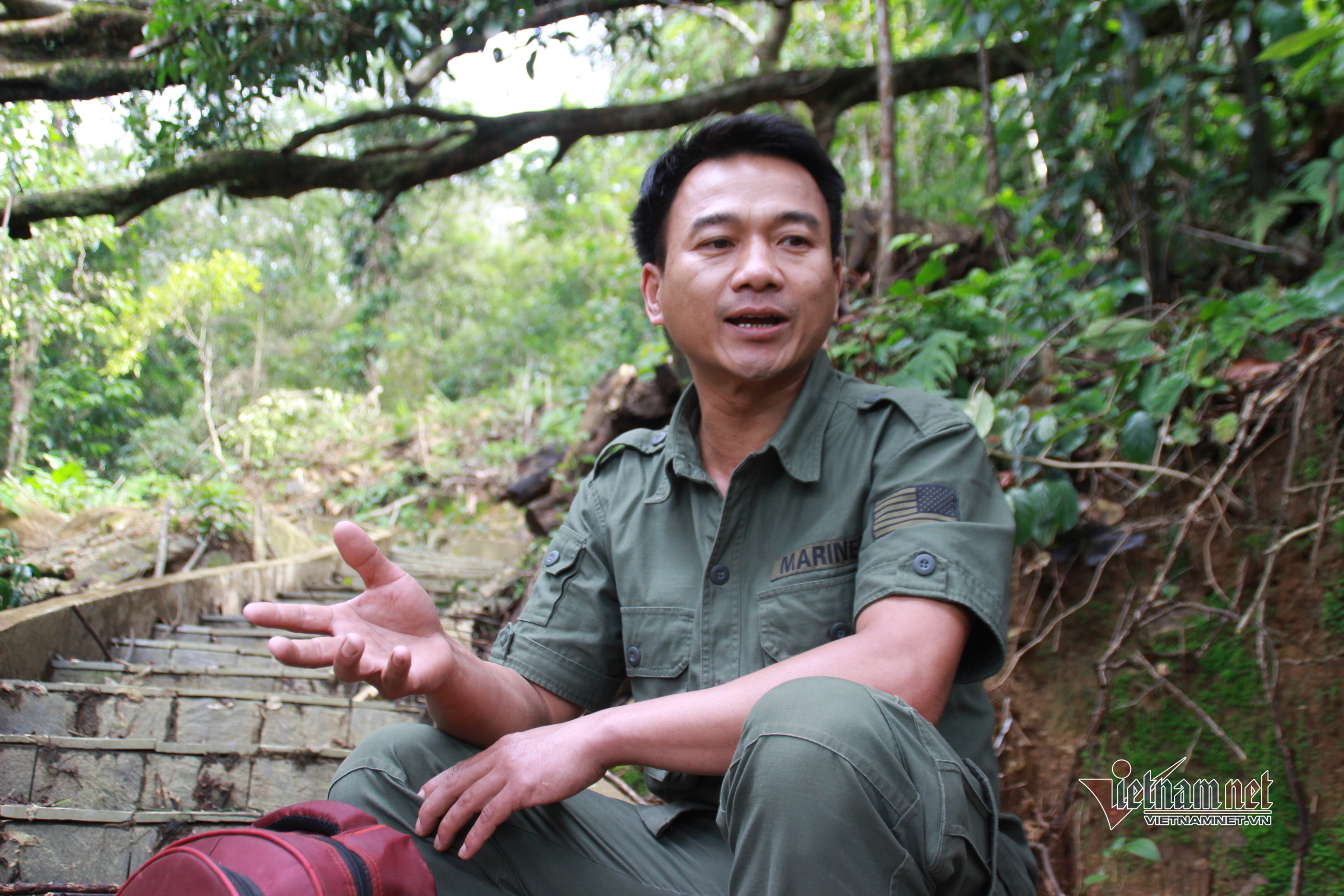 Mr. Tuan has been taking care of the Ngoc Linh ginseng garden for seven years.
His job is to protect and take care of ginseng trees.
Mouse traps made of rocks and bamboo.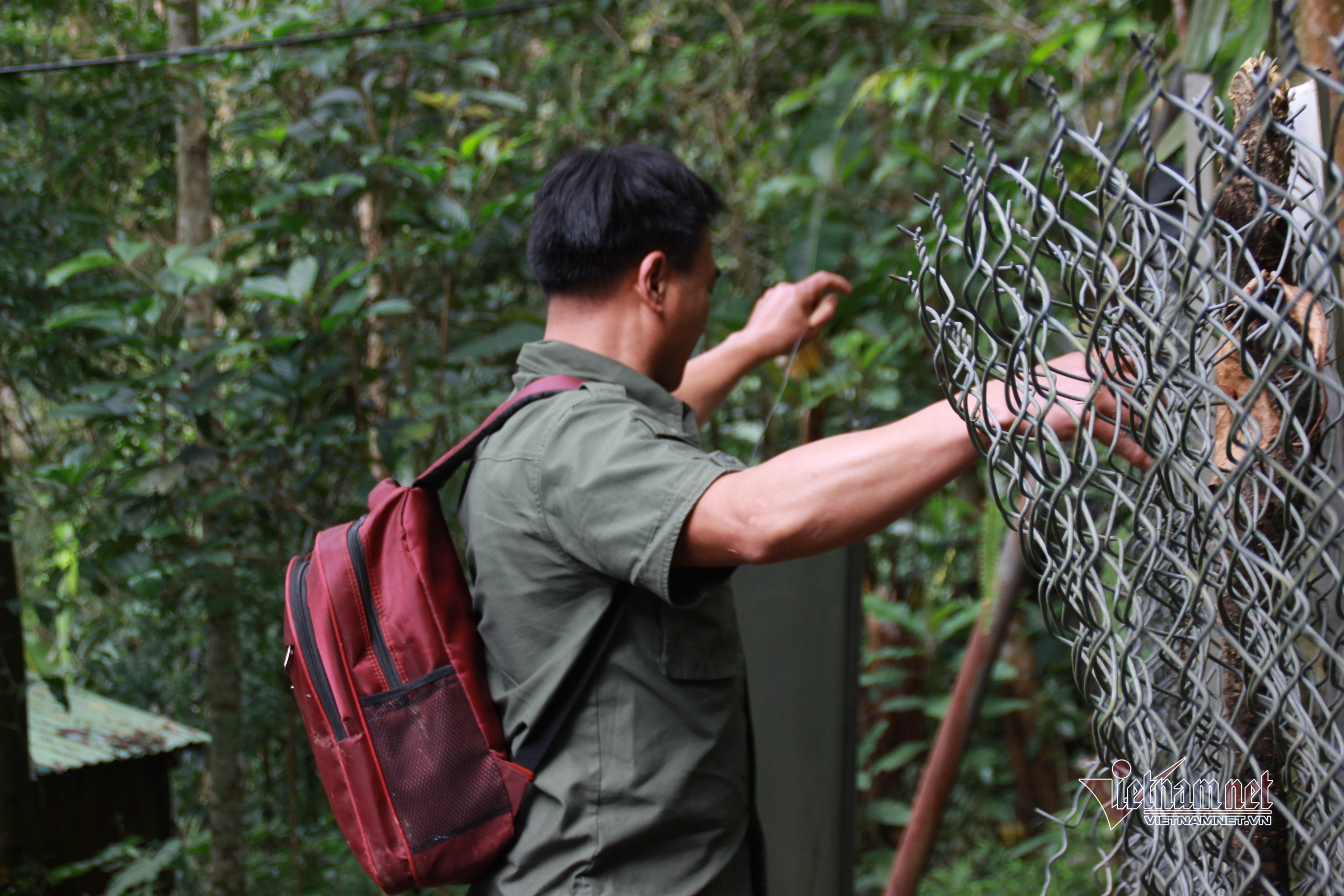 Mr. Tuan goes home once a week.
Cong Sang - Kieu Oanh

Ngoc Linh ginseng lives under the canopy of old forests, with a forest coverage level of 70-80 percent and temperature of below 25oC. Businesses are now joining forces with locals to grow Ngoc Linh ginseng there.

Two new investors – Nutifood and Thien Nhan hospital – have put their footprint in the development and production of thousands of hectares of Ngoc Linh ginseng farms in the central province, promising a worldwide brand for the national product.