The highest-earning jobs in Vietnam
VietNamNet Bridge – Banking officers and air stewardesses are believed to have some of the highest incomes in Vietnam.
VietNamNet Bridge – Banking officers and air stewardesses are believed to have some of the highest incomes in Vietnam.
Becoming a banking officer is the dream of many people. VietNamNet has quoted a report from Adeco as showing that high salaries are offered to all posts in the banking sector.
The monthly income of VND20-40 million is considered "normal" in the banking sector. Senior payment officers receive about VND40 million a month. Meanwhile, normal payment officers have monthly incomes of between VND12 million and VND30 million.
Tran Bac Ha, chair of the board of directors of the Bank for Investment and Development of Vietnam (BIDV, a state-owned bank), once complained that his monthly pay of VND36 million paid by the State was "not enough to live".
The 2008-2013 payrolls made public recently by Vietnam Airlines, the national flag air carrier, showed that employees had high incomes.
The payroll, published on Zing.vn, showed that pilots received VND74.8 million a month in 2013.
Though the figure represents a decrease of VND4.5 million in comparison with 2012 and VND6.7 million in comparison with 2011, this is still high compared with the average income level in Vietnam.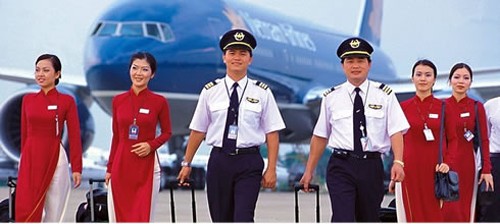 However, analysts noted that pilots deserve to receive the high incomes because the job is very challenging.
The income of stewardesses, on the other hand, is questioned by many people. Nguoi Dua Tin reported that the average salary of stewardesses is VND20-30 million a month. However, the salary is not their only source of income. Stewardesses are believed to make money from trading goods across the border.
In a related matter, Zing.vn reports that in Hanoi, the highest monthly salary in 2013 – VND147 million - was paid to the director of human resources of a manufacturing group.
A new university graduate can now be paid at least VND5 million for the job of personnel officer at Vietnamese companies while division heads can earn up to $1,000 monthly, and human resource directors can earn up to $3,000.
Meanwhile, some foreign economic groups in Vietnam reportedly pay $4,000 a month for the same job.
Staff in the oil and gas industry also can earn high salaries. A report released recently by the Ministry of Industry and Trade showed that PetroVietnam's workers had the highest average income among 17 state-owned economic groups and general corporations put under the ministry's management.
In 2011, a PetroVietnam employee received VND16.2 million a monon average.
So Ha