"The lordly tree" of silk painting guild
Starting in the early 20th century, silk painting is one of the fine arts which has been practiced by many local painters. 
Among them, painter Nguyen Thi Mong Bich is considered as a veteran of the art with impressive works telling stories of the people and histories of the country.
Born in 1933, painter Mong Bich has lived through two centuries with the ups and downs of painting history, especially silk paintings. She is considered as "the lordly tree" of the silk painting guild.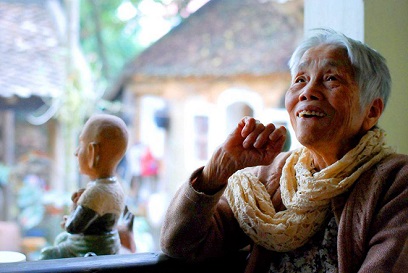 Portrait of painter Mong Bich (1933). Photo: L'Espace 
When studying in the 1950s at the École Supérieure des Beaux Arts de l'Indochine, which is now Vietnam University of Fine Arts, founded in 1925 by the French, painter Mong Bich nurtured her passion and knowledge of art from her lecturers who were famous painters such as Tran Van Can, Nguyen Do Cung, Hoang Lap Ngon, Luong Xuan Nhi, Nguyen Phan Chanh, Nguyen Duc Nung, among others. She is one of the few typical female painters in Vietnam with the traditional realism style.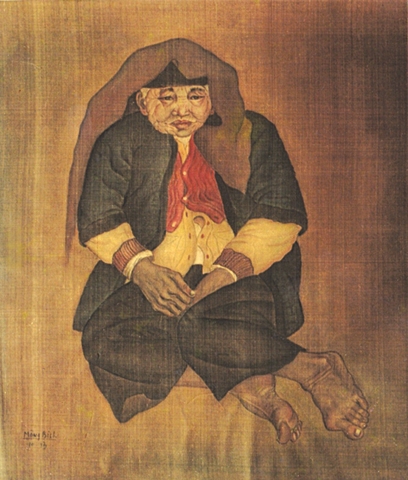 "The Old Woman" (1993)
Painter Mong Bich skillfully expressed depicted reality on silk, a quite new material at that time, making her paintings exceptional and outstanding. She was interested in the paiting of portraits and characters of people from all walks of life. They have been brought into her paintings with different stories.
She paints very slowly and carefully like getting to know them through each line of the brush. There are some paintings that took her months to complete.
Painter Mong Bich paints with her instinct and full of emotions, according to painter Tran Van Can. Those emotions have touched viewers' hearts through famous portraits such as: "Mother and Child" (1960), "Portrait of a Cham Girl" (1980), "Grandmother and Grandchild" (1985), "The Old Woman" (1993), "Portrait of the People's Artist Quach Thi Ho" (1995), among others.
Old women and mothers always inspire Bich. She believes that they are the heroes as they have devorted their whole life to their family members.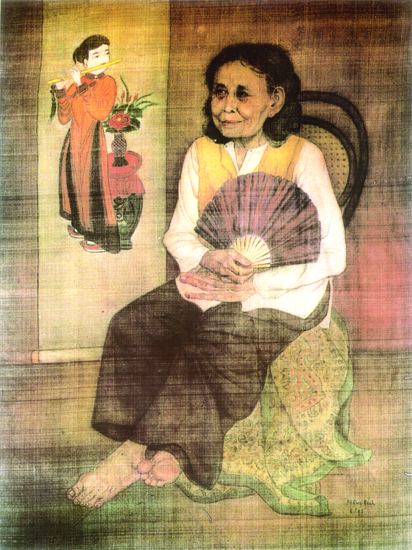 "Portrait of the People's Artist Quach Thi Ho" (1995)
Cultural researcher Phan Cam Thuong once said about Mong Bich's paintings: "Paintings of Mong Bich do not bring anything new about the art, however the characters are portrayed very strongly. It makes people think about human life and the growth from individual to society."
Painter Mong Bich is one of the few female artists of her time who have won important painting awards of the country, such as the first prize at the Viet Bac of the Viet Bac Interregional Service of Culture exhibition in 1961 for the picture "Mother and Child" or the first prize at the Vietnam Fine Arts Exhibition in 1993 for the picture "The Old Woman".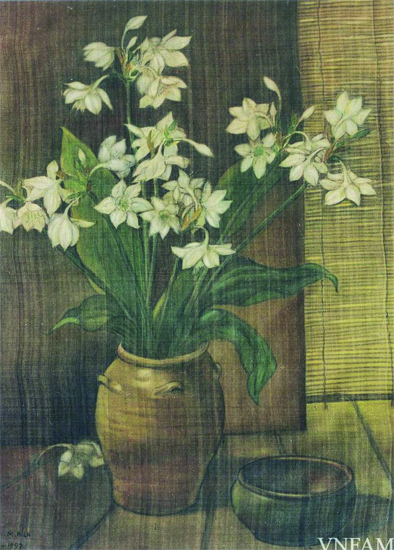 A still life painting by Mong Bich (1997)
After 60 years of painting, painter Mong Bich had the first exhibition with the theme "Between Two Centuries"organized in 2020 in Hanoi by L'Espace, the French Culture Center. It exhibited her works from the 1960s to the present day, recounting her experiences across the country and recording the diary of life and people for nearly a century through  her uniquely sensitive and caring eyes.
Over decades, her works are still full of artistic and historical value, not only appreciated by painters in the country but also in the world.
Professor Nora A. Taylor from the Art Institute of Chicago said at her age, painter Mong Bich not only lives longer than most of her colleagues, but she is also an embodiment of change of Vietnam's art and history over the past century. Her paintings have been out of all movements in which most generations have joined. They are a beautiful reminder of the popularity of human values.
At the age of nearly 90, painter Mong Bich still paints whenever she is inspired by something beautiful in life. "Now I am as old as the old women that I painted once. For me, anything that touches my heart can be a picture", she said.
Hanoitimes
The painting "Madame Phuong" by painter Mai Trung Thu recently sold for US$3.1 million, a high point in Vietnam's cultural life.

Hang Trong folk paintings are one of the most outstanding folk painting genres in Vietnam, however are falling into oblivion.