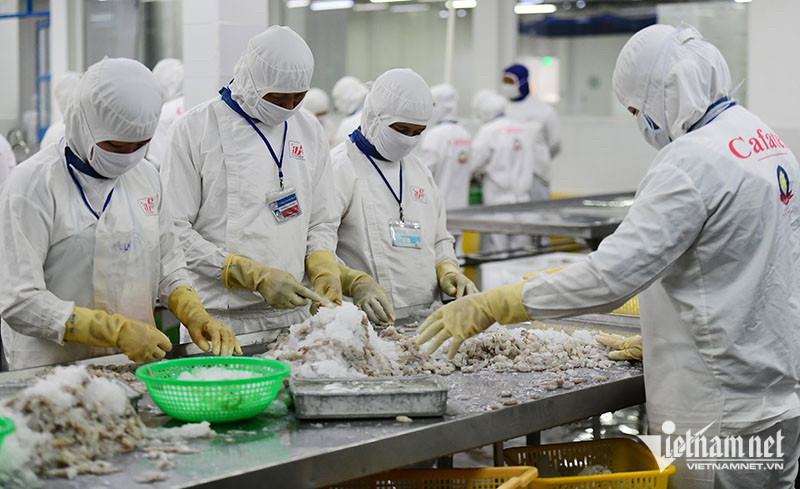 Bank deposit interest rates decreased after the State Bank of Vietnam (SBV) cut the operating interest rates on March 15 and April 3. The deposit interest rates of all terms quoted by commercial banks have decreased by 0.5-1.7 percent per annum compared with the beginning of the year and by 2.5 percent compared with the end of 2022.
Regarding lending interest rates, SBV said many banks have slashed lending interest rates. The new interest rate of 9.3 percent per annum, down 0.65 percent compared with the end of 2022, is now applied to new loans.
The 6-month deposit interest rates applied by listing banks are between 5.8 percent and 8.2 percent. With the margin of 3.5-4 percent, the lending interest rates would be 0.3-12.2 percent per annum.
However, in addition to interest rates, enterprises have to pay other kinds of expenses. For example, they have to take insurance policies and pay credit officers, which makes the real capital costs much higher.
According to the HCM City Industry and Trade Department, to compete with other enterprises and obtain orders, enterprises have to accept a profit margin of less than 10 percent. Therefore, if bank loan interest rates stay at 10 percent per annum, and the dong/dollar exchange rate, material prices, and transport and fuel prices continue to rise after the end of 2022, businesses can hardly exist.
Speaking at the conference discussing solutions the banking sector seeks to promote production and business in the eastern part of the southern region, HCM City Mayor Phan Van Mai cited statistics from the HCM City Business Association as saying that 50 percent of businesses are maintaining production at a moderate level, and are just trying to retain workers.
The Vietnam Association of Seafood Exporters and Producers (VASEP) reported that seafood exports in the first four months of the year brought turnover of $2.6 billion, down 31 percent compared with the same period in 2022.
The decreases in number of orders and sales have affected enterprises' cash flow. Meanwhile, they still have to spend money to retain workers and buy materials to maintain production.
VASEP said the difficulties in accessing credit packages and high interest rates are eroding enterprises' resilience.
Lending interest rates must fall
Enterprises are expecting lending interest rates to decrease to 7.5 percent per annum in the second half of the year. But it's not sure this will happen.
In a statement released on May 17, SBV said because of inflation risk and people's expectations on interest rates, it is difficult to slash interest rates to attract deposits. Therefore, input costs stay high.
A report showed that as of April 27, deposits had increased by 1.78 percent only, which was much lower than the credit growth rate of 3.04 percent. This means that in current conditions, banks can hardly reduce deposit interest rates to force lending interest rates down.
Meanwhile, banks can mostly mobilize short-term capital, but have to provide medium- and long-term capital. About 88 percent of deposits are short-term (less than 12 months), while over 52 percent of VND outstanding loans are medium and long term.
Economists think that SBV, fearing a high inflation rate, has to consider the money supply increase. In fact, since May 2022, banks have nearly run out credit room and there has been a low possibility of getting additional credit room. As a result, lending has been carried out in dribs and drabs, and lending interest rates have increased.
Nguyen Minh Duc from the Vietnam Confederation of Commerce and Industry (VCCI) said to regulate credit flow, Vietnam is using two policy tools – interest rates and credit room. But, credit room is no longer used in other countries.
In Vietnam, credit room is determined by SBV and is applied for one year unless the central bank makes other decisions.
Since the beginning of 2023, SBV has adjusted the operating interest rates but has not expanded credit room, so deposit interest rates have gone down rapidly, while lending interest rates have decreased in dribs and drabs.
Tran Chung