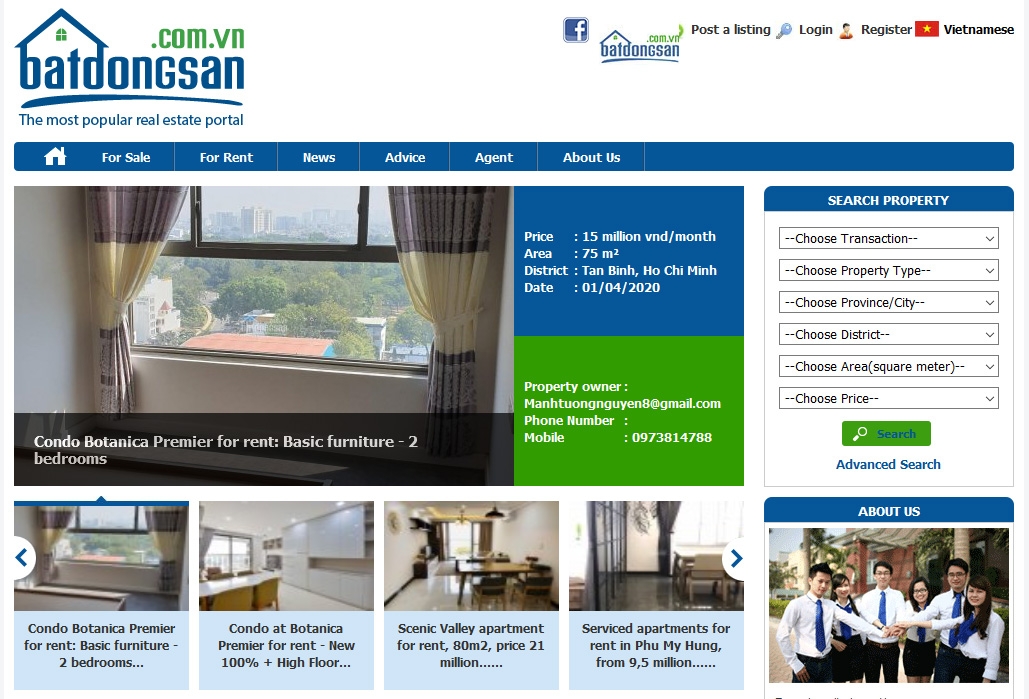 Vietnamese property portal batdongsan.com.vn
Singaporean-based real estate technology company PropertyGuru Group in 2018 injected an investment of $9 million into Vietnamese property portal batdongsan.com.vn.
The Singaporean company has since brought more regional business opportunities to the local site as well as providing technological support.
Meanwhile, Batdongsan gets easier access to the database of potential buyers in PropertyGuru's other markets in Singapore, Malaysia, Thailand, and Indonesia.
Jeremy Williams, CEO at PropertyGuru Group, said that Vietnam has been hailed as one of the best destinations in Southeast Asia for property investment, adding that the local real estate market currently boasts robust growth.
"Because of this, PropertyGuru decided to invest in this market, hoping to bring regional experience to local property seekers and to help the local market reap the benefits from its integration into the ASEAN region," said Williams.
Since then, many other deals have been agreed between technology companies in the country's real estate market and financial funds.
Genesia Ventures of Japan, South Korea's Access Venture, and Mynavi Corporation, also of Japan, have poured investment into homedy.com – a search engine website for property in Vietnam.
Meanwhile the Singapore real estate broker PropNex has signed a franchise agreement with PropNex Realty Vietnam to increase its presence in Vietnam.
PropNex CEO Ismail Gafoor had highlighted the potential of the Vietnamese real estate market. "With a growing economy and positive predictions about the real estate market, we believe Vietnam is an important place for us to establish a brand," said Gafoor.
Other proptech startups providing brokerage services include Propzy, a full-stack real estate platform that originates and facilitates property sale and leasing transactions, and Rever, a tech-enabled real estate brokerage company.
RealStake, which was established in Singapore in 2018 and now has subsidiaries in Thailand and Vietnam, provides a platform that allows users to easily invest in fractional ownership of real estate. Luxstay, a Vietnamese startup founded in 2016, meanwhile provides an online platform that connects homeowners looking for short-term rentals with tourists or business travellers.
Besides proptech companies, the ecosystem also includes accelerators and community builders that more broadly serve Vietnamese startups.
They include startup.vn, Zone Startups Vietnam, Topic Founder Institute, and Vietnam Silicon Valley, as well as Saigon Innovation Hub and renowned accelerator and early-stage venture fund 500 Startups Vietnam.
Involved in proptech
Besides technology companies, real estate developers are racing to apply high-tech in their real estate projects in Vietnam.
Proptech is highlighted in the built environment with large local examples like BRG Group and Japan's Sumitomo pumping $4.2 billion into the creation of a smart city in Hanoi.
Smart cities and their many permutations cover a range of measures from fully-meshed neighbourhoods understanding pedestrian and public space movement, through to the recent roll-out by Siemens for the trial of a Hanoi traffic management system.
Sunshine Group, another local property developer, has built a series of smart homes and a smart living ecosystem by applying integrated technology into their products. This tech includes the Sunshine Cab app, similar to the Grab system, to serve their residents, a Smart Home App, and Sunshine Mart, which offers cashless payments through the Sunshine online service. The overall aim is to provide homeowners an intelligent and high-tech urban complex that focuses on transportation, shopping, and relaxation services.
Vingroup, the biggest local real estate developer in Vietnam, upgraded its 280-ha large project into a dynamic smart township named Vinhomes Smart City in the west of Hanoi recently.
The project uses AI technology with facial recognition features and a single command centre to provide a full suite of information services for occupants, from air quality monitoring to environmental pollution warnings.
According to Linson Lim, president Keppel Land Vietnam, over the past few years, with the advent of microelectronics, smart electronics has become a popular commodity. This allows intelligent controlling technologies to be widely used and rapidly become a trend for future housing development.
"In a smart home, all devices are connected at the control centre, an application installed on the smart device of the host. According to experts, the application of smart technology to development, exploitation, and management of real estate projects promises to bring an ideal life for residents through Industry 4.0," Lim said.
Keppel Land is now developing a $500-million smart township named Saigon Sport City, which will apply new technologies, thoughtful innovations, and incorporated smart solutions for other projects, including 360-degree virtual reality, portable technology, a smart home app, and the KLOUD smart mobile app.
It is expected that for future real estate developments, staying smart will not just be a trend but also a must-have. The adoption of new technology platforms generates new and more easily-accessible market data, which is a key for overall real estate transparency in Vietnam.
Mega-money market
With 64 million internet users, accounting for 66 per cent of the country's population, Vietnam has quickly adopted modern technology and promptly caught up with the rest of the world.
The proptech market in Vietnam is estimated at $500 million, and according to ESP Foundation, a Singapore-based fund which is pouring investment into startups in Vietnam, online advertising in the real estate industry (including banners) has reached $100 million.
FinREI Investments JSC – a fintech startup focusing on real estate – released that as of May 2019, more than 55 proptech companies were active in Vietnam. About 80 per cent of players in the market are foreign startups or those funded by overseas investors.
In the Vietnamese proptech ecosystem, the most notable segments of proptech are related to the residential market in tech-enabled brokerage, leasing and renting, and property management.
The second-most active proptech segment is in coworking, which is now strongly growing in line with the booming office market in Vietnam. Notable companies and brands include Dreamplex, Toong, and Cogo.
Another developed segment within the Vietnamese proptech industry is listing and marketplaces. Platforms like Batdongsan and MuaBanNhaDat are making it easier for users to list their properties either for sale or for rent.
According to Jeriel Tan, marketing manager at technode.com, these proptech segments do not solely serve consumers in the near term, but given the fast-changing natural and built environment, also affect long-term government planning, sustainability, and climate change.
Furthermore, proptech companies in Vietnam have started to collaborate with fintech players.
"We expect the residential sector, given the level of investment and consumer engagement, to be the first to connect proptech and fintech," said Tan.
Listing real estate websites have also announced collaborations with e-wallet providers for easier collection of service fees from their users.
John Le - Founder and CEO, Propzy
Propzy is a new emerging transaction-focused classifieds business in Vietnam's property market. The potential of property transactions in Vietnam is very high, but connections between sellers and buyers are complex.
Operating in Vietnam since 2015, with a "Software as Subscription" approach in its operations, Propzy has achieved encouraging deals with big clients, namely real estate management companies managing property buildings with thousands of apartment units and houses in Vietnam.
One of the weakest parts of the Vietnamese real estate market is the lack of transparent information. Even though there are hundreds of websites which are providing real estate brokerage services, buyers are confused.
Being a proptech user in Vietnam, we have to manage and control all of the information which we offer to buyers.
Trang Bui - Head of Markets, JLL Vietnam
In Vietnam, the development of proptech has mostly been prominent in the market segments of residential and offices, which together add up to more than 50 per cent.
Despite inherent barriers arising from a traditional mindset and the high requirement for trust in the real estate industry, the prospects for proptech in Vietnam are still positive due to the young demographics, tech-savvy population, and available funding and incentives for technological startups in Vietnam.
As more competition enters the market, prices will fall and proptech will become more accessible. In the future, for the growth of proptech, there is a need for wider and better-quality network connectivity in Vietnam.
While there is only a very small number of proptech being built at present, it is a good way for smaller or newer developers to compete.
On the other hand, local investors are taking the heat from international players with large capital flows and new property concepts entering the market. Global trends such as proptech are shaking up the real estate market for all investors, but local developers certainly are less experienced in adapting to such disruptors.
Matthew Powell - Director, Savills Hanoi
Vietnamese real estate enterprises need to consult with regional countries and seek advice from international consultants to find the right direction and smart products suitable for their projects. The proptech trend is currently very strong in the world with a huge amount of investment.
Investors have a lot of choices in applying smart technology in their projects, but not all directions are appropriate or fit the characteristics of their products and the habits of Vietnamese users.
So they need to invest the time to research and learn to find a suitable partner with appropriate hardware and software solutions, which have long-term value for products, projects, and customers at Vietnam, instead of just a keyword for marketing sales. VIR
Bich Ngoc

Additional foreign investment inflows in real estate went up during 2019 while credit in the sector bucked a downward trend, signalling its reduced heavy reliance on bank loans.
There are two typical characteristics of the real estate firms' race to issue bonds – the high amount of bonds issued and the high interest rates.