VietNamNet Bridge – Endless effort and passion has enabled Lai Xuan Huy to succeed at a deadly form of martial arts. He even quit university to learn more about the ancient art from Okinawa, the home of nunchaku, two sticks joined by a short chain.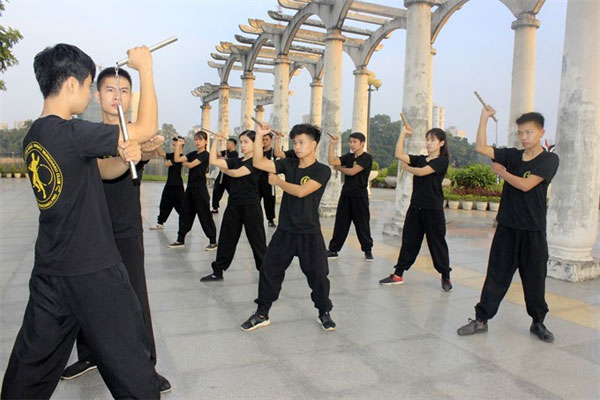 Gripping: Lai Xuan Huy guides his club members on practising nunchaku moves.
As I walked through Thong Nhat Park in Hanoi on a cool autumn afternoon, I heard strange whirring sounds behind trees in the distance.
Drawing nearer, I was surprised to find a group of about 30 young people, male and female, dressed in black. They were practising martial arts with two short wooden, metal or plastic sticks joined by a short chain.
Their weapons, nanchaku, comes from the home of what many consider the most dynamic martial arts of the tiny islands that comprise Okinawa.
The Hanoi practioners were under the guidance of two trainers, one tall, the other thin. The nunchakus spun in the hands of their holders, emitting strange ding-dong sounds.
Being a fan of martial arts films by Bruce Lee, a master of nunchaku, I went to talk to the tall coach, Huy, who was born in 1990 in the mountain province of Tuyen Quang.
In 2008, he went to Hanoi to study telecommunications at Thanh Do College. In his sophomore year, he moved to the University of Construction.
However, Huy's passion for martial arts made his life turn to another direction. In his third year, he figured out that studying at university was not the only way to make a living.
Huy decided to quit his studies and pursue his passion. Huy learned the Okinawan art from many famous martial arts teachers. In August, 2015, Huy established the Infinitive Club with about 100 permanent and non-permanent members.
The club regularly practices on Mondays, Wednesdays and Fridays in Thong Nhat Park. In 2016, Huy received a Certificate of Advanced Coach of the Vu Long Quyen Martial Arts School, given by the Union of UNESCO Vietnam Associations.
Huy teaches nunchaku for free and earns money by selling nunchaku weapons to his club members and customers across the country.
"Using nunchaku is not only a fighting skill, it has been developed to be a performance art," Huy said.
The tall man has an easy-to-remember nickname, "Huy Con" (Huy Nunchaku), that is familiar to all in the social network community, especially martial arts lovers.
After two years pursuing his passion, Huy has established a company specialising in trading martial-arts training equipment and clothes, in which the main business is the products he loves – nunchaku.
Although Huy is busy making ends meet, he still freely spends time supporting his passion. He teaches and makes tutorial videos for release on YouTube — all free of charge.
I tried typing the keyword "Mr Huy Con" on YouTube and quickly found Huy's video channel, with many complementary comments from martial-arts fans, especially young people.
Among Huy's students, Le Minh Duc is typical. Born in 1997, he is a student of Ha Noi Open University.
"Huy is a cheerful, sociable person, a manager of a responsible club who is willing to help people.
"He has organised many exchange sessions so that club members can practise with people from other clubs around Viet Nam," Duc said.
"Members always help each other in training and in life, so we are like a cosy family, a healthy playground to help members keep away from the bad habits of society.
"From the day I joined, I have learned a lot, not only martial arts skills, but also lifestyle and behaviour," he said.
Nguyen Khac Tuan, 21, a member of the club, said: "Huy is enthusiastic about teaching nunchaku. He has brought together many people who have passion for the art.
"With the skills that I have learned from Huy, I now want to guide others. I am happy to help people understand and master the skills of nunchaku," said Tuan.
Talking about Huy's club, Master Vu Dinh Cong, head of the Nhat Nam Martial Arts School in Lai Chau Province, said: "To succeed in any job, we need devotion. Also, martial arts require a coach to have a heart for his learners.
"The name Huy Con is well known and popular among the nunchaku clubs in Vietnam today. Huy knows how to inspire passion in everyone.
"I am also a martial arts coach but I admire Huy's passion for nunchaku. He has both talent and a heart for this martial art. Huy's training clips are enthusiastically watched by practitioners in distant parts of Viet Nam and overseas."
"They thank people like Huy who help bring this art to a new height."
Trung Hieu
VNS