VietNamNet Bridge - Only scoring four out of eleven goals in the first round of the V-League 2013 and taking up to three fourths of the total number of red cards, fans are disappointed with domestic football players. The V.League is still the stage of foreign players.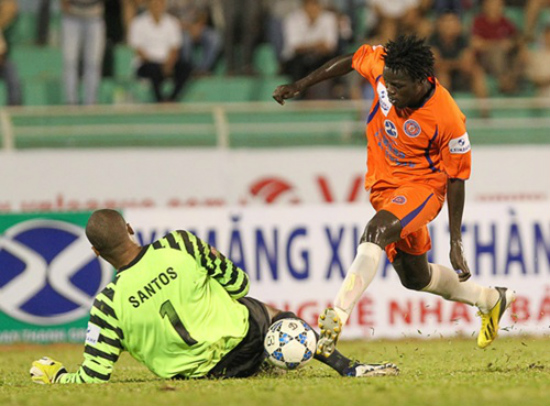 The match between Xuan Thanh Saigon - B. Binh Duong.
Looking at the statistics of the first round of the V.League 2013, one can see the tremendous dependence of Vietnamese football teams on foreign players.
Of the elevn goals scored in the first round, as many as seven were scored by foreign players, accounting for 63.6%. In the two matches Hanoi T & T v.s Hoang Anh Gia Lai (2-0), Xuan Thanh Saigon v.s B.Binh Duong (1-0), all goals were scored by foreign players. In other words, they are the one who decided the match.
Only the game between Dong Nai-V.Ninh Binh (1-0) was determined by the Vietnamese player Le Hoang Phat Thierry. But everyone knows that he is a naturalized player.
There are only three Vietnamese players who scored goals in the first round, Le Cong Vinh in a 2-1 victory of Song Lam Nghe An FC against Hai Phong; Ngo Anh Tuan in the draw game between Dong Tam Long An and Thanh Hoa (1-1); and Huynh Quoc Anh in Kien Giang's triump over SHB. Da Nang (2-0).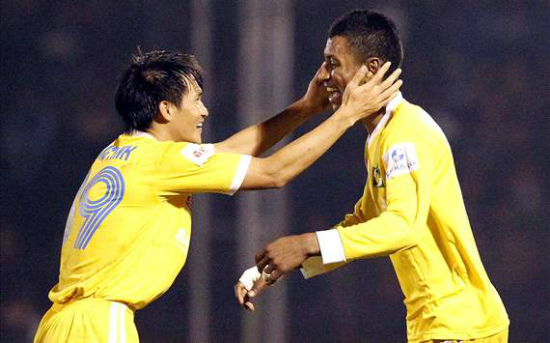 Le Cong Vinh (left) is one of the domestic players that performed well in the first round of V.League 2013.
The foreign players attending the V-League 2013 come from 17 countries around the world: Brazil, Nigeria, Argentina, Romania, Tanzania, Trinidad & Tobago, Jamaica, Togo, Ivory Coast, Slovenia, Senegal, Congo, Zimbabwe, Uganda, Cameroon, Malawi and the Netherlands. In particular, Nigeria is the country with the highest number of players: 13.
The overwhelming of foreign players in the scoring list is surprising, because this season each team is permitted to register only three foreign players and can use up all of them in a match. Previously, they could register 4 and use 3. It is obvious that foreign players adapt very quickly at the V.League when the rookies as Cosmin Goia (SHB.Da Nang) or Willis Plaza (Song Lam Nghe An) performed impressively.
Senior foreign players in the V.League, such as Suleiman, Antonio Carlos, Samson, Evaldo, Gonzalo and Gaston Merlo continue to be the pillars of their teams.
It does not mean that domestic players are inferior to foreign colleagues. Besides Le Cong Vinh, Ngo Anh Tuan and Huynh Quoc Anh, Thanh Luong (Hanoi T & T), Viet Thang (Dong Tam Long An), Dinh Dong (Song Lam Nghe An) and Le Huu Phat (Dong Nai) played really well, contributed to their team's results.
But up to three fourths of the red cards in the first round belonged to local players, including Nguyen Trong Hoang (Song Lam Nghe An), Nguyen Ngoc Anh (Xuan Thanh Saigon) and Cao Sy Cuong (Ha Noi T & T).
Nam Nguyen