The Tailor wins Best Feature Film
VietNamNet Bridge – Co Ba Sai Gon (The Tailor) won the Best Feature Film at the Golden Kite Awards in Hanoi yesterday.
VietNamNet Bridge – Co Ba Sai Gon (The Tailor) won the Best Feature Film at the Golden Kite Awards in Hanoi yesterday.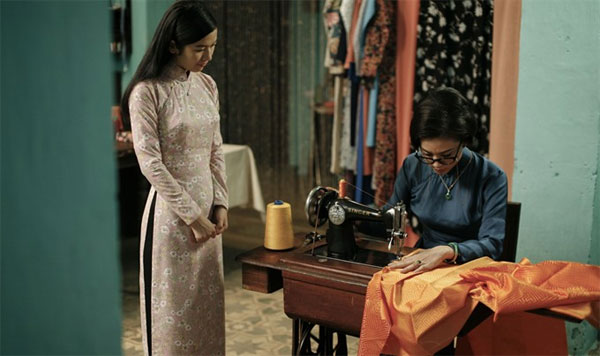 A scene of The Tailor which wins Best Feature Film at the Golden Kite Awards 2017. — Photo xonefm.com
The Tailor, which beat other 13 nominees, is a romantic comedy featuring the culture and lifestyle of the Saigonese as well as the history of the ao dai (Vietnamese traditional long dress).
It stars Ngo Thanh Van, Ninh Duong Lan Ngoc and veteran actresses Diem My and People's Artist Hong Van and is directed by young talents Loc Tran and Kay Nguyen. It includes 3D effects with a soundtrack by popular singers and pop bands.
"On behalf of the film crew who can not be here as they are all busy for another project in Phan Rang, I am really honoured to receive the award. Our film delivers a message about ao dai, traditional clothes of Vietnam. The film has been brought and screened abroad and also received great feed back from audience," said Kay Nguyen.
"I would like to say thanks to film goers and experts who watched and loved our product," she added.
The Best TV Series went to Thuong Nho O Ai (Who Stole My Heart) co-directed by Luu Trong Ninh and Bui Tho Thinh.
Ninh and Thinh also received award for Best TV Series directors with the film.
"I am very happy to see many senior colleagues here at this ceremony after several years. To have this honour I must say 'thank you' to all of members in the crew who traveled across 17 cities and provinces with me to make the film," said Ninh.
Nha Phuong beat young rival Kaity Nguyen to win the Actress in a Leading Role of Feature Film Award for her part in Yeu Di Dung So (Kiss and Spell).
"This award at this moment encourages me a lot and brings me more belief to continue with my passion with the movies. I would like to say thank you to the film crew, especially director Stephane Gauger who gave me this chance to shine," said Phuong with tears in her eyes on the stage.
Kieu Minh Tuan who stars as Hoang in Em Chua 18 (Jailbait) was honoured as the Actor in a Leading Role of feature film. Tuan however could not be present at the ceremony to take his statue.
The Best Director of Feature Film was Le Thanh Son for Jailbait.
Apart from feature films and TV Series, organisers also gave awards in animation, short films, scientific films and documentaries.
"Animations are special products in the movie industry. One film is just on screen for from three to five minutes, some are 10 but we have to work on it for a year. Artists have to work very hard to make up the movie. This year we have a prize for best painter for the first time. Hope that there will have more awards for animation makers in the future," said People's Artist Ha Bac who presented Best Animation statue to Nguoi Anh Hung Ao Vai (From Zero to Hero) and Best Animation Painter award to Nguyen Thi Hong Linh yesterday.
Other awards were given to actors and actress in supporting roles, musicians, and music and film editors.
The Golden Kite Awards are held annually by the Vietnamese Cinema Association.
Source: VNS