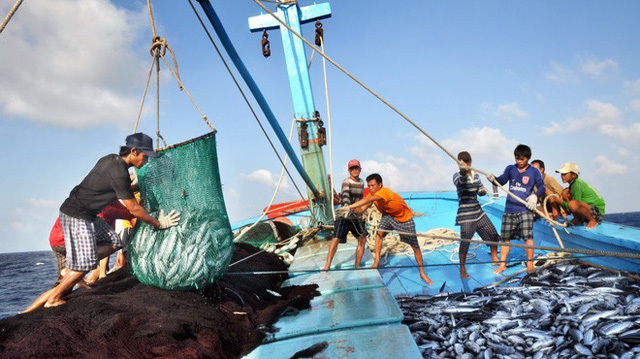 Illustrative image
On October 23, 2017, the European Commission (EC) applied a yellow card to Vietnamese seafood exports because it did not meet regulations about illegal fishing. If Vietnam does not focus on removing the IUU (Illegal, unreported and unregulated fishing) yellow card and violations continue, it is very likely that the EC will switch from yellow card to red card. At that time, Vietnam's seafood industry will lose about 500 million USD per year.
Nguyen Thi Thu Sac, Vice President of the Vietnam Association of Seafood Exporters and Producers (VASEP), said that seafood is the 5th largest export item in terms of value, with the highest turnover of nearly 9 billion USD/year.
Seafood farming contributes 60-65% of the revenue and seafood catching accounts for 35-40% of the value. Export revenue of seafood increased from 1.8 billion USD in 2000 to nearly 8.6-9 billion USD in recent years, making Vietnam the third largest seafood exporter in the world, after China and Norway.
However, Vietnam is one of 21 countries given a yellow card by the European Commission for not complying with the regulations against illegal, undeclared and unregulated fishing (IUU). The yellow card was imposed on Vietnam in October 2017, which means that the country's seafood exports to markets in the European Union will be 100% inspected instead of only checked. As a result, Vietnam's seafood exports to the EU have declined continuously since 2017.
Vietnam's seafood exports to the EU fell by 12% in 2019 compared to that in 2017, equivalent to 183.5 million USD. This downward trend continued in 2020, under other impacts from the Covid-19 epidemic to Brexit, with a decrease of 5.7% compared to 2019, reaching $959 million of revenue.
The EU has dropped from the 2nd position to the 4th position among Vietnam's seafood export markets, after the US, Japan and China, since 2019.
Recent studies on this issue show that Vietnam's caught seafood is directly affected by IUU regulations and the EU's yellow card while aquaculture suffers more from indirect impacts. The biggest risk for Vietnam will be a "red card" - an EC trade ban if it fails to address the requirements for combating IUU fishing. Vietnam's seafood will lose about 480 million USD if it loses the EU market.
Specifically, losses from caught seafood, including tuna, krill, squid, octopus, etc., will be about 387 million USD per year. In addition, it will also make indirect impact on aquaculture due to the loss of prestige, increasing burden of customs control and failure to take advantage of preferential tariffs of the European Union- Vietnam Free Trade Agreement (EVFTA).
In the medium term, if the ban lasts for 2-3 years, it could disrupt seafood exports and reduce income from caught seafood by at least 30%. Also, the ban will affect the reputation of Vietnamese seafood products in general. Other markets such as the US or Japan may follow EC's IUU regulations.
What to do
When imposing the IUU yellow card on Vietnam's seafood in 2017, the EC also made nine recommendations for Vietnamese seafood exporters. The EC organized two field visits in Vietnam in May 2018 and November 2019 and continued to give four groups of recommendations that Vietnam needs to implement, including: legal framework; monitoring, inspecting and controlling fishing vessel activities, fleet management; certification of output and traceability of aquatic products from catching; law enforcement.
Four years have passed, and the EC recognizes Vietnam's efforts in implementing the recommendations, but there are still shortcomings that need to be overcome. The EC also said that it would not withdraw the yellow card if Vietnam has not solved the problem of fishing in foreign waters.
Deputy Minister of Agriculture and Rural Development Phung Duc Tien said that these four issues are of great concern, especially the violation of IUU of Vietnamese fishing vessels. Vietnam needs to manage fishing vessels well.
According to the experience of Thailand, which removed the IUU yellow card in early 2019, it is necessary to punish violators and implement a strict inspection and monitoring mechanism and system on fishing fleets, including remote monitoring. It is important to apply technology such as the VMS fishing vessel monitoring system to see the position of all fishing vessels on the central screen. If any ship goes out of the national waters, the center's staff will immediately warn and ask the ship to come back.
According to statistics of the General Department of Fisheries, as of April 30, 2021, nearly 27,000 ships were installed with the travel control device, reaching the rate of 86.8%. Vietnam needs to speed up this process. Along with that, it is necessary to develop, perfect and use an electronic fishery traceability system.
The yellow card and the risk of getting a red card are a big risk, but according to experts, it is necessary to positively see this as an important test for Vietnam. Overcoming the yellow card and avoiding the red card is an opportunity for Vietnamese seafood to upgrade itself, improve its prestige and open great opportunities to enter picky markets.
The EU is a market with the most stringent requirements. When Vietnam meets all the EC's recommendations, it means that Vietnam can create a sustainable production chain.
Tam An

As the third largest seafood exporter in the world, Viet Nam's could lose about US$480 million per year if it fails in its fight against illegal, unreported and unregulated (IUU) fishing.  

Vietnam is determined to gradually reduce the number of fishing vessels violating regulations on illegal, unreported and unregulated (IUU) fishing in order to have the 'yellow card' issued by the European Commission (EC) removed by 2022.