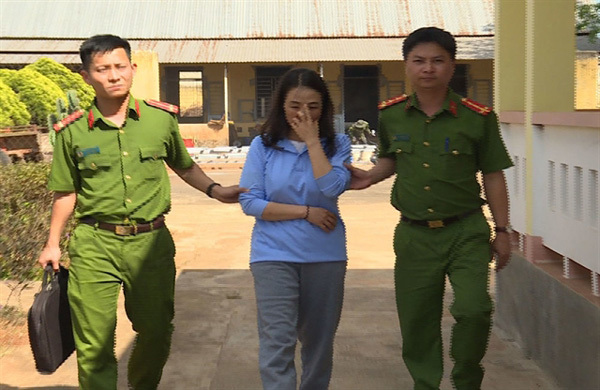 Dao Thanh Tam (centre) was caught by the police. — Photo: VNN
At the People's Committee, Tam claimed she was Colonel Ha Phuong Tuong Van, acting director of the Police Intelligence Department under the Ministry of Public Security.
Unfortunately for Tam, Colonel Le Van Tuyen, director of the Dak Lak Province Police visited the district People's Committee that day.
After speaking with Tam, Tuyen said she was impersonating his colleague and launched an investigation.
Worse still for the con woman, police found out that this was far from Tam's first rodeo.
A year ago, Tam met Tran Thi Cuc, who lived in Buon Ma Thuot City. Tam told Cuc that she was an official of the Ministry of Public Security.
Cuc asked Tam to help her claim VND5 billion (US$217,300) back which her son had lost to a swindler.
Tam agreed to help if Cuc paid her VND300 million ($13,000).
However, after receiving the money, Tam refused to do anything to help Cuc. Cuc sent a denunciation letter to police.
When being discovered, Tam admitted to police that she had spent all of the money.
It just goes to show that the truth will always out and maybe end up putting a liar in jail. — VNS

You may have heard of people dying from obesity, but it's rare to hear of someone going to prison for not eating enough. But that's the case here.

HCM City's District 4 People's Court today sentenced former Vice Chief Prosecutor of Da Nang Nguyen Huu Linh, 61, to 18 months in jail for molesting a child under 16 years old.