There were also 19 people testing positive who arrived in the country on repatriation flights.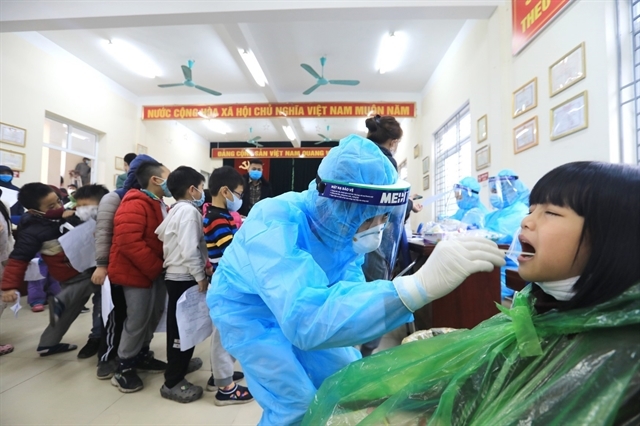 Of the community infections, four are in Hanoi, three in Quang Ninh, one in Hai Duong, and one in Binh Duong.
The total cases of COVID-19 in Vietnam now stand at 1,817.
Vietnam reported 14 new COVID-19 community cases yesterday morning, one is in Bac Ninh, two in Hoa Binh, two in Gia Lai and four in Hai Duong provinces, and five in the capital.
Sixty two new cases were recorded in the country on Saturday, with all but one being community infections.
Treatment for serious cases
Meanwhile, Associate Professor Luong Ngoc Khue, director of the Medical Services Administration, together with the Professional Council, conducted an online consultation of COVID-19 cases and directed treatment at hospitals in Quang Ninh and Hai Duong provinces on Sunday morning.
The Quang Ninh Hospital No 2 reported situation of patient 1,658.
On January 24, 2021, she attended a wedding in Hai Duong Province where another guest was also positive.
From January 24 - 29, she had no clinical symptoms. On January 29, she developed a mild fever. Experts suggest the hospital closely monitor the patient because of increased liver enzymes.
The next case that was consulted was patient 1,536 at the Da Nang Lung Hospital, a 79-year-old woman and the most severe right now. She has hypertension and diabetes mellitus.
Speaking at the online meeting, director Khue suggested the local health sector ensure essential machines to promptly treat patients. He added that patient transfer must ensure safety and best preparation.
He encouraged health workers and hospitals to promote the spirit and overcome strenuous difficulties to fulfil their roles and responsibilities in care and protection of people's health.
VNS

Locally-transmitted cases have been found in seven cities and provinces.