Thousands of children comment on child protection law
VietNamNet Bridge – More than 34,000 children between the ages of six and 18 participated in the largest referendum ever held in Vietnam to give their opinions and comments on amendments and supplements to the Law
VietNamNet Bridge – More than 34,000 children between the ages of six and 18 participated in the largest referendum ever held in Vietnam to give their opinions and comments on amendments and supplements to the Law on Child Protection, Care and Education.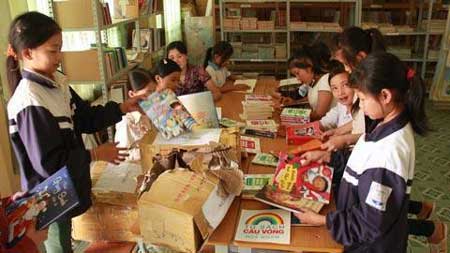 Ethnic minority children in Dien Bien Province receiving donated books.
The Department of Child Protection and Care under the Ministry of Labour, Invalids and Social Affairs (MoLISA) and the National Assembly (NA) Committee on Culture, Education, Youth and Children held a conference in Hanoi on May 9 to announce the results of the poll.
The survey was conducted from July 15 to September 15, 2012 and collected children's opinions via the internet, telephone hotline 1800.1567 and handouts at 40 schools in ten cities and provinces across the country. It aimed to encourage young people to raise their voices and participate in compiling and promulgating legal documents and policies related to the nation's youth.
The poll results showed that 53.5% of respondents agree with the proposal to raise the legal age of adulthood from the current 16 years to 18.
NA Committee Deputy Chairwoman Ngo Thi Minh said that the Law on Child Protection, Care and Education came into effect in 2004, stipulating the legal definition of a child as a person under 16 years old, while the United Nations Convention on the Rights of the Child, which Vietnam ratified in 1990, sets the age at under 18.
Minh stressed the need to revise the law and added that timely preparation and suitable enforcement measure are essential to ensure children are protected under the adjusted law.
Meanwhile, 59% of the children who responded to the survey said they support the formation of children forums for young people to voice their opinions and share their aspirations.
Ms. Minh also said that children's participation at such forums will encourage social responsibility among the younger generation. She suggested diversifying related activities and expanding the forums to create opportunities for all the children in the country to become involved in the policy making process.
Source: Nhan Dan