The HCMC government on December 31, 2020 announced the resolution on establishing Thu Duc City and arranging administrative units at district and commune levels of the city.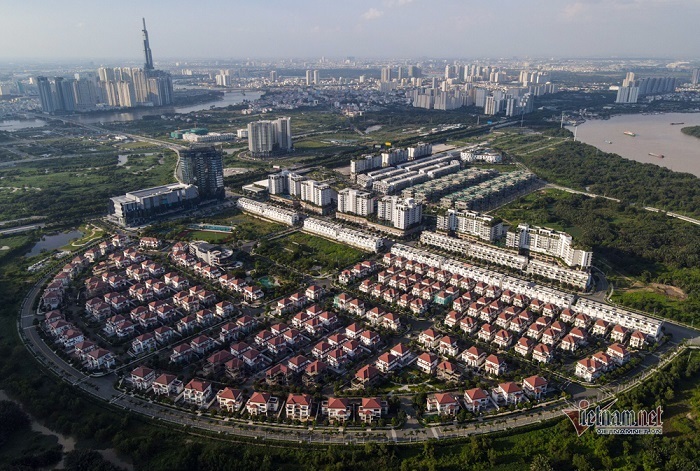 Thu Thiem New Urban Area in Thu Duc City
Thu Duc City is established by merging districts 2, 9 and Thu Duc. It is the first city in Vietnam put under the jurisdiction of a centrally-run city.
Tran Hoang Ngan, head of the HCM City Institute for Development Studies (HIDS), said seven years ago the city began building a plan on urban government as the population was becoming too high.
The city's population was among the world's top 20 with a population density of 4,300 people per kilometer. The city therefore needed a management model different from other cities and provinces.
The municipal authorities then planned to establish cities in the east, south, north and west to solve the problem.
The idea raised seven years has now materialized, as conditions have become more favorable, especially in the eastern part. The districts of 2, 9 and Thu Duc will be merged to take full advantage of the potential of all three districts.
Thu Duc City is being set up sooner than others.
In terms of natural conditions, all the three districts have low terrain, located on one side of the Sai Gon River.
In terms of socio-economic conditions, they have similar urban features, with newly set up parts mixed with old urban parts.

As for infrastructure, many major transport routes go across the districts, including subway routes, and all of them connect to Highway No 1.
According to Ngan, district 2 has the Thu Thiem Urban Area, which aims to be a big financial center in the region.
Meanwhile, district 9 has a hi-tech park, where products with high scientific and technological content are created and startups are incubated. The park attracts Vietnamese and foreign scientists and specialists to work and live.
Thu Duc district has a complex of universities, including HCM City National University and other schools which provide a high-quality labor force.
New growth engine
Ngan said the remaining issue to discuss is how to take full advantage of the potential of Thu Duc City, and turn the strength into a new growth engine for HCM City. Becoming a creative and highly interactive city in the eastern part of HCM City is the target for Thu Duc City.

Thu Duc City is expected to make up 30 percent of GRDP of HCM City, or 7 percent of GDP of the entire country, thus serving as the new driving force for HCM City to grow rapidly in a sustainable way.
Thu Duc City is expected to have high living standards and quality of life, and a digital society, digital economy and digital government will be created.
Thi Duc City is expected to make up 30 percent of GRDP of HCM City, or 7 percent of Vietnam, which is much higher than many other localities.
Asked what needs to be done for Thu Duc City, Ngan said personnel is the root of the issue. This is the task of the HCM City National University Complex, which provides a high-quality workforce, and applies academic and research projects in the high-tech park.
It is also necessary to quickly build Thu Thiem Urban Area into a financial center.
Ngan said transport connections in Thu Duc are important. The only solution to the problem is investment in infrastructure. Thu Duc City needs to connect the eastern part of the southern region and the southern economic zone, which makes up 40 percent of Vietnam's GDP.
"All of these things need to be deployed immediately in the time to come to turn Thu Duc into an important connection point and new growth engine for HCM City and the entire southern region," he said.
Thu Duc City to become city of international stature
Nguyen Thanh Nha, director of the HCM City Architecture and Planning Department, said the highly interactive and innovative urban area in the east could be the backbone for setting up Thu Duc City.
Earlier, HCM City organized a competition on planning a highly interactive and innovative urban area. The firm Sasaki from the US won the prize.
Based on this idea, the department has planned the urban area with six major parts:
Thu Thiem New Urban Area in district 2 will be an international financial center associated with the city's digital transformation program.
The Rach Chiec Sports Complex in district 2 will be a sports and healthcare center.
The Hi-tech Park in district 9 will be the place for researching, designing, experimenting and making hi-tech innovative products.
The National University Complex will develop services for training and international cooperation, becoming a creative space for R&D and startup incubators.
The Tam Da New Urban Area in district 9 will consist of multi-storey farms and houses using environmentally adaptive technology and renewable energy.
The Truong Tho Urban Area will be a model for the future urban area to live, work and relax. 
Ho Van - Bao Anh

The HCMC government is studying a general plan for Thu Duc City with an area of more than 21,000 hectares to boost its transit-oriented development, green traffic and flood control.

The news about the establishment of Thu Duc City has pushed up land and house prices in the eastern part of HCM City.