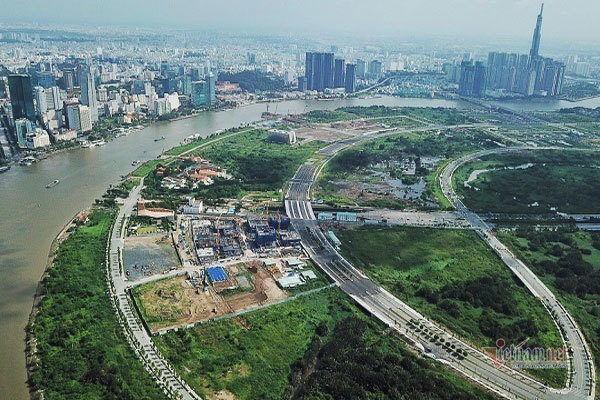 Realtors had to pay big money to acquire the land plots. The biggest land plot was sold to Ngoi Sao Viet which paid VND24.5 trillion, whie the other three were sold for 3-5 trillion, 7-8 times higher than the starting prices.
The winning price of VND2 billion per square meter shows the high expectations for land development. This also shows a waste in land use in many localities in the country, which has caused big losses to the State.
In many cases, public land is allocated directly to investors without auction. The office building at No 7-9 Ton Duc Thang Street, VTP Tower on Tran Hung Dao Street, and No 39-39B on Nguyen Tat Thanh street in district 4 are examples.
Experts point out that land must be allocated to realtors at market prices, through auctions, rather than direct appointment of investors, which causes losses to the State as the land is sold cheaply.
The sky-high winning prices for the land plot in Thu Thiem surprised many people. However, the winners at the auctions were all experienced investors. They must have calculated carefully and seen the great business potential in the future when offering such high prices.
The price of hundreds of million of dong or billions of dong per square meter are relatively high compared with the market price at this moment, but are acceptable to realtors, who find it difficult to obtain large land plots in advantageous positions with good technical infrastructure, just hundreds of meters away from the central area, which is expected to become an international financial center.
The clear legal status of the land and the transparency in information is believed to be another reason behind the investors' decision to buy the land.
The investors also will not have to spend time and money on compensation for site clearance, a very complicated procedure. In some cases, investors miss business opportunities just because of problems in site clearance.
Under the urban area development plan, the 3-12 land plot, the largest of the four plots with an area of 10,059.7 square meters, is reserved to develop mixed-use apartment complex combined with commercial and service areas. There will be 4-25 storey buildings with two basements.
The winning price of the land plot is VND24.5 trillion, or 8.3 times higher than the starting price (VND2.942 trillion). The buyer is Ngoi Sao Viet, a member of Tan Hoang Minh Group.
In 2015, the group won an auction for a 'golden land plot' at No 23 Le Duan Street in HCM City at a price of VND1.43 trillion, or 2.6 times higher than the starting price.
With the price and the allowed construction density, the investor will still make a profit of tens of billion of dong, if noting that the average apartment price in the area is VND170 million per square meter. 
The figure would be even higher if counting two basements and the added value from the area for service and commercial purposes. It has become more difficult to find large land plots as land is limited.
Big waste of resources
HCM City lacks capital for infrastructure development and transport projects, while it has an abundance of land being used for wrong purposes and thousands of pending projects, which is a big waste of resources.
The local center for land development is now hiring security guards to keep watch over 123 land plots awaiting arrangement under Decree 167/2017.
Many projects have been pending for decades as no solution has been found, such as ones in Binh Quoi (Binh Thanh district), Binh Trieu (Thu Duc City) and Tay Bac (Cu Chi district).
District authorities announced 108 pending projects with total area of 473 hectares removed from the land use plan in 2015-2019. Eliminating projects that are not feasible is a necessity to remove barriers.
However, this figure is modest if noting the 4,800 projects scheduled to be implemented, from 2016 to 2020.
The number of feasible projects is relatively low and some projects have remained on paper for three years.
This is attributed to unreasonable planning, lack of feasibility, lack of capital and weak capability of investors.
The waste in land use can also be seen in speculation. Land is bought and left idle for a certain time before it is re-sold later, when prices increase.
Optimizing land resources
The four land plots in Thu Thiem which have been put into auction are located in advantageous positions. Thu Thiem Tunnel now connects Vo Van Kiet – Mai Chi Tho route and arc roads have good infrastructure items. Investors can also see great potential of the areas once the construction of ThuThiem2 Bridge ends, which is just one kilometer from the inner city.
In the future, there will be a pedestrian bridge to connect to Bach Dang Station, Nguyen Hue pedestrian street and Benh Thanh Market, and an innovation urban area with financial center. These advantages may be 'forgotten' if land is not put into auction.
The successful auctioning of the four land plots in Thu Thiem at prices seven times higher than starting prices can be seen as giving a good start to the auction of 55 other land plots in Thu Thiem, a process that must be transparent, public and competitive.
Tran Van Tuong

One of the businesses participating in a bidding session on December 10, 2021 had to pay VND2.4 billion per one square meter to obtain a land plot in Thu Thiem new urban area. The sky high price has raised worries rather than joy.

Concerns about high inflation are causing many people to buy properties to hoard.