Tight control of debt safeguarding finances
Vietnam has continued to bring public debt under its control, thus ensuring financial security for the country.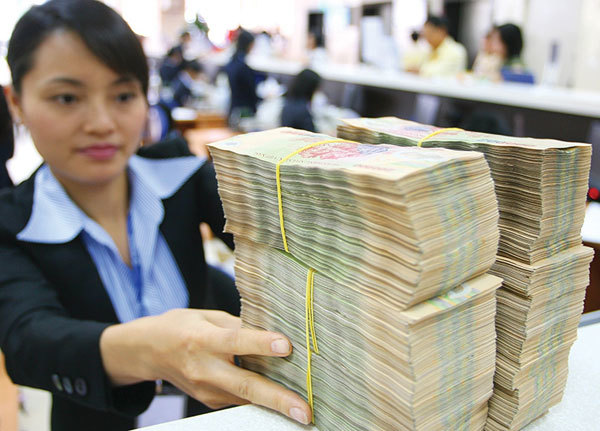 By 2025, public debt is forecast to be 47.5 per cent of GDP if it is reassessed, and 60.4 per cent if it is not. Photo: Le Toan/VIR
The government last week reported to the National Assembly (NA) that since 2017, thanks to tightened management in loans and government guarantees, the economy's public debt has gradually reduced.
By late 2019, the public debt was estimated to be about 55 per cent of GDP, with government debt standing at around 48 per cent of GDP and foreign debt hitting some 47.1 per cent of GDP. These rates stayed within the respective permissible limits of nearly 65, 54, and 50 per cent respectively.
"The public debt is still closely controlled, and the quality of public debt has also been improved significantly," said Minister of Finance Dinh Tien Dung.
Earlier the Ministry of Finance (MoF) was grilled by a number of NA deputies about how the government has worked on ensuring national public debt, amid raising worries about the state budget overspending and shrunk revenues for the state coffers caused by numerous difficulties over the past five years during the current government tenure.
Dung reported that the public debt increased 18.1 per cent in the 2011-2015 period, tripling the economic growth rate. However, it dropped to 6.8 per cent in the 2016-2019 period, equivalent to the economic growth rate.
In 2020 alone, it rose by about 10 per cent against 2019, standing at about 56.8-57.4 per cent of GDP, due to a big rise in state budget spending for supporting enterprises out of difficulties and fighting against the ongoing COVID-19 pandemic.
"The structure of domestic and foreign loans has become more sustainable, meaning that there has been a climb in domestic loans demonstrated, for example, by an ascension in the tenors of the government bonds, while lending rates have fallen strongly, contributing to ensuring national security," Minister Dung explained, adding, "In the first 10 months of this year, we have issued 270,000 government bonds with an average tenor of 13 years, with a lending rate of only 2.95 per cent, which is very low."
According to the MoF, it is expected that the public debt for 2020 will exceed VND3.6 quadrillion ($156.5 billion), with the debt payment – both principal and interest cost – of about VND360 trillion ($15.65 billion).
In 2021 the government's direct debt service will likely be nearly VND368.3 trillion (over $16 billion) and the public debt will exceed VND4 quadrillion ($173.9 billion), with an increasing debt service. However it is forecasted that by late 2021, the public debt will be about 46.1 per cent of GDP in the case that GDP will be reassessed, and be about 58.6 per cent of GDP if it is not.
"In whatever scenario, the public debt will not hit the permissible limit of 65 per cent of GDP," Minister Dung said. By 2025, the public debt is forecast to be 47.5 per cent of GDP if it is reassessed, and 60.4 per cent if it is not.
Vietnam is set to reassess that scale with it expected to be applied from next year, with the size aimed to more accurately reflect the scale and capacity of the economy, enhancing the country's economic status regionally and internationally.
According to the General Statistics Office, the reassessment will have significant impacts on the economy.
Specifically, it will create a remarkable increase in the GDP value and per capita GDP, which will help lead to changes in socioeconomic development orientations and consumption models of the public. This also means that Vietnam may sooner reach its status of a high middle-income nation.
In addition, the reassessment will help change the GDP structure, with a rise in the contribution of the industrial, construction, and service sectors, and a reduction in the agro-forestry-fishery sector.
According to The Economist's Global Debt Clock, by late last week, Vietnam's public debt in GDP remained almost the same as compared to the end of last year, sitting at 45.6 per cent, and per capita public debt was $1,039.67, while total public debt was almost $94.85 billion.
Nguyen Minh Cuong, principal country economist from the Asian Development Bank in Vietnam, told VIR that the country has been doing a good job in reducing public debt, helping to ensure overall financial security.
"The government will continue to pursue fiscal consolidation. While disbursement on capital expenditure should speed up, the government is continuing its efforts to strengthen revenue collection and impose much tighter controls on nonessential spending to contain the budget deficit and improve public debt sustainability," Cuong said.
Under the existing Law on Public Debt Management, public debt includes governmental debt, government-guaranteed debt, and debt accumulated by localities. The government-guaranteed debt embraces local and foreign debts held by state-owned enterprises, financial and credit organisations.  VIR
Nguyen Thanh

The public debt to GDP ratio has been controlled well and has decreased in recent years. But the public debt repayment to budget revenue ratio has steadily increased because of many due debts.

The government's report on public debt in 2020 and estimates in 2021 show remarkable figures about the national debt.