Tight squeeze as new airlines set to take off in Vietnam

With more airlines planning to take flight in 2020, the room for profit-making is expected to narrow in the burgeoning aviation market, triggering doubts over the possibility of achieving success among newcomers.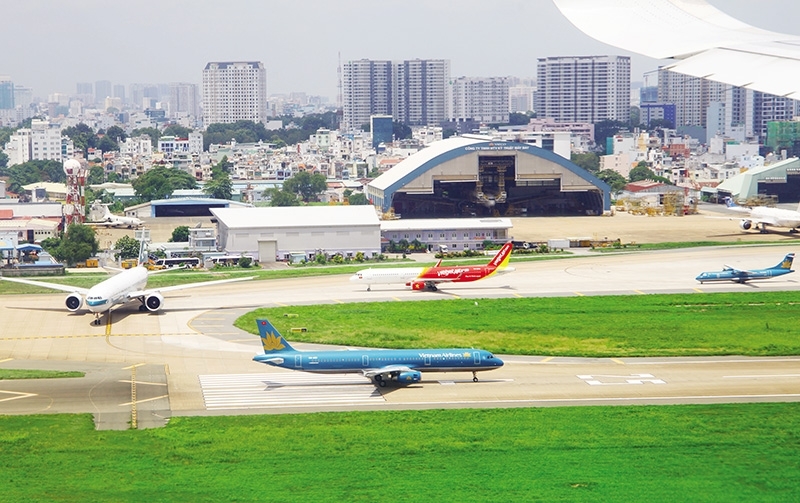 New airlines have to think outside the box to compete with VNA and Vietjet

Newcomers Vinpearl Air, Vietravel Airlines, and Kite Air are all stepping up preparations to take off in 2020. They belong to powerful groups in Vietnam, with ambitious plans to conquer the market.
Industry insiders forecast that they will make the Vietnamese aviation market more competitive, providing more choice for customers, but will face a challenge to compete with powerful rivals like national flag carrier Vietnam Airlines (VNA) and budget airline Vietjet.
John Frangos, partner at Tilleke & Gibbins, Southeast Asia's full service regional law firm, told VIR, "There is certainly a possibility that newcomers would face significant difficulties in competing with established airlines and just surviving in an increasingly competitive market. Operating an airline is a very expensive, low-margin business. For small startup airlines especially, a temporary loss of business can threaten the company's survival."
"However, as more Vietnamese fly, and more foreign tourists visit Vietnam, the potential for success is significant," he added. "It is possible that newcomers, in order to set themselves apart from more established airlines, will focus on niches such as charter flights catering to tour groups or more flights to different provincial cities."
Vinpearl Air, which belongs to a unit of Vingroup, is eyeing its commercial launch in July 2020 with six narrow-body aircraft. This firm also plans to increase its aircraft fleet by six each year, with the total number reaching 42 by 2026.
Also with plans to launch in the second quarter of 2020, Vietravel Airlines will start with three aircraft with the fleet hitting eight in the fifth year of operation. Vietravel Airlines will focus on charter flights to serve tourists.
Jockeying for position
As one of the biggest travel companies in Vietnam, Vietravel has a huge number of tourists to ensure operation of the air carrier, serving about one million tourists annually. Vietravel Airlines has selected Phu Bai International Airport in the central province of Thua Thien-Hue as its headquarters, thus easing pressure on the crowded Noi Bai and Tan Son Nhat international airports. It will target domestic flights to the secondary airports of Chu Lai, Van Don, and Can Tho, while providing international flights across parts of Asia.
To ensure human resources for future development of the airline, Vietravel has acquired a stake in Ho Chi Minh City's Kent International College, and is working with international suppliers of aviation human resources such as Brookfield Aviation, Sigma Aviation Services, and others.
On the heels of Vinpearl Air and Vietravel Airlines, Thien Minh Aviation JSC has sent documents to the central province of Quang Nam's Department of Planning and Investment proposing the establishment of Kite Air, with a chartered capital of VND1 trillion ($43.48 million), and an inaugural commercial flight in the first quarter of next year. They aim to have six ATR72 aircraft, or similar, and 30 airplanes by 2025.
Nguyen Manh Quan, managing director of Thien Minh Aviation, said that Kite Air will target Dien Bien, Ca Mau, Kien Giang, and Con Dao airports, as well as the Mekong Delta. Its headquarters will be in Quang Nam.
These moves show the newcomers' strategies in trying to avoid clashing with leading market players VNA and Vietjet, who are focusing on the country's big international airports with the largest market share.
Industry insiders, however, claim that achieving success will be a challenge due to clogged infrastructure and tough competition. Before Kite Air, Thien Minh Group failed to agree a deal with AirAsia to found a budget airline, and is incurring losses with Hai Au Airline.
Privately-run Vietnamese real estate and business conglomerate FLC Group's latest venture, Bamboo Airways, is proof of how risky the aviation business is. By the end of April after three months of operation, Bamboo had incurred a loss of VND329 billion ($14.3 million). At the annual general meeting of shareholders in June, FLC chairman Trinh Van Quyet said that all losses are being covered by its parent company.
Bamboo's plan to compete involved exploring the niche markets, including direct flights from international and domestic areas to newly-emerging tourism destinations in Vietnam.
In the first two years of operation Bamboo Airways is to focus on the domestic market, with eight-10 flights to prioritised destinations such as Quang Ninh, Haiphong, Thanh Hoa, Quy Nhon, and Nha Trang. From the third year of operation, international flights will be connected with domestic flights, encompassing destinations in Japan, South Korea, China, Singapore, Thailand, Hong Kong, and Taiwan.
Dang Tat Thang, director of Bamboo Airways, believed that they had a competitive advantage over the two major airlines. This came in the form of resorts owned by FLC Group, ranging in size from 1,000 to 3,000 rooms. At first Bamboo Airways intended to make use of this. For example, if customer flies from Hanoi to Quy Nhon via Bamboo Airways, the airline may offer a discount when a customer stays at FLC Quy Nhon, and vice versa.
However, progress for Bamboo Airways has not been as smooth as expected. Its rivals include Vietjet, which is associated by the Vietnamese people with cheap prices and cut-price ticket promotions. Meanwhile, as a legacy carrier, VNA already has the confidence of customers, especially in the high-end passenger segment.
There have been plenty of previous unsuccessful attempts to break into the market. Indochina Airlines and Air Mekong also had ambitions to gain success but ultimately failed and left the devastating competition of this potentially lucrative industry.
"For these entrants, their biggest threat might be the low-cost carrier Vietjet Air, which has grown rapidly since 2011 to become the largest airline in Vietnam, holding 45 per cent of the local market. Therefore, they might have to step up their game in order to survive in Vietnam's current aviation market," said Vaibhav Saxena, lawyer at Vietnam International Law Firm.
Infrastructure pressure
The presence of newcomers is expected to benefit customers with diversified choices, but pressure on airport infrastructure will be much higher, negatively affecting profit-making opportunities for airlines.
According to the Civil Aviation Authority of Vietnam (CAAV), seven out of 22 airports are overloaded. This is most serious at Tan Son Nhat and Noi Bai international airports, which welcomed 38.5 million and 28.8 million passengers, respectively, in 2018, far higher than their respective annual design capacities of 28 million and 21 million. These figures are set to rise even further in the future.
Tan Son Nhat International Airport in Ho Chi Minh City, which accommodates five air carriers, is facing jams in which aircraft are often in a long queue to take off. Every day the airport welcomes around 700 flights, with the figure reaching over 900 on peak days. Meanwhile, the expansion of the airport remains slow, with a third terminal expected to be put into operation in the second quarter of 2022.
In the meantime, the development of the Long Thanh International Airport is still in the preparation process, with the first stage set to be completed in 2025.
While infrastructure has not much improved, there also remains a shortage of flight slots. In the CAAV's slot allocation plan for 2019-2020 winter flights sent to the Ministry of Trade, there is a dramatic shortfall. In this period, VNA wants an additional 140 flight slots a day, whereas the thresholds for Vietjet, Jetstar Pacific, and Bamboo Airways are 180, 100, and 26, respectively.
At a third-quarter press briefing, the Ministry of Transport admitted that ­aviation infrastructure remains problematic, while the growth rate stands at 15-17 per cent on-year. Nevertheless, it still supports newcomers. Thus far, the CAAV has licensed seven airlines and the overload will become more serious when the three new enterprises start operations next year. VIR
Bich Thuy

Vietnam Travel Airlines Co., Ltd, or Vietravel Airlines, on November 4 announced the appointment of Livio Arizzi, an Italian pilot, as the firm's deputy general director as part of its airline establishment plan.  

With more airlines joining the market and airlines' fleets expanding, there are concerns that there will not be enough flight supervisors.